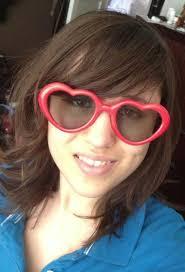 April is Autism Awareness Month. You may be wondering what that has to do with animation, but as our latest spotlight interview attests it has more than meets the eye. One in sixty-eight children are diagnosed on the autism spectrum and many of them excel in visual arts, math and music. Dani Bowman is one of them. When she was just a small child, her captivation with animated TV series motivated her to start drawing and storyboarding. Within a few years, she began playing with 3D animation software; by the time she reached high school she had founded her own animation studio.
Introduced to us from our friends in Woodbury University's animation program where she is an undergrad, we knew we had to feature Dani in our latest Q&A. In addition to her studies, she tackles animation projects for clients, advocates for autism awareness and teaches animation and life skills to others identified on the spectrum. See how this self-starter leveraged her skills and passion to become an animator, how she helps others create their own opportunities, and what we can all learn from her by shooting for the moon. (This interview was done via email & has been minimally edited).
ACR: Dani, when other kids were still coloring with crayons you began animating. When were you introduced to it and how did you take the leap from simple storyboards to creating 3D animations?
Dani Bowman: I guess you could say that I loved animation from day one. When I was around 5 years old, I used to do drawings based on TV shows that I watched, like "Bobby's World" and "The Magic School." During second and third grades, I discovered my talent beyond coloring with crayons by making picture books, comic books and storyboard adaptations based on the TV shows I watched and videogames I played. In seventh grade, I started to use MS Paint, Adobe Photoshop and PowerPoint presentations as my animation tools.
In ninth grade, my uncle – who I lived with – saw the animation capability I had with just these tools and he introduced me to Toon Boom Studio. Toon Boom was a little more difficult at first; it took me about two weeks to get the hang of it (I was self-taught). It's still my favorite 2D animation software although I know Maya and Adobe Flash. Toon Boom has since become my sponsor. I am currently using Toon Boom Harmony 12 Essentials and Toon Boom Storyboard Pro.
ACR: You founded your own animation studio- Powerlight Studios- when you were just 14 and started creating content for clients. What was your impetus for doing this as opposed to just making animations for yourself in your spare time?
DB:  One of my heroes was Satoshi Tariji- the co-creator of Pokémon. During some of my research on him, I found out that he started his company Game Freak Inc. at age 17, so at the age of 11 I set out to beat his record! I was 14 when my company officially launched. Later, I found out that he happened to be on the autism spectrum just like me. Also, my uncle is an entrepreneur and my aunt had just closed her company to work with me, so I thought it was natural that everyone owned their own company. I didn't think there was anything strange about an 11 year old wanting to start a company. I thought it was normal.
ACR: You recently rebranded that company as DaniMation Entertainment which encompasses more than your animation work. Tell us a little about this endeavor, Dani.
DB:  I rebranded my company as DaniMation Entertainment because I provide way more services than just animation – like illustration, graphic arts, public speaking and so on.  And it was my name that was getting more recognition rather than "Powerlight." It just kind of happened naturally after an article written by David S. Zimmerman for ABILITY Magazine that started with "DaniMation," which caught on.
When I have paying gigs, the people who work with me are independent contractors and they are paid. I've hired voice actors, storyboard artists, musicians, etc. Others just volunteer on projects that I work on. Some of the people just do it for the recognition of working on projects with me.
ACR: You're keenly aware of the role you have to play in helping others on the spectrum find their own creative voices. Tell us about the autism outreach and camps that you're involved with, Dani.
DB:  My goal is to hire individuals with autism by teaching animation and public speaking around the country. I just want to show the world that individuals with autism are capable and excel in their talents and interests (i.e., music, animation, storyboarding, writing, etc.), and that they can use their talents and interests as part of their career. Anything is possible. If I can do it, they can do it! I work for Joey Travolta and teach animation at his film camps and on my own for OCALI in Columbus, Ohio, VSA Florida at the University of South Florida in Tampa, Step by Step in Worthington, Ohio, and lastly The Center for Autism & Dyslexia in Findlay, Ohio. At these events, the students get a taste of what being an animator is like.
ACR: What are some of the things your students learn from you at the camps, and what is your favorite part of the experience?
DB:  It's great to see them learn animation from beginning to end, however my students have don't just learned about how to "make pictures move like a flipbook." It's also about teamwork; working together to create an animated short is an important thing for individuals on the spectrum to learn. Another thing students learn is about the story elements for their animations- character design, backgrounds, timing, editing, clean-up, etc. And they learn how to pitch a story.
Most importantly, I hope to inspire my students to think beyond their autism. The best part is when I talk to them years later and they tell me how much I inspired them. One of my students said that I changed his life. When we first met, he was 20 and I was 17 and he wasn't sure what direction his life was taking. After seeing what I was doing, he went back to college and got his degree in Special Education. Now, he's a teacher at a company called "Futures Explored," a social service organization that provides life skills and work-related training to adults with developmental disabilities.
ACR:  What a credit to you, Dani. What needs to be done to help more individuals on the spectrum leverage their skillsets, connect with opportunities, and add their voice to the broader community of animators?
DB: Such a tough question, but let me give it a try. There needs to be a change in the school systems to start because Special Ed is not challenging the high-functioning individuals with autism. Special Ed classes tend to teach at the lowest cognitive level in the classroom which leaves the high-functioning unchallenged. I was in Special Ed until the eleventh grade when I found out that I could only graduate with my Special Ed English classes. I had to take General Ed English classes in order to qualify to graduate with my entire class. This was the hardest thing I ever did. It was like taking a third year of Spanish without ever taking the first two years. I had to do a lot of extra studying, but I did it! I graduated high school with a GPA of 4.0 and honors. That's when I realized how much Special Ed held me back.
About 36 percent of individuals with autism enter college, and over half drop out within the first two weeks. Transitioning for us is scary; college is very different from high school and we really need help with this transition. When I first started college, my family and I decided it would be best to start off at a community college to get my feet wet. But even that was very difficult in the college setting. My aunt got around that system. She knew I would not be able to navigate college on my own so she went with me (with approval from the Regional Center to certify her as an 'aide'). She even found it difficult to figure out class schedules, fill out forms, get a routine going and pay tuition. Many individuals with autism would not continue their education without a caregiver's help. Thank goodness my aunt was there for me!
ACR:  And what about when it comes to transitioning into the workforce?
DB:  Only 16.8% of the population with disabilities was employed. Today, there are many companies that are employing individuals with autism – Freddie Mac, Microsoft, Vodafone, SAP, Walgreens and Best Buy, and organizations that train and prepare individuals with autism for entry into the workforce – Ken's Krew, Extraordinary Ventures, Inclusion Films, Futures Explored and Autism Works Now, to name a few. The five strategies that help individuals with autism prepare for the workforce are vocational rehabs, trade and technical schools, internships, finding jobs with a consistent routines, and entrepreneurship or self-employment.
Individuals with autism can have a successful life because they can be capable of taking care of themselves. However, either society teaches and trains them right, or the society has to pay the system to take care of these individuals for the rest of their lives.
ACR:  Animation is an incredibly competitive field, making 'soft skills' all the more imperative for aspiring animators. What's your recipe for success in this area?
DB:  Individuals with Autism and other special needs have to be prepared for job interview skills- presentation, etiquette, strong credibility, flexibility, preparation and motivation. It's also good to know someone who works at a company. In other words, it's not just what you know, it's who they know you, and this is really important for us on the spectrum. I spent the last six or seven years getting to know some of the top people within the animation industry because I realized it's very tough for anyone to get into the animation industry. If you have a special need like autism, it can be even harder. However, if you know someone within your industry, then your odds are better.
ACR: You are now a sophomore in Woodbury University's highly ranked animation department. Have you grown as an animator as a result of studying there?
DB:  Yes, I definitely have grown quite a bit. I'm doing more than just improving my animation skills; I'm learning how to use cultural references and messages in animation, research and use critical thinking to solve problems, and learn life and professional skills like organization and prioritization.
As a Woodbury student, I have a better understanding of how the animation industry works. As an example, I learned there's not just a 'main animator'- there's also an 'assistant animator' who will do the in-betweens for traditional animation when the main animator has finished a pose test of a sequence. I also learned that people doing animation in the old days used a timeline and exposure sheets, and added key poses to their animation. Animation is always about the teamwork, whenever you're producing an animated short or a feature film. During my layout class, I learned about craftsmanship, visual storytelling, and critiques. I'm also taking academic classes, which are essential for learning the business side of running my own animation company.
ACR: You intend to earn a master's degree in Business and one day create a studio on par with Disney or DreamWorks. When many people think big goals like yours are too outrageous or unrealistic, what gives you the personal courage to shoot for them anyway?
DB:  Yeah, that's what they told Walt Disney. Well, I have autism. I don't really understand barriers or why people put them up to begin with. I have no problem dreaming big. I always have been encouraged to dream big. I always shoot for the moon... even if I don't hit it, I hit a star and that's okay, too!
Check out more interviews at The Animation Career Review Interview Series.