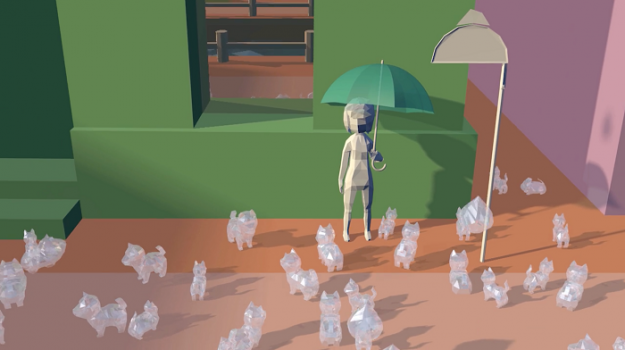 Georgia Southern University may not immediately spring to mind for those seeking an animation option during their undergraduate years. But it warrants a closer look, as it's unusual to find a comprehensive minor in the craft of animation alongside a slew of enticing majors. Add to that GSU's very competitive tuition rate (less than $7000 annually for in-state residents as of 2017) and some 140 majors to choose from, and it's no wonder why Georgia Southern is home to 20,000 students from around the world.
GSU's Betty Foy Sanders Department of Art offers a true arsenal of undergraduate and graduate programs for students to pursue including a B.A. in Studio Art, B.F.A. in 2D and 3D Studio Art, and an M.F.A. in Studio Art. For those curious about adding in some digital technology to round out their education or pursue further as grad students, the university's Animation & New Media minor is one to check out.
We recently caught up with GSU's Graduate Program Director and Assoc. Professor of Animation & New Media Derek Larson. He took a few of our questions via email to whet the appetite. We hope you enjoy!
ACR:  Derek, thanks for answering a few of our questions today. Firstly, tell us briefly about the courses involved for GSU's Animation & New Media minors.
Derek Larson:  The minor is available as a sequence of 5 courses that includes 2D animation, 3D animation, video & motion graphics, installation, & interactivity.
ACR:  As a working digital artist yourself, what skillsets do you believe today's artists should possess in our ever-changing artistic landscape?
DL: Most artists today are working in more than one medium- whether it's painting, animation, sculpture or video. It's important that GSU's Studio Art majors are familiar with a wide variety of tools and approaches when carrying out an idea.
ACR: And so that Animation & New Media minor provides just that for some of them. What are the tools of the trade that your animation minors gain experience with at GSU?
DL: We have four computer labs within the art department and each has 24 computers. Lab #2047 is equipped with the latest animation software including Toon Boom Harmony Advanced, Cinema 4D, Maya, Premiere Pro, After Effects and more. Each computer has Wacom tablets and a dedicated render farm, as well.
ACR:  Any recent examples of current student work that you find particularly intriguing?
DL:  I keep a dedicated Vimeo page of interesting student work (check it out here). Recently, there is a 3D animation in particular by one of my current students with a hyper-edited quality that I really enjoy (Vimeo link here).
ACR:  GSU's location in Statesboro is a short distance to the art scene of Savannah, and not too far from the hotbed of Atlanta. What do you value most about your southern Georgia locale?
DL: Savannah is a great city with many museums, but Atlanta happens to be one of the best cities for animation in the world. There's Turner, Cartoon Network, Adult Swim and many independent studios creating some of the most well-known animations that are being made today. Living in Georgia is a real advantage for our students and I bring a small group each year to these studios, giving our students a first-hand look at what it takes to be a professional.
ACR: When you're not teaching students at GSU, Derek, you're a prolific artist and lecturer whose work is exhibited both nationally and internationally. What are you working on currently?
DL: I'm currently working on a large, projected, animated fountain that is freestanding at 16 feet tall and 8 feet wide as part of the InLight exhibition in Richmond, Virginia. It's the largest screen I've made for a mapped projection so it should be quite a sight.
Check out more interviews at Animation Career Review's Interview Series.