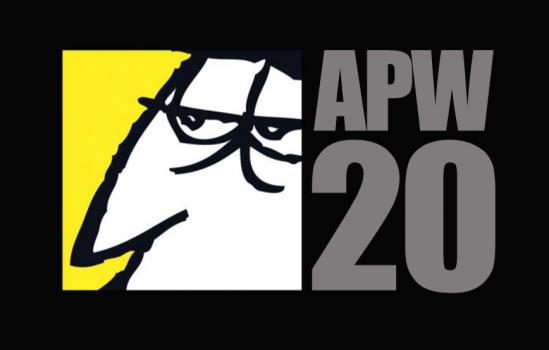 Many high school students anxiously await college acceptance letters each spring but for those applying to top tier animation programs, the wait can be more arduous than most. That's because prestigious animation departments have so few slots to fill each year and a slew of talented applicants from which to choose. Add to that the fact that many arts programs have been slashed at the secondary education level, and only a small minority of applicants are left who can gain acceptance and stand on their own two feet once admitted.
Few were in a better position to see and understand the high stakes of the college animation world than Gerard Sternik and Vince Peets, both former Sheridan College animation faculty members. Leaving their high profile gigs at Sheridan, the duo formed the Animation Portfolio Workshop over a decade ago which was among the first of its kind to cater to secondary and post-secondary students. It serves two fundamental objectives: to ensure students' portfolios are up to par in the competitive world of college entrance applications; and to inculcate in their budding animators the techniques of the art form- and a love for it- that will last a lifetime.
Located in Toronto, Animation Portfolio Workshop's sessions are held exclusively on the weekends to accommodate the schedules of students. For our latest feature Q&A, we chatted with Sternik and Peets via Skype. Not in the Toronto area? No worries! Their insight is helpful to young, aspiring animators the world over… so listen up! Interested students will find all applicable details on the workshop's website. (This interview has been edited for length & clarity). 
ACR: Gerard, Vince, thank you for speaking with us today. Animation Portfolio Workshop is a unique program for pre-college students. How did you both decide that such a workshop was necessary, and how has it since grown?
Gerard: It's interesting, Bonnie. It grew very naturally. Vince and I are both visual artists and we were teaching at Sheridan College during the 90's in the animation department. Back then, Disney was booming with its films and animation studios were scooping up students from Sheridan. It had become one of the top schools and it also became increasingly difficult to get into.
Vince: It wasn't unheard of to hear our students (at Sheridan) say that it took them 4 years just to gain acceptance to the program… that was unbelievable to us! What's more, there were no particular courses they could take that would help them get an edge.
Gerard: Right. That's when we decided to address this problem and offer our insight and expertise. We founded the Workshop in 1999 and sought to help these kids get into the animation departments by building a program around the very things they will need to display on an application. We also wanted them to learn these things such as life drawing because getting accepted to a school like Sheridan or Ringling or CalArts is only the beginning.
ACR: I imagine the reduction of art funding in elementary and secondary education plays a big role in how well prepared- or ill prepared- students are to enter any animation program, let alone a prestigious one?
Vince: Absolutely. There are some visual arts in high schools and there are people doing great things with those programs, don't get me wrong. But rather than reinforce what's there and expand upon it, the trend has been towards elimination in most schools- what don't we need? What can we make do without? So that's where we come in. Many kids are up against stiff competition with others who perhaps have had more thorough (art) experience than they have. That ultimately translates as a real motivation for them to come to us.
Gerard: As Vince says, a lot of our students do take general art courses which are fine but their mandate isn't animation focused. They won't learn character design, storyboarding and specific life drawing for animation that they will need if their desire is to get into a good program. For decades, I've taught human anatomy to animators and Vince has taught drawing for animation and storyboarding. These are the crucial elements that a student of animation needs to learn.
ACR: Along with yourselves, you've assembled stellar instructors to teach these kids…
Gerard: Yeah. The Workshop really is a workshop; it's like a tight-knit family. All of the people that teach have either taught with us or have studied under us. We have a few former students who have gone through a four or five year apprenticeship with us, too, slowly working their way up to becoming teachers. By sticking with it, we all grew the program and the results have been really good. Students and their parents love it, which is great because we really whip their butts when all's said and done; we raise the bar very high for them. If they learn all the stuff we want them to, not only will they get into their school of choice but they can actually do the work once they're there.
ACR: Do you think they realize what a profoundly unique experience they're getting, learning from former Sheridan faculty members and working animators?
Vince: Gerard and I joke about it sometimes that we trick our students in some ways. They come to us with a clear objective to get into the animation school of their choice. We, however, have 2 objectives: to help them get into that school; but also to teach them how to draw. Observational drawing applies directly to animation. It's a way of thinking and seeing the world. It's almost like we're teaching them how to be artists. Character drawing, for instance, is really learning how to draw gestures which is really how to feel a pose in your body and translate that onto paper.
ACR: APW focuses on the tried and true fundamentals of the craft, doesn't it?
Gerard: Right. Our approach is if you're going to become an animator, even with all the technology that exists today, you have to be able to draw and you have to be able to draw well. We tell our students they have to be willing to start from the beginning, no matter where they fall on the spectrum of experience, and learn the fundamentals. This reminds me of something that the painter David Hawkney said. He believes animation schools are the ones who have kept drawing alive above all other art programs. I think he's right.
Vince: It's so true… animators are holding up the craft of drawing. Great artists are great animators.
ACR: On that note, are there requirements for entering students by way of previous classes, natural ability or schooling?
Gerard: We expect our students will have a very limited knowledge. In fact, we actually ignore their background. Fundamentally, we approach it the same way for everyone, no matter where they're coming from. Most students that come to us have only an introductory knowledge of the visual arts that's somewhat based on general areas of art that they've been taught in high school. But as we were saying earlier, rarely do they have any focused background.
What we teach is really a way of seeing the world. It doesn't matter if you have talent. If you're willing to stick at it and you have a passion to achieve your goals, then you're going to reach them. I've had brilliantly talented students who fell short in their careers, whereas others with less talent but sheer tenacity have pushed through to a lot of places that the talented guys didn't get to. 
ACR: I hear that some of those talented students come back to the Workshop as guest speakers…
Gerard: We do! We also have former students who are currently in animation programs come and talk to our students about what to expect. We've got some who are out your way in California that come home and tell our students what it's like. We're not interested in telling them what to do or what school to choose- we're as neutral as Switzerland. But we want to show them the possibilities and give them exposure to others who are working or studying at these programs so that they know more about it.
Vince: This coming week we have a guest lecturer who is an independent animator and lives in that cross-over world of the artist and the animator. As Gerard says, we try to give our students an exposure to all sides of animation- there are animators who work at Pixar who come talk to us, and then there are independent animators- it gives the students a balanced view. If you can see someone who's done what you want to do, and maybe they even have a similar background to you, then it becomes real.
ACR: After all of these years as working artists and teachers, what aspects of the Workshop keep you both coming back for more?
Gerard: I mean this with all due humility when I say that I wish I had this damn thing to go to as a student when I was 17 or 18 years old. Maybe because Vince and I are getting older, we start to think about what we created and where it might be in another ten years. The Workshop is fundamentally about artists transmitting practical insight that gives students a path to accomplish what they want to. It's about growing as a person; if a student can't do the workshop, they won't make it at animation school let alone as an animator.
We treat our students like adults who love something and want to commit their lives to it. We offer ourselves as examples- we're artists. We love what we do. We can also do what we damn well please which is fantastic. Our curriculum is designed to do a focused thing without a single ounce of fat. It's a methodology that we've refined over the years and we don't kowtow to anyone. That's one of the most rewarding aspects of our work.
Vince: I agree. In my own background as a storyboard artist in film and TV, I learned how to do so much on my own and that really paid off. We encourage that self-sufficient frame of mind in our students. They are high achieving kids to start, but we make it digestible for them so that they know what they need to get done to achieve their own goals. I'm constantly training these kids to be artists- to make their own spot for themselves. Decide what you want to do, decide what you need to do in order to do it, and cover that ground. That's what we try to do with our students. It's also what makes my work so rewarding.
ACR: Last but not least, a little bird told me there is a new scholarship opportunity…
Gerard: Yes! After racking our brains for some time, we decided for the first time ever to offer a character design contest open to any aspiring animation student in Canada (we expect to open it up internationally next year) for a scholarship opportunity. They just have to draw a bunch of characters according to our rules, which we thought would make this much more fun. We have invited a panel of industry animators to judge them, and the winner will receive free tuition to a session of classes. It's a great opportunity that we're really excited to offer.
It gets underway January 1, 2013 and lasts through April 10. Readers interested can find the details on our Contest Guidelines web page. The more applicants, the better!
ACR: Terrific! Gentlemen, it's been a pleasure learning about Animation Portfolio Workshop. Thanks for the interview today.
Gerard: Thank you, Bonnie!
Vince: Thanks!
Check out more interviews at The Animation Career Review Interview Series.