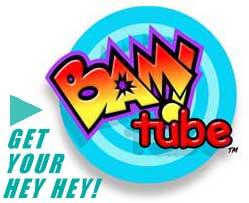 When describing BamTUBE's business model owner Bill Hughes describes it as "madness driven by necessity in order to fulfil creativity". The creativity Bill is talking about is not simply animation but artistic storytelling through collaborative media.
Before starting his multiple creative ventures Bill already had significant artistic experience under his belt, including self-publishing his own comic book in grade school, producing TV programs while in university, and working at several ad agencies post graduation. Eventually Bill started BamTUBE, a Houston-based husband-and-wife duo studio. The production house features artistically-driven Bill doing the animating, editing and directing and Bill's wife Heidi tackling the writing and filming. In addition to BamTUBE the dynamic duo also heads up other projects: Wondervista.com, indy film company The Big Tex Movin' Picture Company and jesusandkidz.com.
Animation veteran Bill happily volunteered to speak about his professional, entrepreneurial and personal successes:
What is your firm's focus within animation and what led your firm to have such a focus?
Animation serves to expand our ability to tell more visually fantastic stories. We use it as a tool of necessity. We are in the storytelling business and we've leveraged all sorts of media options. We've told stories through comic book publications with our Great Big Comics label. We also do feature-film work through our Big Tex Movin' Pictures arm and present stories on the web through several avenues including: wondervista.com, jesusandkidz.com and bamtube.com. Animation has offered us another possible means to tell stories that would be practically impossible in other media.
Fill in the blank: The future of animation is _________.
One of many futures of animation is the creative fulfilment tool of visual storytellers.
What are the best and worst aspects about working in the animation field?
The best aspects about working in animation are the creative immediacy and possibilities. The worst is the inconsistent and "unstable" nature of those who work in the field.
Among your firm's achievements, which one(s) are you the most proud of?
Our storytelling. It's the most exciting and gratifying part of our business and it's what drives the rest.
What skills/qualities does your firm seek out when hiring new employees?
Commitment and follow-through.
What particular schools, if any, does your firm recruit new hires from? If none, where do you recruit new hires?
In Houston, we use the Art Institute.
What advice would you give to aspiring animators?
Learn about timing and framing. Know the technical aspects of animation, but also really understand the art of film making too.
What were your most challenging projects, and why?
Again, we're pretty new at this, but our "Singin' Cowboy" animated feature has been the most challenging. First, because it's a full-length animated film done entirely by one person… ME! Secondly, we learned a lot of lessons about licensing and releases. They all boil down to the old Hollywood adage: "Get it in writing".

What kind of education did it take to get you where you are today?
Reading everything. I learned everything I know by reading, then doing.

What animation software packages does your firm prefer to use? Which one would you recommend to beginners?
After Effects and Lightwave… Not sure what else to advise here. We just use the tools my old and busted mind can comprehend.

Could you share with us your best story about working in the animation industry?
Animation starts with story and performance. A moment of transcendent joy occurred for me watching James Drury and the Riders in the Sky as they preformed their parts behind studio microphones. That was a magic moment and I want more!
Do you think that there is an increasing or decreasing demand for animators overall? Why?

Animation is now part of how we tell stories. I guess cave paintings eventually fell out of fashion, but storytelling is still part of the human condition. Animation should be around for a long time and in larger and larger doses.
Check out more interviews at Animation Career Review's Interview Series.