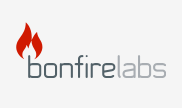 Many of the animation professionals in our Interview Series have been in the industry a long time. So has our most-recent interview subject, Matt Silverman. To give you an idea of just how long, in '96 he helped create the CG-intensive project "Internet the City", a multi-media presentation aimed at explaining the new technology of the Internet to the general public. I'm sure most of our readers will get a big kick out of that since many of our aspiring animators can't remember a time without a Macbook Air no matter the Internet.
Matt's long career started back in 1996 and since then has included the titles of: Freelancer, Graphic Designer, Creative Director, CEO and founder.  One company he founded even developed the award-winning ColorTheory, Microcosm (the world's only 64bit lossless QuickTime codec), and the FLV QuickTime Exporter apps/plug-ins. Currently, Matt is Creative Director and Partner at Bonfire Labs, a successful San Fran-based motion design studio-turned media marketing agency.
With various titles under his belt, including successful business man, we thought Matt would be the perfect subject for our series, and he was. He offered up some great advice for our readers about how to make it in the media production industry:
What is your Bonfire Labs' focus within animation and what led your firm to have such a focus?
Bonfire Labs specializes in motion design for advertising and development. If it involves moving images we are there, no matter what the platform. We like to think of platforms in terms of destinations for our work, such as televisions, movie screens, digital billboards, mobile devices, etc. Our company has been around since 1991 and was founded as a commercial editorial house working predominantly for advertising agencies. From there it expanded into visual effects and motion graphics design. Over time we found that the motion design work became the heart of the company, so we shifted focus away from being a services-based company for ad agencies to being more of an agency our self. We currently work directly with some of the biggest brands in the worlds to help craft their marketing campaigns and help design the software running on millions of consumer electronic devices around the world. 
Fill in the blank: The future of animation is ______________.
everywhere. Welcome to Minority Report.
What are the best and worst aspects about working in the animation field?
The creative freedom that opens up in the brain while animating is incredibly liberating. My mind is completely free.

Among your firm's achievements, which one(s) are you the most proud of?
Maintaining long-lasting relationships with our clients. We work really hard to make sure we deliver great work on time and on budget, and our clients show that appreciation by continuing to come back. On a more specific creative note, I am most proud of a letter I received (a real letter, on paper, in the mail) from a Goodby Silverstein producer thanking me for the work we did on a "Got Milk" commercial. He explained that Rich Silverstein thought the opening matte painting was a practical shot in Russia, and had no clue that we animated it. I have it framed on my wall in my home office.

What skills/qualities does your firm seek out when hiring new employees?
Keeping a lean ship is really important in this economy, so we have a small core staff (18 full-time employees) and work with freelancers to fill the gaps. We always like to freelance artists before hiring them on full time to make sure they fit in with the team. Personality is very important. As for skills, the first thing I look for in a demo reel is a good eye. Some people might not be the most technically proficient, but they know what looks cool. Unfortunately having a good eye is not something that can be taught in school, but can be developed over time. Then of course we are looking for technical proficiency based on the type of animation we need for a particular job.

What particular schools, if any, does your firm recruit new hires from?
If none, where do you recruit new hires?
The majority of our full-time hires have come from The Academy of Art here in San Francisco. Their program is one of the best, and I credit the excellent teachers for this. We usually intern students from there, along with Expression College and California College of Arts (CCA). I have looked at a lot of demo reels, and overall it seems like the best student are coming out of The Academy of Art, Otis, Art Center, Cal Arts, and SCAD.

What advice would you give to aspiring animators?
You better really love doing this, or you will regret it down the road. You will be spending the majority of your waking life in a dark room in front of a computer screen. You need the passion.

What were your most challenging projects, and why?
Every project is a new challenge. In general, we always try to up the level of work, so each project produces new problems to solve. That's what keeps it fun.

What kind of education did it take to get you where you are today?
I spent five years in college before getting a job offer and dropping out. I think I learned more than enough to earn a degree, but I spent my time taking classes I was interested in. From there I have had a ton of education on the job. That's the beauty of this business. You learn something new every day.

What animation software packages does your firm prefer to use? Which one would you recommend to beginners?
After Effects is the heart of our studio. Everything runs through AE in one way or another. For 3D, our main tool is Maya, which we have been using since it was first released on the Mac. One of our bigger clients uses Cinema4D internally, so we added a full-time C4D expert a few years ago and now find ourselves using it equally with Maya. In general, C4D is our tool for creating 3D motion graphics, and Maya is used for photo-real renderings (with V-Ray) and more complex animation. Last year, we added a license of Houdini to our arsenal which we are loving for procedural animation and dynamics (simulations, fluids, cloth, etc.). Houdini is far and away the most sophisticated 3D tool on the planet, and we hope to use it more and more.
The best tools for beginners to learn for a career in motion graphics are After Effects and C4D. There are tons of positions available for good AE and C4D artists which need to be filled. If you are interested in character animation or effects animation, then Maya should be your focus. Houdini is really intended for big effects shots (mostly used in features) and is not a practical tool for most motion graphics artists due to the high cost and limited freelance base, but it is so damn amazing I couldn't resist adding it to our toolkit.

Could you share with us your best story about working in the animation industry.
About ten years ago I was invited to speak at the After Effects West conference in LA. I was thrilled to find that my talk was directly after Pablo Ferro, one of my design heroes. He spent a lot of time showing the TV spots he created before his illustrious career creating film tiles for folks like Stanley Kubrik. Between talks, I cornered Pablo and asked him how much creative control he had on his TV spots. Pablo answered, "100%". I responded that I work on TV spots and find that I am battling the agency half the time. He responded. "You must insist on creative control. You must be willing to be fired." Great advice if you are a genius like Pablo. Bad advice if you have a mortgage to pay.

Has the trend of outsourcing animation overseas affected your firm, if yes, how have you dealt with it or compensated for it?
Part of the reason we morphed our business from a post house into a creative agency was to prevent competition from overseas. Our business model revolves around ideas. We are not just button pushers. These ideas can not be outsourced. Traditional animation production and vfx has a much bigger problem on their hand. The skill level of artists in China is quite amazing, and as long as they have western management to make sure they are able to get over the cultural hurdles they are going to cause all kinds of havoc on US studios.

Do you think that there is an increasing or decreasing demand for animators overall? Why?
As more and more digital screens pop up around us, they will need more and more content to fill them. This content will be moving, and it will be animators who make this happen.
Check out more interviews at The Animation Career Review Interview Series.