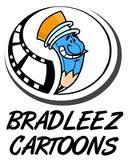 Young and fresh animator Brad Trofin, of Bradleez Cartoons, already has several successful titles under his super-hero-like belt—including the Gemini Award-winning series "Doodlez" and short film "Hate Mail" --which won "Best Short Film"   at the Cineme International Animation Festival.
This self-described "film-maker posing as an animator and illustrator" runs Bradleez Cartoons out of his studio in Calgary, Alberta and focuses on whimsical cartoons and animations. Despite his early success Brad still dreams of doing short independent films full-time, which goes along with his personal credo: "never give up your dreams, and don't get discouraged...your passion and persistence will be rewarded".
Brad recently sat down with us to discuss how he turned his quirky passion into a whimsical career—and how you can too:
What is your firm's focus within animation and what led your firm to have such a focus?
My focus was to create animation that people of all ages can enjoy. Animation is such a powerful medium for conveying a message to viewers. What led me to the animation field was the excitement of seeing my still images come to life.
Fill in the blank: The future of animation is ___________.
ever changing and is only limited to our imagination.
What are the best and worst aspects about working in the animation field?
The best aspects are the diversity of projects and the joy it brings to so many people. The worst is the massive amounts of time spent to achieve outstanding results.

Among your firm's achievements, which one(s) are you the most proud of?
Most definitely is when my short film entitled "Hate Mail" won "Best Short Film" at Cineme International Animation Festival in Chicago. Judges were from all the top studios in the US. Disney, Dreamworks, Cartoon Network, and Nickelodeon.

What skills/qualities does your firm seek out when hiring new employees?
I look for someone who can show me something that has humour and adds life to the work.

What particular schools, if any, does your firm recruit new hires from? If none, where do you recruit new hires?
Actually, I keep a data base of animators that have applied from all over the globe. School or no school. I just hold on to ones that show me that they a passion for what they do.
What advice would you give to aspiring animators?
Do what you love and you'll improve.
What were your most challenging projects, and why?
I had to animate an entire pilot episode on my own. Most people have at least people that do different parts such as backgrounds and design work. I wanted to take on the challenge on my own to test my ability. Boy, was I tested!

What kind of education did it take to get you where you are today?
Most of my education was self taught. I did take a classical animation course which did improve my skills, but I do recommend training.
What animation software packages does your firm prefer to use? Which one would you recommend to beginners?
I almost exclusively use Adobe Flash. I love that program! It allows artists to be artists and it doesn't smother artists with too much "techy stuff".
Could you share with us your best story about working in the animation industry.
The story that sticks out is that when I was first hired at a studio as a rookie animator, I didn't really enjoy the studio environment there. The staff weren't very nice to me. After three months, I left. I decided to create that award-winning short film "Hate Mail" initially to be used as a "promo film" to attract my own clients. It went on and won for "Best Short Film". The funny part of the story, is that the studio that I just left also entered a short film to the exact festival that I entered. It didn't win anything. Nada. I felt pretty vindicated after that!
Has the trend of outsourcing animation overseas affected your firm, if yes, how have you dealt with it or compensated for it?
Not really. People will always want a personal touch to their ideas. I don't work like an assembly line pumping out generic work. Each of my projects has a personal touch to them.
Do you think that there is an increasing or decreasing demand for animators overall? Why?
In demand. I think people like all kinds of animation, from 3D to traditional to stop-motion. It's always in demand of great animators.
Check out more interviews at Animation Career Review's Interview Series.