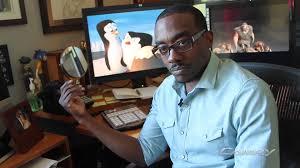 It's the dream of many a kid to see their drawings come to life on the big screen. It's arguably the wild imagination of many an adult, too. But for Jamaal Bradley, this is his reality. His work on memorable characters in films like Penguins of Madagascar and Tangled resonate with a broad spectrum of audiences and show his knack for hard work, great art and compelling story.
Maybe it should come as no surprise that the animations of a man who has bridged divides throughout his life echo in people both young and old, black and white, of meager and affluent means. As one of the select few African-American animators, Bradley carries a distinctive torch lit by venerable predecessors like Disney greats Floyd Norman and Ron Husband. And he carries it well. This is a guy who has lent his hand to animating on projects for free and who gives up his 'spare time' to foster the growth of new animators.
Bradley's early interest in the craft stemmed not so much from movies as it did from art and illustration. Dedicating himself to learning the nuances of animation and taking opportunities as they arose, his career has taken him from game animation and cinematics on titles like EA's Golden Eye to animating on Disney's Prep and Landing. Today, you can find him at DreamWorks as Supervising Animator where he lends his watchful eye for detail to memorable characters in The Croods and Puss in Boots. We were delighted when he agreed to participate in our latest Spotlight Q&A. Enjoy! (This interview was done via phone & has been edited minimally).
ACR: Jamaal thanks for taking time out of your busy day to talk to us about your career in animation. Did you want to become an animator from a young age?
Jamaal Bradley:  I think the first animated movie that I really loved was Secret of Nimh but I didn't know at that time that animation was a career option. In general, I loved art as a kid. My mom had Norman Rockwell books which I poured over. Actually, my mom had 'a' Norman Rockwell book but when she saw how much I loved it she bought more. Art was my thing and animation came later.
ACR: What was the educational path you took to eventually become an animator?
JB: I went to undergrad at Hampton University and started off as a business major but switched sophomore year to pursue art. I started doing fine art and painting with human figure there. Someone saw my life drawings and recommended I take an animation elective at Norfolk State University. I remember the teacher of that class didn't know a whole lot about animation so we learned from each other. I ended up (attending) Savannah College of Art & Design (SCAD) where I met Nancy Beiman who was in the first CalArts class along with John Lasseter and that sealed the deal.
ACR: Was it difficult going from pencil and paper- or paint and canvas- to CGI?
JB: It was scary at first. I remember that my first look at animation was watching someone work in Curve Editor and I thought, 'Oh, no way. I'll just go back to 2D.' But I ended up attacking CG. It wasn't easy but it's another tool of the animator.
ACR: After SCAD, you found yourself doing animation in the games industry. How did that opportunity come about?
JB: I was at SCAD going for my Masters but never graduated because a guy in my class left to work at a new game company, TKO Software, in Santa Cruz (California). I got a call from the art director who wanted me to join them. I talked to my professor and the moment I told him about the opportunity he advised me to take the work… which I did!
ACR: You worked at several game studios including E.A. before moving on to feature films. What was the transition like?
JB: Yeah, Sony's Open Season was the first film I worked on thanks to another cold call after someone saw my reel. Even while I was working in the game industry, I was always doing my own personal work trying to get better so that's how I was discovered for that role. I noticed the biggest difference between animating on games and (animating) film was the level and quality of animation… it was much, much higher in film. I'd watch my peers' work on the big screen and think to myself, 'Wow. I need to step it up!'
ACR: Between your roles at DreamWorks, Disney Animation and Sony Imageworks, you've worked on some really fun characters. Any personal favorites?
JB:  Cody from Surf's Up was really fun. I loved all of the Surf's Up characters… they had a lot of appeal. I also loved working on Tangled's Mother Gothel, and The Croods were a lot of fun.
ACR:  Do you have advice for aspiring animators when it comes to working on characters you don't necessarily love?
JB:  You gotta dig deep and remember why you're doing this in the first place. You ask yourself what you can do to make the character shine and support the overall project. In animation, you gotta get past the 'I... I… I' and think about the 'we'. Every character- every shot- supports each other in succession. I played sports growing up and my coach was always reminding us it's 'we', not 'I'. You can be selfish in the sense that you want to make it good, but remember there are others supporting you.
ACR:  On that note, what are the 'soft skills' that you've leveraged in your career?
JB:  The biggest one for me is remembering that whatever job you're at, take advantage of it and learn the most from that position that you possibly can. Wherever you are- I don't care, you might be a customer service rep making minimum wage- you can learn something because things resurface later on whether it's skills, working with other people, or talking with your boss. You might have to talk to an executive at some point, so be diligent at being a good employee today. And soak it all up.
ACR:  Jamaal, do you have mentors who've helped guide you and offer advice on industry trends?
JB:  I've always taken advice on navigating the industry. It's about networking and meeting people and seeing the trends. VR is the next thing coming which is a whole new frontier of telling stories and how we animate. You're not just dealing with a camera- it'll be a 3- dimensional space that someone can move around in the scene so animating that is going to be a lot of work.
ACR:  As one of a small number of African-American animators, do you consider this minority status within the context of the industry?
JB:  It's something that comes with the territory of being black in America- you're a minority. I know from my experience in the industry that there are people who have never had too much interaction with a black person other than someone you say hello to getting your morning coffee. So it's something you have to work through. I grew up in a melting pot neighborhood- I have friends of all descents and I think that helps me immensely as an animator today. But it's been instilled in me that if you're a minority you have to work three times as hard. I attribute that mentality to where I'm at today. I have to stay on top of my toes. Don't make a thing of being a minority- just let your work speak for itself.  
ACR:  We've spotlighted Virginia State University's animation program- one of only a few animation degrees offered by a HBCU- and we saw how difficult it can be to bring more minorities into animation not least because elementary and secondary arts education in communities of color continue to be cut. What's your take on this?
JB:  It's a great thing to have visual arts and music and sports in schools. Here in L.A. and across the country, they're stripping away those things that make you creative or can be an outlet for someone to move forward in life. With the black community and the even Hispanic community, there's sometimes a sense of playing catch-up. When people first started doing animation decades ago, it was a bit of a luxury field. You had to have money or the freedom to experiment and create artwork for a living. Most minorities didn't have that luxury. The idea of getting ahead in America meant you needed to study things like business, law, medicine or the sciences. So for many, the last thing you think about as a minority is going into art because it's a gamble as a career choice. That's why I think when you look at HBCUs, you won't see a lot of animation courses just yet.
ACR: It's ironic given that this craft thrives when its artists come from diverse experiences. Are you optimistic for the future of diversity in the field?
JB:  Oh yeah. Bringing people into the fold who know a history of the story you're telling is everything. With the internet and online learning tools, there's an explosion of what people can do just on their own. There's even free software so people can make new opportunities… you don't have to work at a big studio in order to make something happen for yourself. But if you want to make a career out of it, you need to dive into it and tackle it head on.
ACR:  Jamaal, it's been such a pleasure. Now we'll let you get back to work creating memorable characters!
Check out more interviews at The Animation Career Review Interview Series.