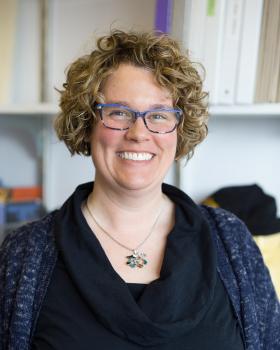 Professor, animator and illustrator Charlotte Belland serves as Chair of CCAD's new Game Art & Design major as well as its Animation major
Columbus College of Art & Design may be one of the nation's oldest private art colleges, but its students and faculty habitually have their eyes set on the future. Located in the midwest's video game industry hub, CCAD students have long explored game art- even creating a student-operated collective that deep dives into all things game development and design. Students habitually showcase their video games and recently explored the industry's notorious crunchtime in a tabletop card game, '100 Hours Till Launch'. In a few short months, they will have their first opportunity to turn their passion for games into their major. 
CCAD's new Game Art & Design degree program, due to launch fall of 2020 pending accreditation, will draw from its already extensive student and faculty game interests and backgrounds to develop game designers capable of leaving their mark on one of the world's largest industries. Students will leverage the college's state-of-the-art facilities that include a stop motion lab and industry-grade computer labs, as well as partnerships with the region's many studios, to fuel their growth as game artists.
Professor and Chair of CCAD's Animation major Charlotte Belland was keyed to Chair the new Game Art & Design major. She has worked closely with local industry, faculty colleagues and students to help carve a new curriculum unmatched in the midwest. For our latest interview, we catch up with Belland to inquire about what we can expect from the college's latest degree offering. We hope you enjoy!
ACR:  Charlotte, tell us how CCAD's new major in Game Art & Design came about.
Charlotte Belland: The genesis for Columbus College of Art & Design's Game Art & Design major was the recognition that we have a robust collection of game classes housed within the Animation major here and we have a history of graduating alums who have engaged successful careers in the industry (tabletop to AAA games)—the time was right to establish the major. We realized that students were selecting CCAD to study game art & design and we needed to formalize a home for that academic pursuit.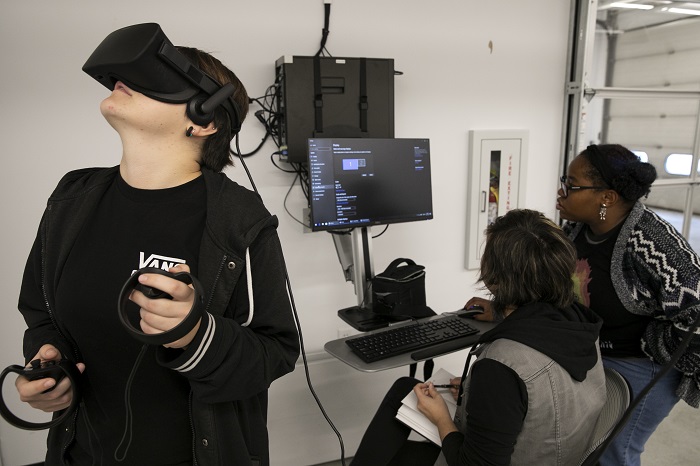 ACR:  How did you and your colleagues develop the curriculum?
CB: The best part about the launch of our new major is that a large portion of the curriculum already exists- we just have to switch the prefix from ANIM to GAME. That being said, there are several new classes being designed that expand and deep-dive into topics. Assistant Professor Liz Keegan and Associate Professor Steve Hubbard have been working with their local, national, and international connections to address the needs of the industry. Ms. Keegan currently teaches a game project class that partnered with Matthew Tarulli, one of the founders of ODAM Publishing, to produce a commercially ready product. The game, 100 Hours Till Launch, debuted in late April and is available to download.
ACR:  Will there be cross-over in terms of the courses, projects or faculty of the Game Art & Design program and other programs of study?
CB:  There absolutely will be cross-over experiences. The Game Art & Design curriculum will have a strong connection to Liberal Arts. You can't tell stories if you don't have any. It will also have several business classes because we want our graduates to enter any contract (whether working for a large company or developing their own IP) with clear expectations. But our more prolific cross-over experiences are the numerous team-focused classes. One of these classes will be an invitation-only partnership with a local company. Another will be a studio-simulation class where students try on different roles. There also will be a yearly project class for a student-lead tabletop game that will be sold commercially with profits returning to the students. While these classes will feature Game Art & Design students, we welcome students from other majors to join. 
ACR:  Tell us about some of the foundational courses within the major that your students will take...
CB:  The first class a Game Art & Design student will take is our Intro to Game Class. This six credit course merges a deep dive into Game History—you have to know where you came from in order to move forward—and introduces students to the two main tracks in Game: table-top and AAA games. As students learn about key moments in game history, they will produce small working prototypes. The goal is for students to have a clear understanding of what it takes to make a game (analogue or digital), so that they can make an informed decision if this is the correct major for them.
Another foundational class is pipeline management. In this class, students propose a project and they track every aspect of production. They learn exactly how long it took for them to complete their defined tasks. This skill is crucial to ensuring that projects get completed. Additionally, students will take their first collaboration class and their first drawing for entertainment class. All game students need to be able to work on teams and to communicate their ideas visually.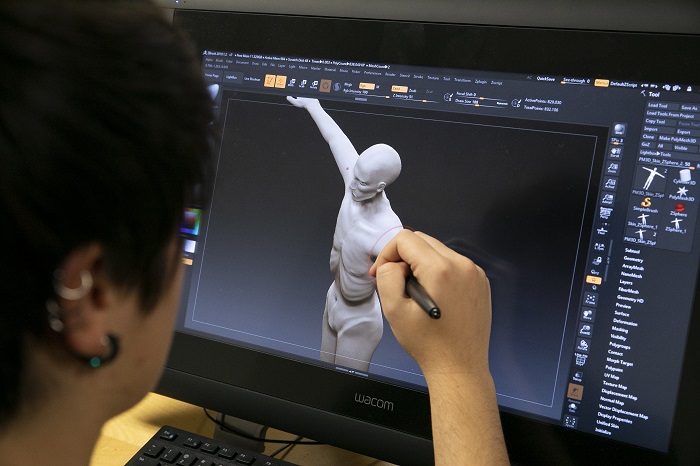 ACR:  What hardware/software will your students leverage the most?
CB:  Mastery of the latest technology is crucial for a student's success. That being said, there needs to be a balance between knowing the technology and knowing how to leverage the technology to tell stories. Partnerships with companies will bring a variety of new technologies into the classroom. Students will work with our various fabrication labs, Unity, and Unreal primarily. Obviously, all of those processes require 3D-pipeline knowledge. For students who want to work exclusively with tabletop, they will leverage the tools in the fabrication labs for the construction of their game elements. 
ACR:  AR and VR continue to push the bounds of interactive media. Will they play a role in the courses or projects that your students will work on? 
CB:  Absolutely. AR and VR will continue to play a role in our curriculum. We have and continue to invest in digital tools for the students to explore projects. Mr. Hubbard led a team of students who built an AR sculpture that was displayed at the Columbus Arts Festival. Ms. Keegan led a team of students that built a VR custom coloring game for kids. As with all new technology, we have to plan for constant equipment updates and replacements.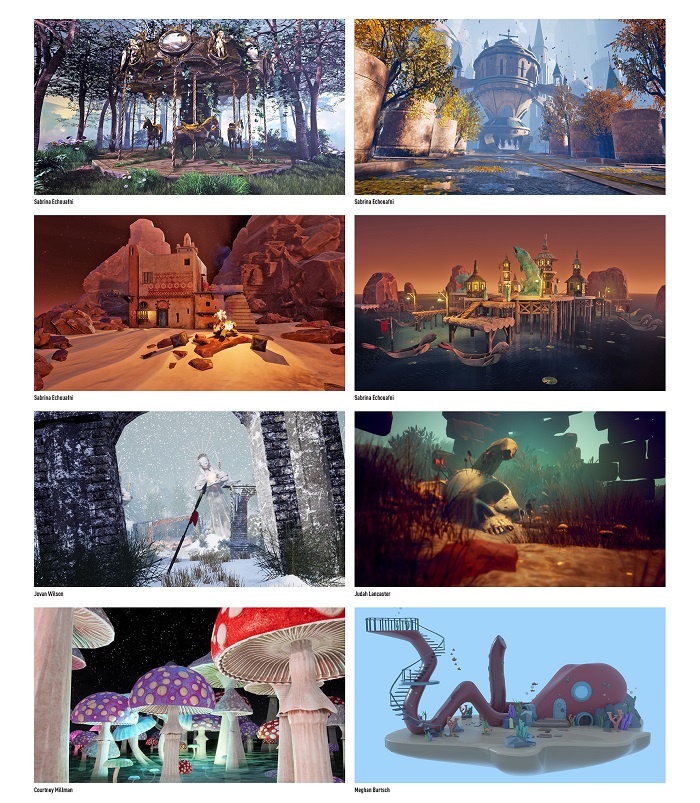 ACR:  Speaking of constant updates, what's the best strategy for preparing students to be future leaders in a field which is constantly evolving and adapting to new technologies and market trends?
CB:  The most important skills are adaptability and the willingness of the student to engage different fields. Many of our students have interests that orbit their game art and design skills. These overlaps can lead to some of the most invigorating, and challenging, projects. But these overlaps only work if a student is willing to adapt to unknown situations and results. It is our responsibility as educators to train the students to welcome unpredictable circumstances and to address them calmly. This is a long-haul process that takes numerous small moments to build-up the skill. Likewise, we must show that we value the local and national businesses and entrepreneurs that bring these experiences to our students. When a student sees a list of visiting artist/designer talks that include Sim and Interactive guests, this reinforces these fields as a possible career path for students and alumni.
ACR: As Chair of CCAD's Animation program, you and your colleagues have already forged important industry ties. What is the influence these partnerships have on the curriculum and educational outcomes?
CB:  Local, national, and international partnerships are key to student success. Engaging with guests, internships, co-ops, industry sponsored projects, and hack-a-thons are rooted into the curriculum. Students will participate in local conventions like GDEX and Origins Game Fair. The Game Art & Design will offer travel scholarships to attend international conventions like GDC. The curriculum requires that students participate in at least one external-sponsored project. With on-line opportunities becoming the norm, we can see this expanding. Our local game studios will always be a part of our discussions. Plus, it's important to give the local companies opportunities to get to know the students so that they can actively recruit and retain talent for Columbus, Ohio.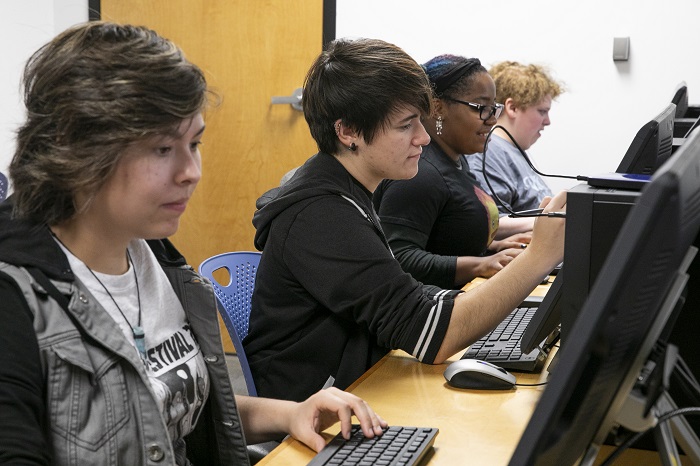 ACR:  I would be remiss to not inquire about your faculty colleagues in the new major and what they bring to the table. Tell us about them.
CB:  Our faculty are makers—they are constantly building and constructing all types of projects (commercial, personal, grant-based, etc.). Their passion for innovation must bridge the classroom. They must actively participate in what they teach.  
(Assistant Professor) Liz Keegan has been instrumental in the establishment of the Game Art & Design major. Ms. Keegan has invigorated the curriculum and the students! Her ability to generate connections with local and national professionals has inspired and supported numerous students and alums. Ms. Keegan brings extensive knowledge of tabletop games, platformers, VR, to micro computing. (Associate Professor) Steve Hubbard is an excellent complement as he brings the AAA pipeline to the major. Both Mr. Hubbard and Ms. Keegan share an insatiable thirst for new technology. It is a delight to watch them discuss and then implement all types of opportunities for our students.
ACR:  Columbus has become a central hub for game design and dev in the midwest. How do you see the new program impacting the regional game design landscape?
CB:  Formalizing the Game Art & Design major shows our commitment to nurturing the next generation of designers. Our local and regional businesses are always asking for interns and alums. The need for these skill sets is growing and graduating folks with the formal Game Art & Design title shows that we are fully invested. GDEX and Origins Game Fair have brought the international dialogue to Columbus Ohio and has helped us highlight our contributions to the industry.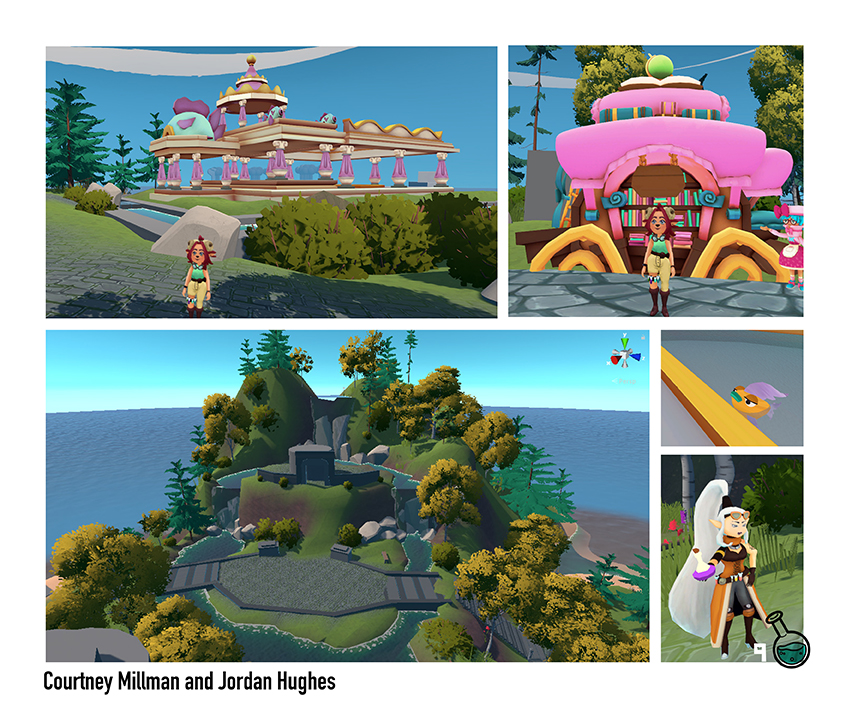 ACR:  As an animator and artist yourself, what do you enjoy about games as well as teaching the art of games to students, Charlotte?
CB:  Games are a wonderful blend of community and storytelling. While my own interest in games bridges analogue to digital (Untitled Goose Game is my current favorite), one of the most exciting things to witness is when a student or team of students has you play their game. Even if the game has some glitches or challenges, their passion is profound. The game students that I have had the privilege to work with have inspired me to thoroughly examine my own projects. At the end of the day, the game has to engage and communicate a story. To have the opportunity to participate in the education of the next generation of game artists and designers is a true honor.
ACR:  Lastly, what are you most looking forward to when the program officially debuts in the fall of 2020?
CB:  I look forward to seeing those students feel like they have a home. While the game students play well with their animation and illustration cousins, they will now have their own dedicated faculty and curriculum. And I truly look forward to playing the students' games and watching their smiles as their story is clearly communicated by their expert designs.   
Check out more interviews at Animation Career Review's Interview Series.