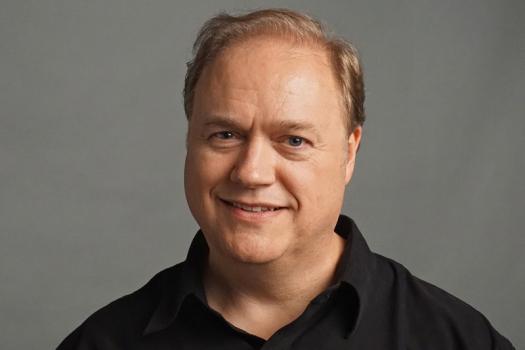 The University of North Carolina School of the Arts (UNCSA) may be small, but it is mighty among public art universities. Its 1300 students (undergraduates, graduate students, and high school students) benefit from the university's supportive conservatory approach to arts education, as well as its campus location in the state's cultural and artistic hub of Winston-Salem.
We chat with Assistant Professor of Animation Stephen Baker to learn more about the animation program at UNCSA, housed within its Filmmaking Department. An Academy Award-winning animator and director (Best Visual Effects, Hugo), Baker instills in his students the time-honored traditions of his craft as well as insight and adroitness to maneuver in a competitive field. He describes UNCSA as a wellspring of creativity where faculty and students fuel each others' creativity. Eager to learn more? We invite you to read our Q&A below!
(Our Q&As are edited for length & clarity).
ACR:  Stephen, thanks for participating in our latest Q&A. Your career as a visual storyteller has taken you from animating and directing films to games, and even commercial applications. When and why did you turn your attention to teaching?
Stephen Baker: I think I first turned my attention to teaching in 2011, precisely after working on the Academy Award-winning film Hugo! I've worked on a lot of great projects over the years, but after contributing to six Academy Award-nominated films, it felt pretty good to finally get that formal recognition.
The animation industry has evolved over the years and is very much project-based now. It takes a lot of time and effort to craft a group of disparate animators into a finely-tuned team that works well together, so after twelve years of building animation teams that eventually disband at the end of a project, I became interested in building something that would have some longevity. I love animation and wanted to stay involved with it, so I thought about which parts of the process I enjoyed the most; I realized that it was mentoring inexperienced animators and helping them grow into great animators themselves.
ACR:  What attracted you most to teaching in UNCSA's Animation program?
SB:  Several things, but the first being that it exists within a film school. Due to the nature of the craft, most animation programs have been built within art schools. While artistic skills are vital to being an animator, we are first and foremost visual storytellers. I was excited to find this unique animation program that was based on a film paradigm.
All of the schools within UNCSA take a conservatory approach to creating art; we are the only state-funded conservatory in the nation. We consist of 5 schools (Filmmaking, Drama, Dance, Music, and Design & Production) and each are among the very best in the country. I couldn't resist the opportunity to work with this amazing group of artists, and collaborating with them whenever possible. We're a small campus, and every student here is passionate about their art. They are deeply aware of each others' skills and capabilities, so collaboration is the rule rather than the exception.
ACR:  UNCSA leverages its small size to give highly tailored educational experience. Tell us a little about your class sizes and how that impacts your animation students.
SB:  In Filmmaking and Animation, our goal is to work very closely with our students and we accept very few applicants to facilitate this. We will have thirty students in the animation program this fall, and in accordance with our conservatory approach to creativity we are now full. This number is based on our three animation labs, with ten workstations in each. Each student is assigned their own dedicated computer and workstation with 24/7 access, and this will be their personal workspace for the next three years. They'll never have to worry about signing up for computer time or getting the boot when they're deep into a project.I'll often get a text at 3am asking for help on a issue, and since I still seem to run on California time, I may very well be up to answer it!
I'll sometimes offer a class for as few as three or four students, and never more than eleven within an animation class. We set up Independent Studies with our students which are effectively one-on-one classes on subjects a student wishes to learn more about beyond our curriculum. All faculty function as student mentors, and we encourage them to speak with us at least weekly about their art, their education, their future, and anything that might impact their artistic journey.
ACR: Do your students collaborate or cross-pollinate with others in the Filmmaking department or beyond?
SB:  Our foundation year allows our animation students time to bond with their fellow live-action filmmakers, and both disciplines collaborate quite closely with each other. Animators have to be directors, cinematographers, editors, screenwriters, production designers, and producers to tell their stories, so having a strong foundation in all of these areas is vital.  They storyboard, create titles and credit sequences, provide animation and visual effects, and sometimes even act as the art director for the live-action films their fellow students are making.
In return, our animators work with editing students to cut and create sound their films, producers to schedule and budget them, cinematographers to help with lighting and shot layout, and composers in our film composition MFA program to create original music for their films.
ACR: You mentioned the foundation year that all UNCSA students first through. Tell us a bit about it and how it shapes their skills within animation.
SB:  First year students are immersed in every discipline that the school of Filmmaking offers. They take courses in directing, editing, cinematography, screenwriting, production design, and producing, as well as film and cinema studies. I also offer an introductory course in animation, and while it's not part of the required curriculum, I regularly have a third of the incoming filmmaking class enroll. It's a little daunting for students who have never put pencil to paper, but by the end of the semester they have created ball bounces, morphed multiple objects over time, and brought flour sacks to life with aplomb!
As I mentioned earlier, all of these skills are invaluable to animators as they create their own animated films. They also learn the value of teamwork by working closely with others to create both their own short films, as well as their classmates'.
ACR: How do you develop storytellers?
SB:  Story is definitely the driving force behind everything we do here at UNCSA. In fact, our campus-wide student learning outcome has been distilled down to, "Tell your story," whether that story is dance, drama, or animation! Our students focus heavily on story and screenwriting during their foundation year so that when they come to animation they are already prepared and ready to hit the ground running with classes that cover storyboarding, the language and tools of cinematic storytelling, how character relates to story, and acting for animators.
In addition to required classes that teach the tools of animation, our core curriculum revolves around a practicum class whose end result is a completed student film for each of the three years of our program. This means that before the students ever go into production, there will be months of work devoted to generating, critiquing, revising, evolving, storyboarding and creating an animatic that will represent how they can best tell their story.   
ACR: Do students focus on a particular type of animation at UNCSA?
SB:  We give our students the tools to work comfortably in all aspects of animation, be it hand-drawn, stop motion, or 3D CG, as well as the competence to work in areas that range from experimental, classical character animation, and hyper-realistic visual effects-based animation, to motion capture-based production as it relates to games, virtual reality, and augmented reality.
ACR:  Given the constant forward-motion and change that a career in animation brings with it, how do you best prepare students for their futures as artists?
SB:  The most important tool we can give our students is to be the very best animator they can be. As my mentor, Chris Bailey, once said, "Animation is just pose and timing." And that isn't going to change. So the more comfortable our students are with creating strong poses that read well, as well as having a strong grasp of what the timing between them is conveying, the better they will be.
The unfair converse of this is that how we produce animation is ALWAYS changing! The most important thing I want all my students to take with them as they venture out into the world is to be avid, lifelong learners. We can (and do) prepare them for the tools that exist right now, but they need the confidence to know that no matter how the industry changes, or which software is the flavor of the week, they will be able to pick it up and work with it. I always tell them that it's the painter, not the paint brush!
ACR:  Last but not least, what do you value most about teaching in an intimate, collaborative environment like UNCSA?
SB:  I work closely with every single student across all four years of our program, and know them quite well on both a professional and personal level. This ties directly to my role as a mentor. We meet during office hours to discuss everything from animation, project ideas, how their other classes are going, job prospects and career interests beyond school, to any personal issues that might be affecting their work and educational career. This also ties back to my work as an animation director... I always like to say I am one part animation mentor, one part surrogate parent, and one part psychologist! I wouldn't have it any other way.
Check out more interviews at Animation Career Review's Interview Series.