Patrick Ryan is the Esports Head Coach at Daemen College
We recently spoke with Patrick Ryan, Daemen College's Esports Head Coach about their program.
Animation Career Review: What are the esports in which your school participates?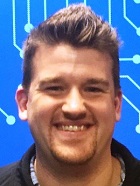 Patrick Ryan: Currently Daemen competes in League of legends, Hearthstone, and Overwatch.
ACR: If you offer esports scholarships, please describe your program (full ride, in-state only, etc) 
PR: As a private institution, we are not locked into scholarships based on residency status.  Our scholarships are talent based and stacked upon additional merit and/or need based aid.  Typical scholarships solely for esports athletes is $1,000.
ACR: Please fill us in on your recruiting efforts.  How are potential students identified? Key stats?  What can a student do to connect with your program? 
PR: Here at Daemen, we have used several different outlets for recruitment.  We have used our social media aggressively, including a Reddit "AMA" that almost made the first page of the League of Legends Reddit.  We have also found members in the games we play and connect through their IGN as well from popular recruitment sites such as berecruited.com. We also have a questionnaire found on our website that students already interested in the school have used to find our program.  Finally, during Open House, we utilize our esports lab for competition and direct recruitment.
ACR: Esports are new to everyone.  Please share with us the story of how your program came to fruition. 
PR: The president of Daemen, Dr. Gary A. Olson, also serves on the NCAA board.  He came back from a meeting nearly 2 years ago interested in the prospects and asked the VP of Student Affairs, Dr. Greg Nayor, (currently the VP for Strategic Initiatives) to look into it.  After doing a fair amount of research, Dr. Nayor saw the potential growth and realized this was something Daemen really should be doing.  We worked closely with Information Technology to identify equipment that could be used and repurposed an underutilized lounge to become the new hub for esports.  The rest of the growth has come as Daemen has grown and become a leader in Western New York in this market.
ACR: Describe the type of student are you seeking. 
PR: Daemen seeks dedicated passionate players with a drive to win, who are also coachable, and strive to be at the top of their game at all times.  Additionally, we want students first.  All esports athletes at Daemen have a minimum GPA requirement, study hours, and wellness initiatives.
ACR: As esports are so new, what are the common misconceptions people have about them? 
PR: Typically, gamers as a whole are viewed as introverted and antisocial.  We can say from first-hand experience that this generalization could not be further from the truth. Some of the most outgoing people on our campus are also a part of the esports team. 
ACR: What are the common concerns you hear from parents regarding esports participation? 
PR: Parents, and some other generations in general, have a hard time understanding that this program involves more strategies and leg work for every game as the more popular sports.  Some students compete in multiple games. In traditional sports, a student athlete only has to focus on that. Since esports is online the game can literally change overnight, whereas most sports have remained relatively constant over time.  Parents also tend to have a hard time understanding that you can move into several careers out of esports, such as sports management, analytics, broadcasting and marketing to name a few.  Our goal is to help parents, and others, see esports for what it is: a competitive activity that requires skills and times, as opposed to comparing it to traditional sports.
ACR: Tell us about the season.  What other schools are in your division and conference?  How many opportunities are there to compete for a student athlete? 
PR: We are a part of the NCAA Division II East Coast Conference (ECC), which includes NYIT, Southern New Hampshire, Molloy, Liu Post, and St. Thomas Aquinas. While not recognized by the NCAA, many conferences host seasons and leagues on an interest level basis. Daemen competes in all of the competitions, which includes the League of Legends tournament open to the top 2 teams in the conference.  We also compete in TESPA, which is an organization that lets you compete for scholarship earnings.
ACR: What can an esports student athlete expect in terms of time commitment?  How many hours of play, practice, travel? 
PR: We typically practice 4 times a week at about 3-4 hours a session.  Game run about 1-2 hours usually once a week. So far, there hasn't been a reason to travel
ACR: What are the academic expectations?  Are there minimum GPA requirements? Do you offer study tables or other programs to support the student athletes? 
PR: All esports student athletes must be in good standing and have at least a 2.0 GPA.  That GPA is usually much higher.  ALL first-year scholarship athletes (we do have walk-ons) are required to sit at study tables, managed through Athletics, until at least the first semester, depending on GPA.  We follow the same policies as Athletics does for student athletes.
ACR: Share with us how your team is doing this season. 
PR: The season hasn't started yet; however, last year we were able to make it to the playoffs for League of Legends tournament.  In Hearthstone, we finished the last team to miss in TESPA. With new talent coming along this year, we have no doubt that we will improve on those results
ACR: Tell us about your coaching staff. 
PR: After serving as assistant coach, I assumed the role of head coach this year following the departure of our coach for another coaching opportunity. I am excited about assuming this new role. I have been playing Mobas since DoTA was just a mod for Warcraft, and I am also a Legend player in Hearthstone.  Our new assistant coach is Jose Mejia, who was a part of the team last year and with little time of eligibility it was a natural fit for the team. Mejia retains high ranks in both League and Overwatch.
ACR: Tell us about your esports practice and/or competition facilities. 
PR: Daemen has a dedicated esports room equipped with 10 state of the art computers as well as a big screen TV used for games and VOD reviews.  It is also the only one we know of that offers 24/7 access to its players.
ACR: Please share any unique qualities of your program (first one in state, emphasis on team)
PR: We were the first one in Western New York to form and the only one with a 24/7 facility that is open to non-students as well.  We also offered a camp this summer to middle and HS students that was very successful.  Finally, we are officially sponsored by GameFuel from Mountain Dew.
ACR: What advice do you have for prospective students wanting to pursue esports, as well as those specifically seeking esports scholarships? 
PR: Keep your rank up, follow social media and get your name out there.  Do not be intimidated by the process. Understand that the person you talk to on the other end is most likely someone you could have been dominating the last time you played.
ACR: In what ways do participants in collegiate esports programs benefit? 
PR: Besides the obvious of making their college education more affordable, students get to experience what it's like to be a part of a collegiate team and continue getting to do something they love while earning a college degree.  They also get coaching which will help to improve their skills and make them a better player.
ACR: Tell us about your goals for your program. (Do you expect to add more sports, scholarships, etc) 
PR: We expect to be competing in Apex Legends as well as Fortnite in the foreseeable future.  As the program grows, so does our funding which would make room for more scholarships and larger facilities.
ACR: From a competitive esports standpoint, what is the single most significant moment or accomplishment that stands out in your program's brief history? 
PR: I would have to say making it to the playoff game that would have advanced us to the League of Legends tournament.  Knowing we came so close to esports biggest stage in the ECC in such a short time is nothing to scoff at for sure.
Check out more interviews at Animation Career Review's Interview Series.