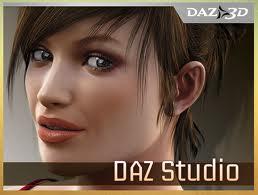 Last month I highlighted how many new features Bryce 7 Pro and DAZ Studio 4 included, and stressed how much users could accomplish in just an hour of time with those software packages. This month I was able to interview the Marketing Manager and Product Evangelist of DAZ 3D, Blaine Furner, and we discussed what they plan to do next with DAZ Studio 4. Be sure to check out the impressive Genesis video at the bottom that shows off their figure creation and customization platform.
Tell us a little bit about your company's studio(s). Where are you located at? How many employees? What else should our readers know about the people who are responsible for the software they use?
DAZ 3D was founded in 2000 with the purpose of providing affordable, easy-to-use 3D solutions (models and software) for creative people ranging from hobbyist to high end professionals. The company has 35 talented and innovative employees and is located in Draper, Utah.  Many of the employees started as artists and publishers of 3D content and now work for DAZ 3D. We have a passion for the highly developed products we sell.
What do you think is a current trend in your target market's industry? How did the most recent version of your software try to focus on this?
We are seeing much greater adoption and acceptance of 3D technology being used for traditional 2D illustration ranging from magazine covers and comic book illustrations to poster art and websites. People are learning the benefits of using customizable 3D "stock models" to significantly improve the the quality and speed to create great illustrations and animations.
What do you think is the most underrated aspect of your program?
Many people do not realize how easy it is to learn our applications nor do they fully understand the many ways to use our products for creating great Art and Animations. We've created video tutorials built into the software to teach beginners the basics, and online videos to take them to the next level in photorealistic digital art creation.
What do you foresee as the future demands of the market? What's the next big thing?
We feel that much of the creative process will move towards web based and mobile applications although advanced functionality and capabilities will still require downloadable software for many years. People are looking for easy access to creative solutions that can go where they go.
How does your studio plan on adapting to the future? What features and improvements should users look forward to in your product's next version, and is there a target release date yet?
User experience is the key to the future of our business and will be the drive for our 2012 year. We are focused on developing easier ways for customers to obtain content within the applications and better ways to use that content.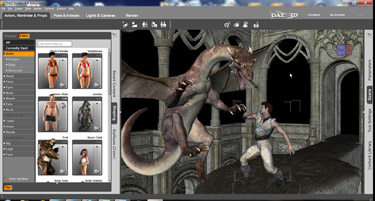 When was the most recent version released? Roughly how many people across the world have purchased or licensed your product, and which countries account for most of the sales?
We released DAZ Studio 4.0 (free version) in June and have over 100,000 registrations. In September we released our paid versions of DAZ Studio 4.0 (Advanced and Pro) with thousands of purchases so far. Although the majority of our sales are coming from North America we see huge distribution of our products world-wide.  
What section of your online community should beginners check out first? What section will veterans get the most out of?
For those getting started we suggest this page, as it provides an overview of what our tools will help them accomplish, and how to step by step get stated. Or you can view any of our software product pages, and the 3D Content page on our site.
Veterans and beginners alike will find help and support from the huge DAZ 3D community in our forums. Many beginners will ask questions on getting up and running or spend hours reviewing tutorials. Veterans will post images of work they are creating and ask for input to improve. We find our community happy and eager to help everyone wanting to learn.
Many of our users end up subscribing to our Platinum Savings Club, which provides a deep discount on purchases and also gives access to over 1,000 products at special $1.99 pricing with a valid membership.
What advice would you give to aspiring artists?
Most people get into comfort zones with their creativity and find it hard to try new approaches. I recommend trying new tools (especially our products) to find new ways of doing what you love more efficiently. If you aspire to become a professional illustrator your competitors will be using the best technology to give them advantages in creating better looking art faster.  Many of the artists we highlight in our In Action pages started without using any of our tools but then learned how much better and faster they could finish their projects. You'll see the information they share shows how you can increase your realism, and speed up the work flow by using our tools (both software and 3D figures).
Which achievement is your company the most proud of accomplishing?  
Our new Genesis™ figure platform is definitely the biggest and most ground breaking project that we have ever accomplished. This new platform provides versatility and quality in figure creation and customization beyond anything our industry has ever seen before. Customers can easily create unique figures and characters that can differentiate their work from others.
For example, the Genesis figure loads into DAZ Studio 4 by default. A user can easily dial up male or female, add body shapes, or combine many shapes. By purchasing other add on packages, you can add alien or creature head and body shapes to the same figure. The capabilities are virtually endless.
You can see a couple of videos showing this technology:
Are there currently any sales or special offers available for any of your products?
DAZ 3D offers sales and discounts on a regular basis. These offers change from week to week and cover a variety of genres and product types. Our home page will show the new releases and promotions as they are updated. We also provide users access to a wide variety of free products to work with.
Check out more interviews at The Animation Career Review Interview Series.