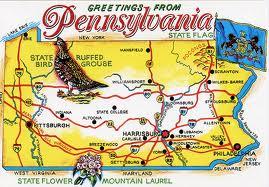 From the eclectic lake city of Erie to progressive Philadelphia, the state of Pennsylvania has a lot to offer aspiring designers. In addition to scenic cities and progressive urban centers, Pennsylvania is home to a large collection of fine art and design venues such as the Philadelphia Museum of Art (one of the largest art museums in the U.S.), Pennsylvania Academy of the Fine Arts, and Carnegie Museum of Art.
Pennsylvania has around 262 other reasons why aspiring designers should consider The Keystone State. The state is home to 262 colleges and universities, making this the third largest collection of colleges in the U.S. Only California and New York have more schools.
Many of Pennsylvania's best schools offer art and design programs. Some may offer a Bachelor of Fine Arts (B. F. A.) or Bachelor of Arts (B.A) in design, while others may offer an M.F.A., or all three degree levels. Continue reading to find out more about Pennsylvania's design schools and what they have to offer. 
Pennsylvania Design Schools
The Pennsylvania design schools below are the best options the state has to offer. While some of these schools might cost a bit more than others do, because they are Title IV, they are eligible for financial aid programs. This means, students with all levels of financial need will have access to a variety of federal assistance programs.
East Stroudsburg
East Stroudsburg University - Degrees Offered: B. A. Art and Design, B. S. Media Communication and Technology
Grantham
Messiah College - Degrees Offered: B. A. Digital Media with Concentration in Art and Design, Church Media, Digital Video and Story, Mobile Application and Game Design; B. A., B. F. A. Studio Art with Concentration in Design and Digital Media
Scranton
Marywood University - Degrees Offered: B. F. A. Design with Concentration in Graphic Design, B. F. A. Studio Art with Concentration in Illustration; M. F. A. Graphic Design, Illustration
More Design related programs to consider:  
Employment and Salary Trends for Pennsylvania Designers
According to the Bureau of Labor Statistics, the U.S. is home to 1.7 million salaried artists and designers, up from around 1.5 million in 2002. Salaries are on the rise as well. The mean annual wage for salaried artists and designers was $41,660 in 2002. Today, the average salary is $53,850.
The state of Pennsylvania is home to 63,230 artists and designers. The population here has increased significantly since 2002, when the state was home to 50,340. Salaries are on the way up as well. The average salary for Pennsylvania artists and designers is $47,200, up from $38,500 in 2002.