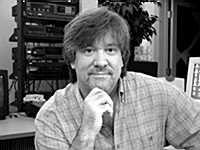 The voice over industry is booming due to the all media-rich content on the web, TV and the silver screen—which means business is good for Anthony Reece. If that name sounds familiar our faithful readers may remember another interview we did with Anthony regarding his role in the animation field. Well, he proved to be such a wealth of knowledge we invited him back for a more in-depth discussion on the world of Voice Over and Voice Character Acting.
With over two decades in the industry Anthony has become king of his craft (in addition to being an all-around interesting guy who DJs, is a VJ, radio personality, touring musician, and producer).  Anthony's name is attached to hundreds of voiceover credits around the world and he co-founded production company The Spot Shoppe (known later as VoiceART)--a sound studio, gaming voice-over, internet radio, animation and cartoon creation company.
Since 2004 Anthony has been running his voiceover company VoiceTOONS and, by popular demand, a voiceover/voice acting training program called VO 101. Through VO 101 Anthony is able to mentor and coach new and existing voice talent, from the simple basics of voice acting to hard-knock-school-of-life learned tricks of the trade. And, in order to help struggling animators recently Anthony has generously offered a "name your price program", a pay-what-you-can model to insure everyone with a love of animation and voice over can take his award-winning course.
Anthony generously dedicated more time to our project, in order to give aspiring voice actors a realistic glimpse into the business:
How did you get into the voice casting industry, and did it take any specific training?
Well I actually started doing character voices around the age of 16. Local radio DJs used my characters as show drops and that progressed into doing radio commercials and such in South FL.
Can you describe the process for doing voice overs.
The process is pretty straight forward in most studios. First the client requests a particular voice, or character voice depending on the project and product being produced. Then the studio, or creative director holds a casting for voice overs and/or character voices. Voice talent then audition for the job and the casting director usually selects the best character actor, or voice actor for the part. Once the voice has been selected, they contact the winning voice talent, award the job, and at that time discuss the project, sharing the script, art-work, animatic, storyboard, etc. They also then offer some creative input regarding the characteristics and motivation, so the actor has better idea of the traits of the character.
Soon after, a recording session is scheduled and the voice actor records the voice over tracks. The casting director and his team, then approve the tracks and if need be, the voice actor is asked to supply a second round of what are called "recuts". This is the norm in the business and allows for the client to re-record select lines, or dialogue which they feel are not right, or were delivered in error.
In most cases, the dialogue is created PRIOR to the animation, however there are some instances where the dialogue is created post-animation and the studio will use what is known as a "scratch track", or temporary voice over for timing, etc. In many cases this is the staff at the studio, or the animator. If that is the case, the voiced dialogue is usually dubbed, looped or simple said replaced in the final stage of post-production, this is known as back in most recording circles.
I noticed on your website you can do child voice casting, who is the voice talent for these?
Child voice overs are a combination of REAL children and adult voice actors who have the unique ability to do kid voices. Many people do not realize that most of the children heard on animations, and cartoons, are actually adult woman. For example, Bart Simpson is actually adult female actress Nancy Cartwright. Many other young boy characters are voiced by adult woman.
However there are times where the casting director does prefer to cast real kids as it works best. An example of this is the Peanuts cast, which only require casting of voices every few years being that Charlie Brown is not a regular weekly TV series and only create 22-minute shows every few years. However in most cases, adults are hired for weekly cartoon series.
The primary reason for this is to avoid the need to recast the actors once the lead child outgrows the character. Imagine if Bart Simpson, who has been a 10 year boy for almost 20 years now, had to be recast every 3 - 4 years due to the child's voice changing as they go through puberty. So a casting director and studio must make this call prior to the start of a new series.
Where do you find your clients? Do you work with certain animation studios or have a different style marketing plan?
Our clients find us in most cases. VoiceTOONS has become the "go-to" studio for non-union voice casting, and smaller studios outside LA, NY, etc. We are also a CUSTOM voice casting resource for studios who prefer not to use click-per-cast websites, whom merely allow any voice talent an ability to audition for a job, so long as the voice talent pays a monthly, or yearly subscription fee. Many times, those talent do not even have their own recording studio, and the quality of the recording may not be acceptable. Using a studio like VoiceTOONS, assures a client enjoys consistent sound across the entire cast, and we "hand-select" our talent. Our voice actors are pre-screened and pre-qualified to be part of our talent pool. Not to mention, we save our clients money.
What are the most rewarding and most challenging parts of being a voice over talent?
Since I'm also a voice actor, as well as a casting director, I can relate to both sides of the voice over business. While the "click-per-cast" services have allowed just about anyone to become a voice over talent, these services have also driven down the value of the voice over artist and rates enjoyed. These days, voice actors are forced to compete for work, with voice talent around the world. Back in the day, studios used local voice talent. However today, a voice actor must also compete with talent across the country and around the world. Voice actors can live anywhere and compete for work in any town. So while the combination of click-to-cast websites, cheaper recording equipment, and high-speed broadband have been beneficial to the animator, game developer and media studio, it has made life for the working voice actor very difficult, much more competitive and has driven down the rates voice talent enjoy as today more than ever before, it is a bidding war between voice talent, verses talent being selected based on their voice ability.
You offer a training course, Voice Over 101, could you describe how that prepares people for work in the industry?
Over the years, I had so many people asking me how to get started in voice overs, so I decided back in 2005 to offer voice over lessons. However I could only work with a limited number of students in my local broadcast market, and the time limited in my own voice over and production schedule. So I created the online VO 101 self-study course, to offer everyone an "affordable" voice over course.
The VO 101 teaches every aspect of staring a career as a voice actor and/or voice talent from selecting a microphone, computer sound cards, recording and editing a voice over track, auditions, delivering voice over tracks, marketing and even other insider secrets and advice on doing business as a voice talent. The program also offers demo production and private lessons via Skype worldwide.
New to the VO 101 program is my animator and producer consulting section for those looking to hire and work with voice talent. Many creative people do not know the process and methods used to work with voice talent. Thus this section was created to teach clients the entire process of finding, selecting, hiring and working with voice actors. Even how to prepare and budget for the voice over part of a project.
What software do you use to produce your voice tracks?
The are several audio and video editing software tools used in the audio and voice over industry. Pro Tools is the high-end package and usually only used at major music and sound track recording studios creating very intensive projects like feature films and such. However Adobe Audition is the norm in the voice over business, mostly due to the low investment of under US $399. However the truth is, any audio software that can save in MP3, or WAV can be used for recording and saving voice overs. It is more about the microphone quality and source / signal being sent to the computer, or recording suite that matters. The voice over track must be clean, noise free and of high quality.
Some say that the strongest Voice Acting market in the world is in Japan, what do you feel the differences are between the United States and Japan's industries and do you feel that our industry will ever be as prolific as in Japan?
Actually that is not so, the number one 'voice over' market is by far the USA. Japan rules in the anime industry, however the American and/or USA and Canada typically dominate the voice over and gaming marketplace. About 95% of all UNION animation and cartoon voice overs are done in LA and NY. While most of the non-union work is complete across the USA, UK and Canada. Anime just has never really caught on in the USA as it has overseas.
As TV, Movies and Commercials begin to use more animation (as opposed to more expensive modeling and non-animation special effects) do you feel there will be a boom in the voice acting industry?
Personally I feel it already has seen it's boom as you say. I do not see animation in commercials really growing much further at this point. The real benefit to networks, and advertising agencies using animated content, is really about the savings on royalties, or residuals paid to on-camera actors, agents, etc. Most radio and TV advertisements, are limited by markets, and/or to a 13-26 week buy / license unless a wildcard spot. To reuse the spots, they typically require additional reuse fees paid to the actor, agents, union, etc. If a studio uses a non-union voice actor, most voice overs are paid a slightly higher scale to buyout the content and typically do not include a limitation on use of the voice overs. The non-union voice talent whom requires such, typically will not be hired for the job. Sad but true.
What does it take to be successful in the industry?
Talent, consistency, luck, great contacts, high-quality, no ego and the ability to be diverse. The more a voice actor can do, the more chances they have of getting work. Many voice talent can do great narrations, or have a great imaging voice for TV, radio, etc, but that is it. However a voice talent who can do great characters, voice overs, narrations and even station imaging is more valuable to a studio, or client. Think of it this way, a football player in the NFL who can play more than one position, is more of an asset to the team. The same goes for a voice over talent. The more you can do, the more likely you are to get regular work from a single client..
What is the most interesting part of working as a voice actor?
The most exciting part is probably that we never know what is up next. One hour you may be doing a radio commercial, the next a war soldier in a video game, or a old dog for a children's cartoon. There are some days when I'm recording voice overs for a corporate training video, then 90-minutes later being a nutty professor for a new animated pilot. One never knows what will come in next and that makes for a very exciting work day.
Image if a voice talent did nothing but telephone messages all day. BORING. Voice "actors" get to have multiple personalities, without being committed to a psychiatric institution. We voice talent who get to act for a living are very fortunate to say the least. However, this never knowing what is next, also means one never knows IF voice over work will come in each day at all. This inconsistency goes both ways and can be very stressful. Many times we live on the love for our work, not for the work itself.
Check out more interviews at Animation Career Review's Interview Series.