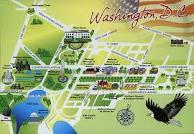 Washington, DC is the capital of the world's most powerful democracy, but politics isn't the only thing happening here. The District of Columbia, known today as Washington, The District or just DC), is rich with art, culture, and history which makes it a great place for aspiring artists of all kinds. The District is home to the National Gallery of Art, which houses the Ginevra de Benci—the only Leonardo da Vinci painting in the Western Hemisphere, as well as Smithsonian American Art Museum, Renwick Gallery, National Gallery of Art, Corcoran Gallery of Art, The Phillips Collection in Dupont Circle, The Kreeger Museum, Hirshhorn Museum and Sculpture Garden, The National Museum of Women in the Arts, The National Portrait Gallery, John F. Kennedy Center for the Performing Arts, and Arena Stage. 
The District of Columbia is an attractive place for Hollywood productions as well. Thanks to DC's prestige, its official backdrops, and unlimited services and incentives offered through the DC Film Office and the Office of Motion Picture and Development, dozens of movies are produced here each year ranging from feature films and documentaries to animated productions. Just a few recent productions include Jason Bourne (release date July 29, 2016), Captain America: The Winter Soldier (2014), Argo (2012), Transformers: Dark of the Moon (2011), X-Men: First Class (2011), and Transformers: Revenge of the Fallen (2009).
Washington also has its fair share of prestigious institutions and organizations. The District is home to more than 170 embassies and international cultural centers, 20 Title IV Degree-Granting colleges and universities, and the biggest library in the U.S.—the Library of Congress (LOC). This massive library contains 525 miles of bookshelves and 45,000 reference books in the Reading Room alone.
District of Columbia (DC) Animation Schools
The DC-area is home to a number of schools that offer programs for aspiring animators. Many rank among the best schools in the nation, while others are listed among the top art and design schools in the U.S. Some of our favorites are:
Georgetown University (Georgetown College), DC
Howard University, DC
American University, DC
The Art Institute of Washington, Arlington, VA
The Art Institute of Washington, Washington-Dulles, VA
George Mason University, College of Visual and Performing Arts, Fairfax, VA
Program offerings include Multimedia Art and Animation, Animation, Film and Video with heavy animation coursework, Visual Art, and many others. 
More Animation related programs to consider:  
Employment and Salary Trends for District of Columbia (DC) Animators
Washington, DC is home to 32,270 professionals working in Arts, Design, Entertainment, Sports, and Media (ADESM) occupations. The District has the highest concentration of jobs and location quotients in this occupation. These professionals average $87,420 per year, making DC the highest paying state in this occupation as well. Of this group, around 90 are salaried animators and multimedia artists, down slightly from 100 in 2009. However, salaries are on the rise. DC-based animators average $74,230 per year, up from $58,350 in 2009. This makes DC the fifth highest paying state for this profession.
DC-area animators can expect to find opportunities at production studios, creative agencies, television networks, PR firms, marketing companies, and game studios. Just a few options include:
APCO Worldwide, DC
Bethesda Softworks, Rockville, MD (18 miles)
D2 Productions, Marlborough, Maryland, (19 miles)
Discovery Communications, Silver Spring, MD (6.2 miles)
Flipbook Productions, DC
LMO Advertising, Arlington, VA (5.2 miles)
National Geographic, DC
O'Keefe Communications, DC
PCM Animation Studios, Silver Spring, MD
Pigmental Studios, DC
Pixeldust Studios, Bethesda MD (6.9 miles)
Porter Novelli, DC
Screenscope, DC
Travel Channel, Chevy Chase, MD (9 miles)
Vogt Productions, DC
Zenimax Media, Rockville, MD (18 miles)
Awesome Animation Fact: In April 1925, The Lost World (1925) became the first film to be shown to airline passengers. The film, which featured stop motion animation sequences created by special effects artist Willis O'Brien (1886-1962), played during a London-Paris flight by Imperial Airways. This was quite risky on a wood and fabric-hulled plane, as film stock during this time was nitrate and highly flammable. All in the name of art and entertainment!