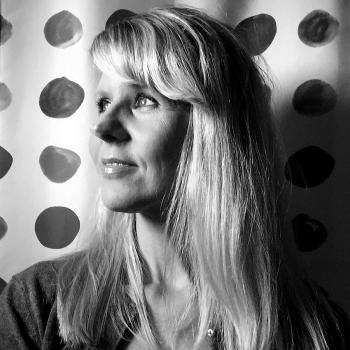 Just south of the now art-filled city of Toledo, Ohio, sits Bowling Green State University (BGSU)- a top public institutions to earn a BFA in Graphic Design. As a founding member of AIGA-Toledo and an engaged local design practitioner, Jenn Stucker is no stranger to the merits of this city of industry and its flourishing art scene. She serves as Chair and Assoc. Professor of BGSU's Graphic Design program where she and her colleagues have garnered national attention and aimed the spotlight squarely on Ohio's burgeoning design landscape.
Stucker is known just as much for going above and beyond the typical duties of an educator as she is for her many awards. Through her contagious passion and tireless outreach, she shares her love of the field with undergraduates at BGSU while instilling in them the multidisciplinary skills necessary for success. For our latest Spotlight Q&A, we caught up with Stucker just as the fall semester got underway. We hope you enjoy!
ACR: Jenn, let's start with you. When did you become interested in the field of graphic design?
JENN STUCKER:  I became unknowingly interested in Graphic Design early on. I admired the bold colors, structure and typography of my cereal and bubble bath packaging. Getting to pick out my lunchbox every year was a special delight and I understood it was an expression of myself. I also loved systems; things that were organized and logical. I was often designing and rearranging my room for flow, function and comfort, and creating signs and posters for the space. In high school I took a class called 'Commercial Art' and loved it.
ACR:  How did you pursue Graphic Design in terms of your own education?
JS:  When I went off to college at Colorado State University, I was busy with foundation courses. By the time I transferred to Bowling Green State University, I rediscovered Graphic Design. From the first class with my professor Ron Jacomini it was a perfect fit. He asked us to create 40 thumbnails for a "black squares" assignment based on expressing a concept of tension, order, congestion and play. In my joy for controlling and visually communicating an idea, I created 80 sketches for the next class. That enthusiasm has stuck with me but it has become less myopic in executing a thing and has developed into an understanding of communicating messages of meaning and value; to help people navigate their lives.  
ACR: You mentioned that you attended BGSU yourself. What lured you back to your alma mater to teach and eventually become the Division Chair of the Graphic Design program?
JS:  I love BGSU and am grateful for my fortune in finding the program as an undergraduate. I had inspiring professors who taught me the value of design, the power it possesses, and the privilege and opportunity a designer has to create change. Their emphasis wasn't about the computer and technology- it was about message, meaning, context and concise execution. Now, 20 plus years later as Division Chair, I endeavor to continue this big picture thinking with consideration to the conditions of our changing world.
ACR: What are some of the attributes and skillsets imperative for modern-day graphic designers to possess, and how do you inculcate those attributes into your budding designers at BGSU?
JS:  Collaboration (with interpersonal skills), empathy and leadership are core to my teaching and our program at BGSU. We work toward developing mindful individuals that are responsively engaged in the social, cultural, and technological world around them. To uphold this ideal, we continue to provide a well-structured foundation of design principles and practices (both traditional and digital) in response to the changing demands of the field. We encourage an academic environment that supports the growth of responsible learners and practitioners interested in enhancing their communities, engaging in collaborations and exploring their sense of self for the betterment of society.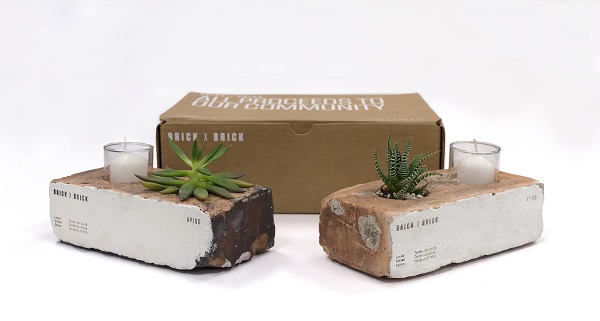 Chris Hatfield, Senior Thesis Project, Brick X Brick, 2016
ACR: BGSU's Graphic Design program encourages students to explore various areas of the field. How do you accomplish this?
JS:  As students traverse an understanding of their world and profession, we seek to galvanize a spirit of inquiry for the purpose of exploring and developing their sense of self. Our Graphic Design Theory course emphasizes the development of personal awareness of methodology and a clear understanding of a range of theoretical graphic design industry approaches that lead to informed and complex communication solutions unique to the individual.
The prolific designer and educator Ellen Lupton states, "creating design theory is about building one's own community, constructing a social network that questions and illuminates everyday practice – making it visible." To us, the junior level is the prime time to expose students to this type of understanding and exploration as they have acquired many of the foundational and technical principles of graphic design, but have yet to apply this type of critical thinking to self-authoring their own creative work.
Many assignments in our Graphic Design Theory course expand the development of understanding visual research while applying semiotics and making meaning through one's experiences. Students are asked to probe how their behaviors are driven by their own possession, obsession, passion, objection, fear, or consumption; and how processes, practices or artifacts shape who they are. This self-authorship of idea generation presents a new kind of ownership in their work and personal topics (gender dysphoria, fear, confidence, bullying, etc…), transcend into relatable works that reflect insight, create empathy, and understanding between designer and a broader audience. The works also vary immensely in material and scale, and provide the student with many levels of problem solving. Our students also have studio support field courses, where they can explore printmaking, photography, ceramics, glass, jewelry + metals, sculpture, drawing, painting or digital art, which often come into play in the execution of their upper level design work.
ACR:  Speaking of projects, give us a few examples that students may be tasked with.
JS:  The trajectory of developing a responsive, mindful and engaged design practitioner is an approach throughout the BGSU GD curriculum. In the senior year, System-based Graphic Design, emphasizes graphic design across multiple applications with a content focus toward empowering students to improve everyday life.
One assignment, 'Design for the Patient Care System,' explores systematic flaws in that structure and examines how, through design, students can solve a particular problem. The assignment begins with group field trips to nursing homes followed by discussions of their written and visual observations such as, bad communication by healthcare providers to the lack of stimuli for bedridden patients or the challenges of day-to-day living in long term care facilities. Students must demonstrate empathy, problem-solving, verbal communication skills, organization and the leadership to complete the vision of their ideas.
ACR: That's a great example of the role that design for social impact plays in BGSU's Graphic Design program...
JS:  Design for Good is an integral part of our approach to teaching students. We firmly believe in our responsibility to improve everyday lives and each of us as faculty members are engaged in some type of community engagement work. We model this type of work and practice to our students. One course in particular that connects directly to this approach is our Collaboration and Community Engagement Practicum course. For years we have partnered with the Arts Commission in Toledo to produce the Art in Tarta project, which utilizes poetry created by area high school students into graphic designed buses by BGSU GD students for the City of Toledo. Most recently, our students worked with the Digital Arts Division in creating an app for the Toledo Opera that was based on the Magic Flute and was designed specifically for children. Currently, our students are working with the City of Sandusky in preparation of the City's Bicentennial.  
ACR:  Going a bit off-topic, I want to ask you about the overlap between graphic designers and digital media artists and the role that technology plays in your field.
JS:  Ah technology… without question designers will overlap with digital media, just as we do with many fields. We are the ultimate multi-disciplinary individuals. We must understand technology, as well as people, culture, and commerce, all at the same time, to design for it. We must understand and accept change as a constant, and therefore it is imperative that as designers we be fluid and flexible in the ever-changing world. Today's designer needs to be comfortable with temporal aspects of life and design in the mode of iteration, nothing is ever final or done.
ACR:  I would be remiss to not inquire about BGSU's impressive facilities for its Graphic Design students and faculty. Give us a verbal 'tour', if you will.
JS:  BGSU Graphic Design facilities are housed in two buildings. Our main classroom, known as the CAVE, is in our Fine Arts Center (FAC). It's a large space that includes 20 state-of-the-art Mac computers outfitted with the most current software and the Adobe Typeface Library. It also contains color printers, book-binding equipment, trimmers, button makers, a vinyl cutter plus a thirty seat lecture space on the other half of the room. A majority of the studio art courses are also in FAC, which allows students ease of access and inspiration to a variety of multidisciplinary approaches to their work.
Our other classroom space in located in the Wolfe Center for The Arts. This building, created by the internationally known architectural firm Snøhetta and creators of the National September 11 Memorial & Museum, houses our second lab with another 20 state of the art computers, printer, and access door to the adjacent Digital Arts classroom for easy collaboration connections.
ACR:  Do your students explore the field through internships or collaborative projects with clients?
JS:  Within our sequence of fourteen core design classes, students are required to take a minimum of three credits toward an internship experience, and can also take a second internship for additional credits. We believe in the value of a real world experience and mentorship. All internships must be approved by our internship coordinator to insure the quality of the experience. We have an expectation for credit to work hours, but most importantly we want to regulate a mentored and valuable design experience that will set the student up for future success. We have no interest in our students practicing design without guidance. This is a learning opportunity into the processes and procedures of a practicing designer- not cheap labor.
ACR: As a practitioner of design, do you have a favorite project or client you have worked with in the past, Jenn?
JS:  I have many favorite projects, but that is because I have many favorite clients. I believe interpersonal relationships are the key to success. Designers, when the relationship is good and there is equal respect, are collaborators with their clients and are working together to do something valuable, delightful and unexpected. When designers default to being a service provider that is when design is at risk of being vacant and trite. One of my favorite clients is the Boys & Girls Clubs of Toledo. I have been working with them for over 16 years and it is always rich with fun and fulfillment. They respect me and I respect them. Our dialogue is always positive and focused on helping the kids, no egos.
ACR:  Conversely, are there projects or client relationships that aren't as favorable?
JS:  Client work that isn't my cup of tea would be clients who view my skill as a person who knows software. Design is NOT software. When I was younger and naïve, I didn't push back against this type of thinking and completed the work because I could and got paid. I look at problems differently now, I ask more questions and I ask my students to do the same. I want to understand the user and the problem and find solution for it. The solution may not always be something graphic and that is okay. What does the user need and how can I help? That is what really matters.
BGSU GD Three-Dimensional Design Students, Do Amazing Things, 2015
ACR:  Let's talk about BGSU's home in Toledo! What do you value most about the design scene there?
JS:  Oh yes, Toledo! I have lived here for over 20 years now and I have the mindset of "bloom where you are planted". I cannot stand negative connotations applied to this rustbelt city. There are many great things to celebrate and to elevate here and the arts (AIGA Toledo, The Arts Commission, The Toledo Museum of Arts) are leading the way. In 2007, my colleague Amy Fidler and I formed the AIGA Toledo chapter with a focus on highlighting the value of design in our area. We also wanted to provide local and regional designers with outlets for expressing their creative talents beyond corporate or paid work. This meant not having competitions of agency work, but instead creating special exhibitions and projects that were dedicated to showcasing creativity and community enrichment like the Urban Forest Project Toledo, the Downtown Windows Project, Design What?, Rock, Paper, Sizzle, Design Charrettes, the You Are Here Project, and The Sit&Tell Project- all of which enhance the Toledo area and highlight the creative talent in our region.
ACR:  How do you leverage that community of artists, designers, and educators for your students?
JS:  As educators with tight connections to AIGA and the Arts Commission, we broadcast these opportunities to our students so that they may build their portfolio of work by participating in these juried activities while contributing to the cultural vitality of the region.
We are often creators and producers of these community engagement projects, so we let our students see "behind the curtain" where they get the opportunity to see the challenges of producing large scale community-based projects. Many of them are juried in participants of the artwork, but more importantly have assisted in the execution and implementation. We don't hide our obstacles and we use them as learning opportunities to empower students with the confidence to create their own projects and to be fluid to problem-solve along the way.
ACR:  Jenn, thanks so much for sharing your passion with us today and telling us more about Bowling Green's Graphic Design program. Best!
Check out more interviews at The Animation Career Review Interview Series.