When it comes to visual effects and CG education, it can be quite a challenge integrating the best of both traditional and digital techniques so seamlessly into a curriculum. Thanks to its hearty five-year Bachelor degrees in 3D CGI, 3D Animation and Special Effects, ArtFx is one school proving itself capable of doing just that while beckoning students to the south of France.
Founded by an industry veteran in the VFX hub of Montpellier, ArtFx focuses exclusively on producing creative, talented artists for the fields of CG and VFX. It continually refines its syllabus and offerings to reflect industry changes, and its students have access to all the software they'll find in the workplace. By coupling a professionally-oriented approach with rock-solid foundational studies in the arts, students produce impressive work. Not surprisingly, its graduates are among the top of the talent pool of Europe and working in VFX, video game and animation studios around the globe.
With a growing list of courses offered in English and a new graduate course on the horizon, we were eager to catch up with ArtFx. Seasoned digital compositor Aurélyen Daudet teaches his craft to students throughout their time at ArtFx, and he kindly took time out of his day to speak with us for this Q&A. Enjoy! (This interview has been edited minimally for organization & length).
ACR: Aurélyen, thanks for participating in our latest Q&A. To start, tell us about the unique genesis of ArtFx...
Aurélyen Daudet: The school began in 2004 and was created by Gilbert Kiner. He had a long career as a VFX supervisor for feature films and commercials in Paris. He wanted to create a school that would prepare students for international careers. Since its beginning, the ambition has been to offer students the best and most comprehensive courses possible, and be one of France's top schools. One of the means to reach these goals is to have teachers with strong experience in the VFX or animation industries. Courses are designed to find the right balance between technical and artistic skills.
ACR: You came to ArtFx from a Lead Compositor role with French post-production company Mikros Image. What made you decide that teaching was your path?
AD:  I loved to share my knowledge with other artists and I have to mention that when I started (in industry), I met artists who mentored and taught me a lot of things. At first, I mentored interns or junior artists at Mikros Images. Then I became a Nuke teacher inside Mikros. It was hard to find trained people at this time, even if it sounds really odd theses days as Nuke is one of the major tools for compositing artists. I met Gilbert at Annecy Film Festival and was really enthusiastic about the idea of being involved in such an amazing school. A few months later, I gave my first lessons at ArtFx and two years later I joined the school as a compositing teacher. 
[caption align="center"]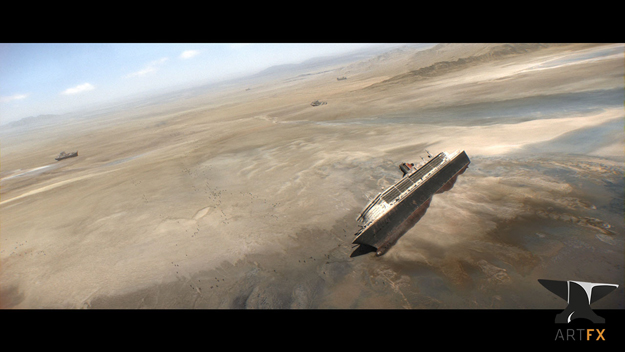 Amasia[/caption]
ACR:  ArtFx students accrue rigorous foundational training on the road to their area of specialization. What are some of these courses?
AD: We give them courses to develop their artistic skills and knowledge. They all study Photography, Art History, Cinematography, and Drawing. We teach them general techniques more than tools, even if we use tools to illustrate the techniques. For example, we teach them Photoline and Photoshop and explain to them that software evolves, changes, and that some disappear. Shake and XSI are good examples. They were massively used by major companies, but disappeared quite suddenly for commercial reasons.
ACR: Speaking of software, what do your students use in your compositing courses?
AD:  Teaching compositing to second and third year students, we start with Photoline, a Photoshop-like software which helps them understand the basics of digital picture manipulation… it is quite a powerful tool. It is important to us that our students know that techniques are more important to learn than specific tools or software. What we see in Photoline is really easy to reproduce in Photoshop, and the transition is smooth for them.
At the end of the second year, I also teach them the very basics of Nuke. In the third year, I teach them Photoshop and Nuke in depth.
The fourth year is the specialization year and most learn Python, but other (software) depends on their specialities. VFX students (Compositing and Environment) will focus on Nuke, shooting techniques, greenscreen compositing. They will still use Maya. CGI students will spend a lot of time with Maya and the Arnold renderer. FX students (Dynamics and Simulation) learn Houdini and Realflow, and use Arnold to render their simulation.
Photoshop is still a must-know software today, as it is so broadly used around the world even though it has more and more competitors. For their student life, Photoshop will be used a lot; for textures Mari can be used; and for digital painting some prefer Kryta. Nuke is also a must-know as most companies around the world use it for compositing. But the tools, as I said, are not the most important. They are means. We focus on global techniques, self organization, autonomy, creativity.... and on teaching those areas, fortunately, I'm not alone.
[caption align="center"]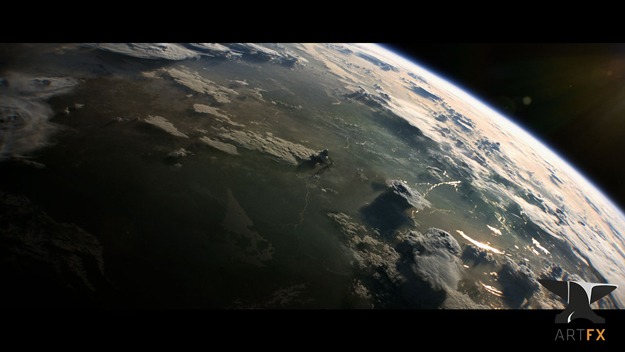 Amasia[/caption]
ACR:  Reproducing the production pipeline is an important element of the ArtFx education, isn't it?
AD:  We try to create a production environment close to what they will face in companies: pre-production meetings, deadlines, pipelines, dailies, screenings, etc. The technical Pipeline varies a lot depending on the company you're working for. All the teachers have professional experience in the industry and we all have a strong will to work as efficiently as possible. So we naturally created a Pipeline based on our experiences. I don't think the graduation movies would be possible without our pipeline. And all students understand that very well.
ACR:  I would be remiss to not inquire about the new graduate course offering in the works at ArtFX: Pipeline Technical Director. Can you tell us a little about you might consider this option?
AD: We are really excited about this new program. It will open in September 2016 and recruitment has started. It has been created because there is a real lack of candidates trained in this area. It's geared towards people with a programming and scientific background who want to join the movie or video game industry. A Pipeline TD has a very analytical way of thinking- this is someone who loves solving problems and hates repeating the same task all day long. They need to be trained for programming and for using the software used in the industry (Nuke, Maya, UE4 or Unity, Houdini). They are working with artists, supervisors, sometimes with software engineers, so they need strong communications skills, too. 
[caption align="center"]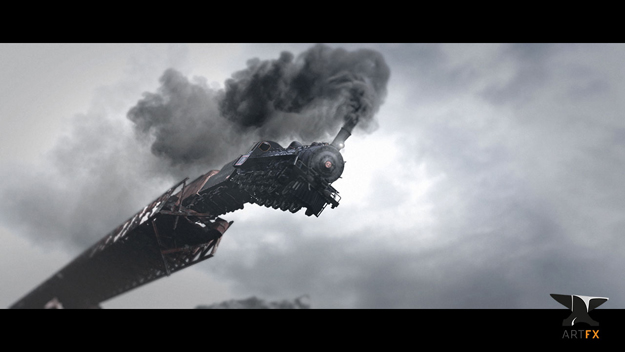 Engrenage - 2014[/caption]
ACR:  What skillsets and attributes do you believe your graduates have which set them apart in a competitive and ever-evolving industry?
AD: They have strong technical and artistic foundations. During their five years in ArtFX, we are inflexible on things like naming conventions, deadline, organization, respecting the brief. And we challenge them with lot of different projects each year. We have an increasing number of courses in English. We also teach them to work collaboratively with a strong team spirit. I think this is a good basis to be able to work anywhere and quickly become an effective member of a team.
ACR:  On the subject of industry, ArtFx's location in Montpellier is ripe for VFX artists and animators. How do students take advantage of this?
AD: The biggest opportunity is our annual Jury where graduating students present their graduation movie to a jury of professional artists and recruiters. We invite a lot of recruiters from the biggest European-based companies like MPC, DNeg, Framestore, ILM, The Mill, and of course a lot of French companies too including Mikros Image, MacGuff Illumination, BUF Company, Eclair, Mathematic Studio and more. We organize meetings and 'speed dating' or short interview sessions between the students and recruiters. This is a big opportunity for the students- they can meet 7 or 10 different companies (or more) in the same day. 
 We also have people from DNeg, MPC, The Mill, Mikros Image, Ubisoft and more come to ArtFX for conferences and workshops. Students have to do an internship during their 4th year. And of course the network of ArtFX alumni is growing and spreading around the world.  Recently, we've also started sending two or three students a year to the FMX conference in Stuttgart, Germany. There, they have a chance to hear about advances in the field, opinions from artists about current challenges facing the field and get one on one feedback from representatives from various studios including Disney Animation, Animal Logic, and more.
[caption align="center"]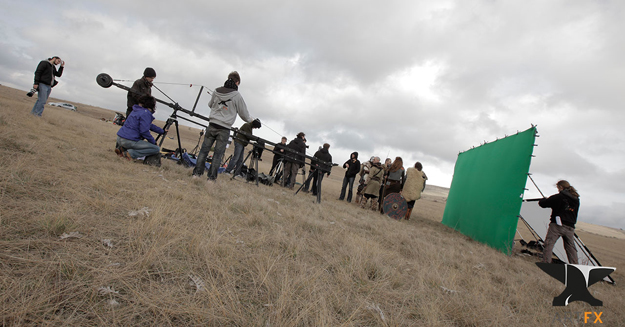 Iron Mountain Shooting 2015[/caption]
ACR: France'slove affair with special and visual effects goes back to the very origins of compositing with Georges Méliès. What is the current landscape like for French visual effects artists?
AD:  After September 11, 2001, the landscape changed a lot. We saw big companies close and small companies rise. Nowadays, the landscape seems a bit more stable. As an artist here, you can be involved in animation feature film or work on ambitious VFX projects and of course there are a lot commercials and video game trailers, too. There is a wide range of opportunities so you can choose to work as a generalist in boutique studios or a specialist in larger companies. French artists are also quite valuable for the international market.
ACR:  What VFX trends or technologies make you most excited about the future for your students?
AD: Well, lots of things actually. All the technologies that will increase user experience (Oculus, 360 degrees movies, VR). It is quite a challenge to think about blockbusters made in 360°... technically, there would be a lot of things to do before this is possible with the quality of the movies we can see today. Real time technologies used in video games are spilling into the VFX industry for previz, on set supervision, match moving. All the open source or crowd funded projects are also exciting. Even if they are not the best in what they do, they are good opportunities to learn, share, have fun and enjoy our passion. This word might seem a little bit overused, but the cross-media options are still very exciting for those who'd like to work on storytelling.
[caption]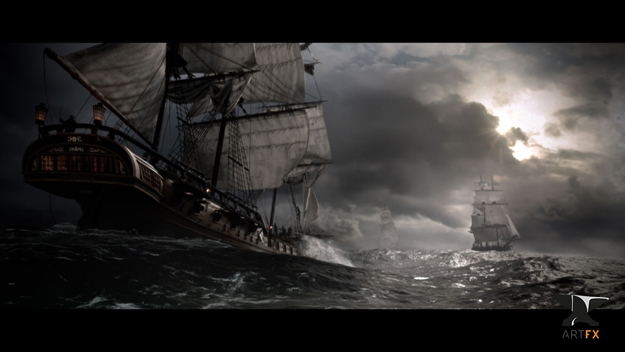 Korser VES - Nominated 2015[/caption]
ACR:  Lastly Aurélyen, what do you value most about teaching at ArtFx?
AD:  The more I teach, the more I love to share my passion and my knowledge. The school is really dynamic and the high level of the course is really challenging. We have students eager to learn and to create amazing pictures. It's a pleasure to work with them. When I left Mikros Image, some of my colleagues asked me if I was afraid of getting bored with teaching the same thing every year. But the fact is that each year we change a lot of things in the courses and in the way we teach things- new software, new courses, teaching in English... and each year we have eight or ten graduation movies to look forward to! And of course I have to mention the team I'm working with here and the cheerful and efficient cohesion between us.
ACR:  Merci beaucoup!
Check out more interviews at The Animation Career Review Interview Series.