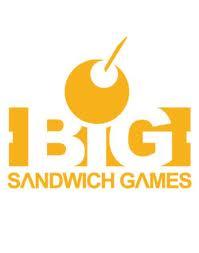 One of those old-timers...ahem--I meant veteran, is Glenn Barnes, current Creative Director and 18-year-seasoned success story in the game-development industry. Big Sandwich wasn't his first success story either. After a short stint at the now-defunct Motion Works studio Glenn's entrepreneurial streak kicked in and he co-founded Barking Dog Studios—which shortly after becoming a success was purchased and absorbed into Rockstar Games.
Next time someone glibly jests that a Fine Arts degree won't get you anywhere, tell 'em to ask Glenn.
His newest venture, Big Sandwich has found prosperity creating successful PSN/XBLA titles and by leveraging the experience of seasoned industry vets and "stunningly-talented" juniors.
We recently sat down with good-humored Glenn to talk about his successes in the business, his views on how to succeed in the industry, and what he looks for when he recruits his 'stunningly-talented' new juniors:

What is your firm's focus within the gaming industry and what led your firm to have such a focus?

BSG focuses on small-scoped, high-quality titles for any platform. We deal with iOs, handheld consoles, PSN/XBLA titles as well and PC and Mac titles of similar scope and budget. Within that constraint, we pride ourselves on being an incubator of original IP; two of our past projects, Sky Pirates of Neo-Terra and Hoard, were both created from the ground up in-house, along with a stack of other concepts we're actively pitching.  As for genres, we're into racing, strategy, and RPG. That may sound like a strange mix, but it does sum up the experiences of our team members both as a whole and as individuals.  
Fill in the blank: The future of 3D gaming is _________.

That's a pretty broad one.  My knee-jerk reaction is to say "mobile", as the latest mobile devices are rivalling current-gen handheld consoles in terms of processing power.  While I think it's fair to say the most growth in 3D gaming will be seen in the mobile sector, and features like Apple's AirPlay call into question the need for a dedicated gaming machine at all, those hardcore gamers and their big powerful consoles aren't going away anytime soon.  I'd be inclined to say that the future of 3D gaming is the creation and population of new markets, with existing markets continuing to grow.  
What are the best and worst aspects about working in the game development field?

Working in an environment that is the crossroads of technical innovation and artistic exploration, with a team of intelligent and creative people is definitely the best aspect. On the downside, it's a lot of hard work... but in the end, that's part what makes it so rewarding to deliver a top-notch product.  
Among your firm's achievements, which one(s) are you the most proud of?

Our most recently shipped title, HOARD, represents a good mix of quality and restraint. In HOARD, you take the role of a dragon, and destroy villages and castles as they're built around you and collect the treasure that's left behind, with the end goal being to amass the largest pile of gold (the "hoard").
It's development was all about boiling the concept down to it's core gameplay mechanic, perfecting it, and carefully planning and then monitoring production to restrict the scope and feature set to the most bang-for-your-buck features. The result is a critically acclaimed title with super-addictive gameplay that we were able to make on a budget lower than many would have expected.  
What skills/qualities does your firm seek out when hiring new employees?

We're a smaller studio, so we do value generalists as much as specialists. We might hire an artist to build, say, vehicles, and then move on to a game that doesn't have any vehicles in it. That artist will need to move on to environments, or characters, or whatever it is that needs to get done. In short, the answer to you question is: excellence. With an artist, that's easier to measure, just by looking at a portfolio. With a programmer, it gets more difficult, and we have to rely on looking at code samples or on references. Overall, when hiring for any discipline, we want to be sure that the applicant will mesh with the team and with BSG's culture.  
What particular schools, if any, does your firm recruit new hires from? If none, where do you recruit new hires?

I've found that Capilano University here in Vancouver has an excellent 3D art program, and usually produces a good crop of talent every year.  If we're actively hiring junior talent, that's usually the first place we look.  We don't value one school over another when reviewing applicants though; it's all about the portfolio. I once looked over a portfolio from an artist with a Masters' degree in illustration, who seemed to have only mediocre drawing skills. I've also worked with, and hired, some immensely talented and productive artists who were simply self-taught.  
What advice would you give to aspiring game developers?

Get involved in the scene. Whether you're an artist, programmer or designer, the best way to get noticed is to show a game that you've worked on. Hit the forums, hook up with some like-minded individuals, and start working on a game or a mod. That will show potential employers that you've got ambition and discipline, as well as showcasing your talent.  
What were your most challenging projects, and why?

There are always a lot of challenges, but one that stands out in recent memory is the business and financing aspect of HOARD.  We developed the game on bridge financing through RBC, based on the pledge of a completion payment by Sony's Pub Fund, and a loan guarantee by Export Development Canada. While this has apparently been the way to do it in the film industry for quite some time, we're the first Canadian developer to do it for a video game.  As the trail blazers, we had to invent the process as we went, interpreting and reworking a finance model that was developed for a different industry.  After stacks of agreements and much pain in getting the monoliths that are RBC and Sony to play nice with each other, we finally pulled it off. 
What kind of education did it take to get you where you are today?

I studied Fine Art and Digital Art & Design at Thompson Rivers University. The industry is full of people with degrees, as well as people with no post-secondary education at all.  
What software packages does your firm prefer to use? Which one would you recommend to beginners?

For 3D, we use both Maya and 3DS Max, and both are represented more or less equally within the industry.  Either of those would be a great place to start for beginners.  For 2D, Adobe Photoshop is definitely the standard, and even 3D artists use it every day for texture painting and render touchups.  
Could you share with us your best story about working in the industry.

There are lots of stories... here's a quick one: back in the old days of my previous company, Barking Dog Studios, we were sharing office space with another fledging studio called Relic Entertainment. The office was being renovated and the AC wasn't working yet, and our portion of the office was a bank of south-facing windows. It was August, so the effect was like being in a greenhouse. We had one portable AC unit that we would place in the doorway of each of our offices, and leave it there for a set time, maybe 15 minutes. The guy in the next office would be watching the clock and snag the unit as soon as the time was up -- yes, there were a few fights over it! Eventually it was deemed inadequate, and all decorum was shed as we found ourselves hunched over our computers and drawing tables without shirts or pants, literally working in our underwear.  
Has the trend of outsourcing game development overseas affected your firm, if yes, how have you dealt with it or compensated for it?

In the early days of BSG, we did a lot of art outsourcing: we worked on Socom: Confronation and some of its DLC, Army of Two: the 40th day, and various projects for BioWare (including Dragon Age). More recently, we sent a few artists to work with Guerilla on-site in Amsterdam on Killzone3, which was a great experience for us. At the time we started chasing down these types of jobs, overseas developers were cheap but not particularly competent. We knew that wasn't going to last forever; as long as they kept getting jobs, they'd be building expertise, and their lower price-point would eventually push us out of the market. We dealt with it by putting more business development resources into doing full development, and investing in our own technology, bringing us to where we are today.  
Do you think that there is an increasing or decreasing demand for developers overall? Why?

Demand for developers is definitely increasing, but so is the supply. The market is only getting bigger. Guys like me who used to play Atari 2600 in our basements are still playing games 30 years later; as we age, new younger gamers are recruited and the gaming population grows. Additionally, you've got the casual games revolution, which turned middle-aged housewives into PC gamers, and senior citizens into Wii/DS addicts.  Both of those demographics wouldn't touch video games a decade ago. Even so, there are far more developers around now than there were in the 90s, even just in North America. The result is lots of demand for developers...but lots of competition too.  
Check out more interviews at Animation Career Review's Interview Series.