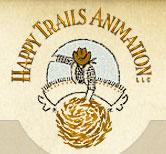 Andy Collen has been animating since the days of puddling (a term coined for inking cells)--and sure has come a long way. Two decades ago Andy left sunny L.A. For Portland, Oregon—a city Andy describes as "a small town with the talent of a big city wrapped up in an independent, rebellious package!".
In 1991 Andy, along with his wife, started up Happy Trails Animation, and the two have been growing it ever since. Andy has a profound understanding of the business and believes that interesting animation takes time, which is why newbies can become disillusioned. It is for this reason that he has filled his office with some of the best in the business after scooping talent from big name animation companies like O Entertainment and Disney—a move that has served Happy Trails quite well.
AnimationCareerReview recently caught up with Andy, and he offered us some pearls of wisdom for aspiring animators.
What is your firm's focus within animation and what led your firm to have such a focus?
Our focus is in combining all the elements of traditional animation (illustration, movement and story) with various materials and methods. We find the best way to bring the elements together to bring the message front and center. We like it when our animation looks handmade.
My wife and I have been at this since we freelanced from 1989-1992 for Joanna Priestley, Will Vinton (California Raisins), and Jim Blashfield (king of MTV music videos for Tears For Fears, Michael Jackson, Paul Simon and many more). In 1993 we decided to create a studio of our own…Happy Trails Animation. Other studios had specific styles — we simply loved the art of animation (especially the organic styles being made in Canada at that time) and chose to focus on movement and not to work in a particular style. We chose fine-art approaches (sand, chalk, paint, paper) rather than commercial driven methods of production. I always felt (and still do) that commercial work is about matching the concept with the right animation technique to create a hard sell or punch.
Fill in the blank: The future of animation is_______________.
The future of animation is always changing.
What are the best and worst aspects about working in the animation field?
As an animator on a team: I think the best aspect of working in the animation field is the camaraderie that can develop within the group.  I think the best and worst thing is getting the gig and then when the gig is over. It is a bit like having a child and then letting it go... only it happens with each and every project.
As a person who hires animators: We are living in a time where the passion for animating is often perceived as something to make money at – preferable to flipping burgers. When I got into animation back in the mid 80's there were only a handful of animation schools. I chose the old-school approach by mentoring under a grad wizard (Tom Arndt). Well, he is not a real wizard, but he does know a bit about magic and in fact that is what drew him to animation — the art of illusion.
In the past, without the luxury of computers, animation was all about passion. The team worked on projects until they were exhausted, then got back up to start again. Now that it is possible to "undo", standards have dropped and super-simple shows like South Park, Life and Times of Tim are the shows influencing students to become animators. They don't realize that these shows are more about writing than animation — worse than old episodes of Speed Racer.
Students tend to want to know what programs they should learn, when it is less about the programs and more about what will they bring to the table as an artist? Theories? Show me new magic tricks in animation — like Tom. Learn color theory to give your paintings more depth. Practice manual in-betweening to improving the timing of your animation so that it is less 'out-of-the-can'.
One of the worst aspects from a hiring aspect is that students have less of an understanding of team effort when it comes to helping the studio to succeed. Talking, Tracking and just general over all communication is very important. They are unaware that how much they get paid is based on what the job brings in — not about how awesome they are as an individual. Students have less of an understanding about all the pressures that studios have to deal with, such as that the larger the client is, the more they tend to withhold payments for up to 90 days. Can studios push payments to talent back 90 days? Seems like it would be fair! Yet most studios seem to find a way to have a steady pay schedule even though the studios don't get paid regularly. I really miss the old days of where everyone really was part of a team just trying to get every project over the finish-line before the time ran out.
Among your firm's achievements, which one(s) are you the most proud of ?
There are a few but it always seems to be the personal projects that we get the most out of. We make short films as a way to explore new methods — but they end up being much more. The two films I should mention are "Hero Sandwich" and "Winter".
The first short film, "Hero Sandwich", was inspired by an impromptu voice recording that Amy and I made of my Mom and Dad talking about trying to be heroes but actually fumbling the pass...if you know what I mean. This was the first animated film to use colored sand paintings. The best part about this film was that everywhere it showed, the audience would talk amongst themselves afterward, telling their own stories. It was awesome to create a short film that inspired folks to share embarrassing moments. It was quite touching to witness this at a few major film festivals.
The second was a hand-drawn film called "Winter/En Hiver". This film was inspired by a dream that Amy had about her mother and we built the story out around a theme of childhood, love and the threat of loss. We found a style that matched the message — a quill pen approach similar to that of American illustrator Edward Gorey. The best part about this film was again, when the film was over, the audience would discuss whether the mother was alive or not in the end. To us it seemed magical because, after seeing our film, audience members would be posed with the age-old question of "half full or half empty?" Many times we were asked "is the mother alive at the end?" and we would answer "what do you think?" Regardless of the fact that we knew the ending, it really was more about how the viewer wanted to view it. Art truly is subjective. Winter/En Hiver did very well in festivals, winning awards and traveling all around the world.
Short films do not usually have much more life beyond the festival circuit but it is fun to connect and see just how well your messages are received. This is even more valuable then working on some big name movie or major advertising campaign... it goes back to the heart and soul of what animation really is about.
Pages