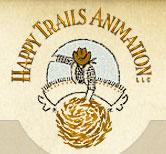 What skills/qualities does your firm seek out when hiring new employees?
In addition to exceptional life-drawing skills, a natural talent for movement and being versatile with software (Photoshop / Flash / Illustrator / After Effects) we want to see passion! We want high standards and enthusiasm. We want them to be dedicated to getting things done, and that may mean working on things over and over again under pressure.
Animation is about working together as a team, so they need experience at working with others — even if this means having worked at a diner during rush hour. Team experience is crucial when working together to meet a deadline for Disney. If they have no experience like that, then it is hard to put them on the line of fire. As a studio supplying services, when your neck is on the line to a company like Disney you need to hire those who can handle the heat. Animation has a way of ebbing and flowing and you can't be a person that gets frazzled or crumbles under pressure (at times it can be a bit like working with Gordon Ramsey). Even though a talented person can draw or build models in 3D, they still need the ability to function under pressure, with a smile. Obviously we want talented people who are skilled with drawing, software and have an eye for quality...but ultimately it is equally important that they be able to work in a collaborative environment under pressure.
What particular schools, if any, does your firm recruit new hires from? If none, where do you recruit new hires?
There are a few... we have a few folks from Cal Arts and Savannah School of Art and Design, Pacific NW College of Art and Portland Art Institute.
What advice would you give to aspiring animators?
Don't just study animation — take politics and business classes. The world of animation is centered around business and you should learn a bit about how that system works so that you can become a valued tool in the world of animation.
What were your most challenging projects, and why?
"Hero Sandwich" was one of our most challenging films to make. Because the story involved funny back-to-back stories related to handicapped parking, and we wanted to animate with sand to give the film an organic, colorful, down-to-earth look. At that time sand animation could only be shot as front light or back light which made the footage black and white (front light means that the view is literally looking into a sand box — back light means you see the sand as a black solid object scooting across the frame) and we wanted a full-color treatment.
We did not use a computer or scanning system for this film — it was old-school, down shot on the 35 mm Oxburry stand. We also needed to find the right sand with just enough flex of black and white peppery color so that it looking like sand and not just a bunch of blurry pixels on the screen. Also, sand is not easy to color, but we figured it out and in 1996 Hero Sandwich became the first-ever colored sand film! It took a lot of R&D but when we were finished if was awesome! It is when you challenge yourself that you really begin to open your mind to approach. That might be one of the reasons I think students should still be forced to create a film the old school way... cells, log sheets, lighting, and exposure. It is complicated to get the result that you want…but going through the process is half the battle.
What kind of education did it take to get you where you are today?
Here is the funny thing... animation is about observation and if you are looking for the answers they will come. I think that you can apply lessons from just about any topic and apply them to the world of animation. Nowadays there are a lot of great schools all over the world, but education comes from understanding. You do not need to go to Cal Arts to be a great animator. I have a few friends that were literally pulled right out of high school and worked on the amazing advertising campaign of the "California Raisins" and are now at places like ILM. It really is about how you pull from the world and bring it into what you enjoy! There is a lot more to animation than squash and stretch, Flash and Photoshop.
What animation software packages does your firm prefer to use? Which one would you recommend to beginners?
ADOBE: After Effects, Photoshop, and Flash are the major 2D software that most studios use. I think it is because they are the most generic and that most people have access to so the odds of finding folks that can jump right in and work are pretty good. Most of the software out today does about the same thing so it is really just about figuring out where each vendor puts the tools and what not.
I think for 3D it is either Maya or 3D studio Max. For audio we like Protools.
Could you share with us your best story about working in the animation industry.
I think the best thing was premiering "Hero Sandwich" at the Denver International Film Festival and going to the Governor's mansion for a filmmakers dinner and sitting right next to Chuck Jones. It was awesome to see how someone like Chuck Jones who had done so much and was still so giving to those that shared his passion to make things move. It felt like one animator talking shop with another.
Do you think that there is an increasing or decreasing demand for animators overall? Why?
I think that there are so many kids coming out of schools from all over the world that competition is not just local but global. In the animation business world it is about trying to produce more animation with less folks. This means that if folks want a job they need to be able to take on other positions other than just one job. Long gone are the days of just character design... folks need to take on much more than that.
Is animation increasing or decreasing... I would have to say increasing but then so are the number of folks trying to get a job at any studio... Pixar... ILM... or even Happy Trails Animation. I think now that mobile is becoming a new distribution, and can cover all the avenues of content, so you will see the need for content go up. As I say that though, you have to understand that everything is driven by a dollar and whether or not someone can make a profit on it. So someone that wants a secure job should not look into animation because this industry is always in flux. It is a very fun and exciting career but nothing is secure in today's world.
Remember that if you decide to go into animation it should be because of a burning passion for the art of animation and not all about the money. If you get good, are very skilled and have a wonderful personality that works in a team environment, well then you can make some money... but it really should be about the passion and desire first. I would rather see folks get into animation for the right reasons than the wrong.
Pages