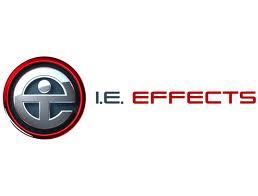 When I asked I.E Effects who would be the person to talk to about participating in our Interview Series, they all unequivocally pointed their fingers at their Visual Effects Supervisor, Dennis Michel. Now I understand why.
Award-winning visual effects artist Dennis Michel began his with a 40-episode stint on the Family Channel, a job he landed based purely on his presentation skills and his determination to land a job in the industry, despite having no experience, yet. Later he went on to become the lead artist on Emmy-award-winning CSI Miami. Throughout his long and successful career Dennis was also instrumental in creating unforgettable experience-oriented entertainment like Mission: Space for Disney's Epcot Center in Orlando and Star Trek: Borg Invasion 4D for Paramount Pictures.
The latest in his ridiculously long list of credits include establishing the 3D look for the films Green Lantern and Harry Potter & the Deathly Hallows (Part 2). When not working on 3D feature-length films he is producing immersive content for the theme park industry at home and abroad, in explosive Shanghai and Macau.
Needless to say, if anyone can offer advice to our readers about how to break into the industry and what it takes to succeed, its Dennis. And he did just that:
For any of our readers not familiar with you could you explain your studio's vision and what separates you from the (vast) competition?
The I.E. philosophy has always been based in a hand-crafted approach to visual arts as well as client care. We have a strong work ethic geared towards quality and affordability. Client's needs and budgets are evaluated on an individual basis to assure specific needs can be met within that criteria, then we aim higher.
I.E. Effects, however, is much more than just a visual effects studio. We thrive on fresh challenges that fall well outside the traditional VFX scope. Using innovative methods and technology, we have been able to expand the visual palette presenting a truly immersive experience for the viewer.
Our core staff covers a wide variety of talents and specialties. We offer an extensive array of services which include divisions in Visual Effects, Production, Commercial, Film, and Themed Attractions, all further supported by our vast experience with stereoscopic imagery. In addition we have divisions offering both stereo conversion and correction.

As a creative professional how have you handled the business-side to running an animation studio?
Quite honestly, it all comes down to the amazing people I am fortunate enough to have met over the years. During my day, I speak with clients and often manage large groups of artists, but running the studio falls on many shoulders. Our team communicates constantly. All ideas are heard and considered. This dynamic is extremely important in running our studio.

How did you initially get your foot into the door of the animation industry?
Getting ones foot in the door is obviously the most important and difficult part when starting a career. Basically it requires a great deal of work and persistence. The process of getting noticed can take a great deal of time and is often frustrating. Rejection letters are heart wrenching, but common, so one should not lose heart.
Just like any aspiring VFX artist, I did not have the advantage that seasoned artists had when I started my career in visual effects. I did not have lists of high-profile projects presentable in a resume. In fact, I had no formal visual effects training and had to rely solely on my presentation skills.
I remember it took me over a year to get my first job. Every time I sent out a slew of demos, I would immediately sit back down and try to improve on what I had. Eventually someone remembered something about my work that stood out, and decided to give me a call. A day later I was a VFX generalist on a 40-episode series for FOX's Family Channel.

What kind of education did it take to get you where you are today?
I had no formal training in VFX. In fact, when I started, not many artists did. The industry was new, and schools were virtually nonexistent.
I graduated college with a degree in technical theatre. This included set and light design, light theory, set construction, costume design, and a plethora of other creative subjects. This education translated very well into the CGI world, so I felt somewhat prepared when I decided to dive headlong into my passion for VFX.
I basically spent my last dime on Lightwave, and learned it. Learned it so well in fact that I was teaching veterans some tricks during my first gig. It was definitely a confidence booster, and helped land me some leadership positions.
As my leadership experience grew I met David Kenneth with whom I shared a goal and vision for an innovative approach to visual effects and production. With our combined experience in feature films, television, themed attractions, and stereoscopic imagery we have helped shaped the face of I.E. Effects.

Who does the hiring for your company?
Generally the interviews are conducted by Sarah Smith, our VFX Coordinator and myself, however, there are several people involved in the hiring process, so it is truly a team effort.

Has the trend of overseas animation outsourcing affected your firm, if yes, how have you dealt with it or compensated for it?
The trend of outsourcing overseas has affected us a great deal. As you may imagine, competing with a company that significantly reduces their overhead by hiring large groups of artists overseas for a fraction of the cost is a difficult challenge.
Our Executive Producer, David Kenneth has taken great steps to assure that we remain cost effective in this climate while maintaining an exclusively national presence. Since this overseas trend has started, we have opened an additional office in Traverse City, Michigan who's incentive program helps us remain competitive while creating new U.S. jobs for young and talented artists.

If you were going to hire a new employee/intern what qualities would you look for in a person and portfolio and where would you look?
Beyond talent and work ethic, which most would agree are important qualities for any artist seeking employment, a good attitude is imperative. It is vital to us that the members of our team work well together and leave any bad attitudes at the door.
All artists need to keep an open mind and be willing to learn from one another. Novices need to soak up the experience that veteran artists can provide. Veterans, in turn, must open their minds to fresh ideas and approaches. I myself have learned a great deal from new talent, and consider myself very fortunate for the opportunity.
Anyone looking for an opportunity to work with us can email a resume and demo reel links to "jobs@ieeffects.com." Also, we generally post job listings on the following sites:
2-Pop Job Forums    
Media Match       
VFX Talk Forums   

Do you hire freelancers? If yes, what would make you throw work their way?
Yes we hire freelancers. Again, beyond the necessary talent and fortitude, strength of character will go a very long way.

What animation software packages does your firm prefer to use? Which one would you recommend to beginners?
We use a wide range of software at I.E. Effects. For obvious reasons, there is a need to keep the packages consistent over a given project, but we tend not to shoehorn ourselves into a corner by ignoring the options.
We have used Maya, Modo, Lightwave, Zbrush, Cinema 4D among others on the 3d end. Compositing packages we have used include Nuke, Silhouette, Digital Fusion, and After Effects.
Of course recommendations would depend on an artist's aspirations, but based purely on marketability, the best bets would be Maya for a 3d artist and Nuke for a compositor. That being said, these tools are not necessarily going to be the best ones for every job.
Personally, I prefer to build my 3d models in Modo.  Zbrush is best for character modeling. Maya is an amazingly extensive package, particularly for character work, but falls short in render support and general accessibility. Lightwave is commonly considered behind the times, but its speed, accessibility, and render quality keep it a very important tool in our arsenal. Nuke and Fusion are similar node based compositors, and although Nuke is a powerhouse, I generally find Fusion a more pleasant experience for most endeavours. After Effects is incredibly important for our layout and motion graphics work.

What advice would you give to aspiring animators looking to break into the industry?
Before considering a career in VFX, realize that a great deal of determination, passion, and fortitude are required to be an exceptional artist. If you are willing to stick with it, however, it can be an extremely rewarding experience.
Watch a lot of movies. Constantly ask yourself how you would go about creating certain effects. Execute those ideas. Read books. Talk to people. Forums are a great place to learn new tricks. Above all, stick with it until you succeed.
Check out more interviews at The Animation Career Review Interview Series.