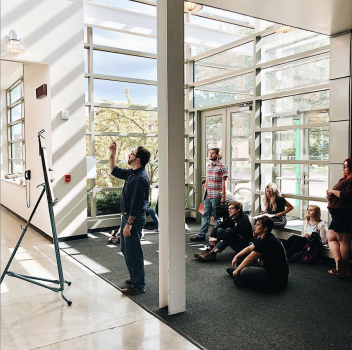 There are few careers that allow for more creative expression than one in illustration. Whether in film, publishing, games, advertising, design, or simulation, illustrators bring characters and stories to life by utilizing both classical and digital techniques. Artistic skills and expression, a meticulous eye for detail, problem-solving, professionalism, and the determination to complete tasks on time are just a few of the skillsets necessary to pursue a career in the field.
If you think you may have what it takes to pursue illustration, or are dedicated to learning the craft, Northern Michigan University boasts an excellent interdisciplinary program that is well worth a closer look. Undergrads enjoy small class sizes and a curriculum that has been created by veteran illustrator and program head, Steven Hughes. For our latest Q&A, we catch up with Hughes to inquire about the details of NMU's program as well as lessons he has learned from his own career. Whether you're a Michigan resident or just seeking a new adventure in the pristine upper peninsula region of Michigan's Lake Superior shores, NMU is one university that you'll want to put on your radar.
ACR:  Let's start at the top, Steve. You spearhead Northern Michigan University's Illustration offerings. What attracted you to this role, and to NMU?
Steven Hughes: I was excited to take over the illustration program and be responsible for the entire curriculum and identity. It has afforded me an opportunity to work with a lot of passionate faculty who care about the quality of an undergraduate degree. We are a teaching-focused regional university with a strong art program. The facilities are high quality and give students a lot of exposure to professional level equipment and experiences in the studios.
Outside of that, the outdoors are a big attraction for me. We are located on the coast of Lake Superior, so I'm able to walk to school or the beach in less than 10 minutes from my house. I'm an avid plein air landscape painter, so the abundance of scenery keeps me busy during the summer. Our students frequently hit the nearby slopes for skiing, or nearby trails to snowshoe during the winter. The area is also becoming a destination spot for mountain biking.
ACR: Tell us about the basics of the Illustration program, as well as its home within the university's School of Art & Design.
SH:  There are currently 450 students in the School of Art & Design here at NMU. We offer a BFA, BS, BA, Associates, Art Education, and a minor. There are 16 full-time faculty for our studio disciplines: Illustration, Graphic Design, Computer Art, Drawing/Painting, Digital Cinema, Human Centered Design, Ceramics, Photography, Furniture/Woodworking, Jewelry/Metals/Sculpture, Art Education and a service Art History program/minor.
Class sizes for 100 and 200-level courses typically have 18-24 students; whereas the 300 and 400-level courses are generally 15-20. Some disciplines like Graphic Design are on the higher numbers, but illustration leans toward the lower end of those ranges.
ACR: What courses can Illustration students expect to take at NMU, beginning with foundational classes and culminating at graduation?
SH: All students in the School of Art & Design take a foundational Process and Design course, and at least one course in a 2D studio, 3D studio, or Digital Studio. Our foundations program also includes a 200-level Concepts & Culture course, a 400-level Theories & Practices course, and art reviews at the 300 and 400 level (senior exhibits).
There are five levels of illustration within our program. In the first stage, courses like Foundational Drawing and Foundations in Illustration teach our students fundamental drawing techniques and concepts. They are designed to be informative and challenging for students of all ability levels. In AD219 Illustration: Methods & Materials, we explore the different hands-on color media used by professional illustrators. Later, AD319A Illustration: Digital Media introduces the computer- a crucial part of our program as a drawing and painting tool for artwork. Human anatomy necessary for artists is introduced in AD319B Illustration: Narrative Figure, and the figure is explored as a storytelling device. AD303 Individual Art Review asks illustration students to complete a thesis of sorts. A series of related work is developed through the semester and presented for defense in front of a panel of faculty.
AD419 Illustration Concepts focuses on advanced visual problem-solving, developing students' individual areas of interest. 419 is a course that students repeat, with the focus on portfolio development and business topics. All students complete a senior exhibition course that showcases new work created in a series. Throughout all of these courses, linear perspective, color theory, the history of illustration, professional business practice and job opportunities, and artistic expression are examined in depth.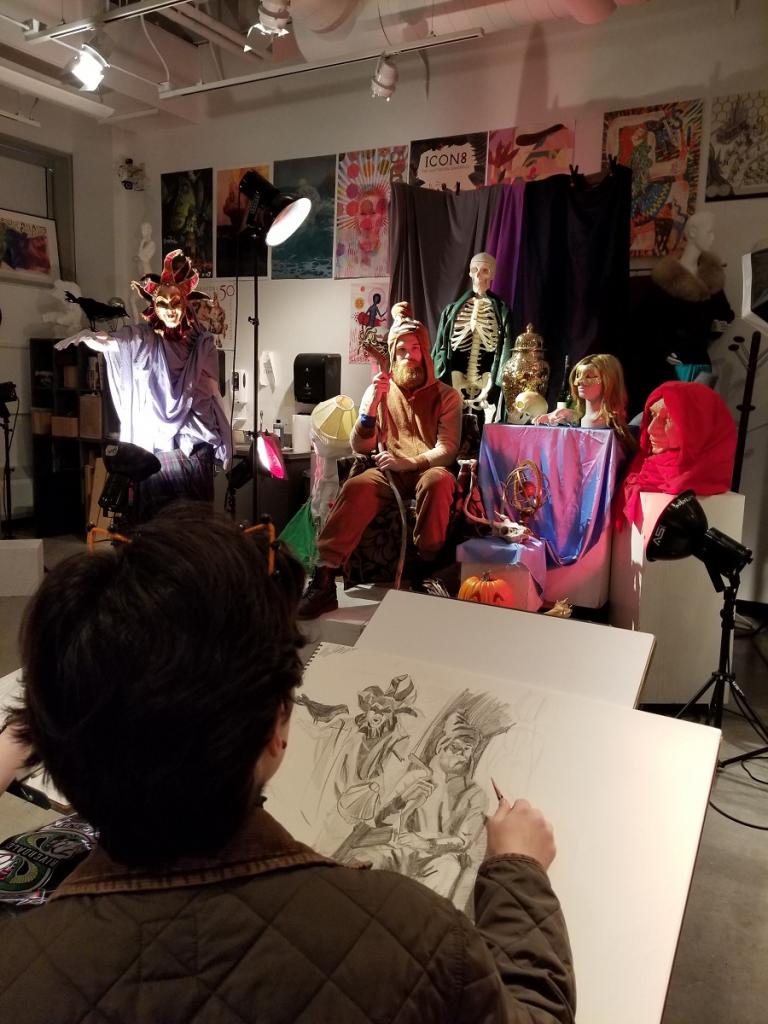 ACR: You mentioned the portfolio work that is required of students. Tell us more about it.
SH: Students prepare their portfolios throughout their time in the program, but it really coalesces in the final semester as they prepare a senior show exhibit. By this time, they've engaged in our junior-level review process where I have the illustration students create a new body of work for presentation and defense in front of a faculty panel. In both cases, I'm working with them to develop their voice visually, narratively and conceptually. It is essential that their portfolio demonstrates their passion for the subject so that a client can envision the work solving their problem.
ACR:  NMU has ample studio space that Illustration students use. And we've heard that each student receives an Apple laptop...
SH:  Yes. The illustration studio is fully equipped for drawing from life models with horses/tables and easels. It also has Wacom Cintiqs along the wall for working digitally from the models or during open studio hours. Students in the Art & Design program receive an Apple laptop loaded with Adobe software as part of their tuition. The computer labs have wacom tablets, updated Apple computers with Adobe software, multiple printers including large format and vinyl cutter. The school has a 3D printer and laser cutter in the Human Centered Design program. Some of the most successful students are parlaying their experiences in the other course with their senior exhibit work, turning out prototypes combining 3D skills with their design and illustration work. I frequently have computer art students that are introducing 3D modeling into their illustration work as final product or help developing environment perspectives.
ACR:  Do you find that students' ideas of what it means to be an illustrator evolves as they explore the craft and learn from you and your colleagues?
SH: In most cases, students only have a vague idea of what illustration is when they enter the program; or they like to draw characters and read comics and they hope there's a future in either of those. I believe our program does a good job of establishing interdisciplinary connections and turning out a well-rounded student. Frequently, a student will combine studio approaches as they get to the upper level. One of the most successful recent senior exhibit pieces was a series of character designs and the development of real jewelry designs for cosplaying as each.
ACR: Were there missing elements in your own education that you've included within NMU's curriculum? Or are there attributes of the program that allow your students to gain a fuller education in Illustration?
SH: My work has been very figurative, with an emphasis on portraiture even while I was in school. I didn't have the training in anatomy and figure drawing that I would have liked, and have steadily been improving my skills in that arena. Just recently, I developed a Narrative Figure course to ensure my students have experience working from life models and employing that research to create illustrations appropriate for the book and fantasy marketplace.
Importantly, within the School of Art & Design there is a range of disciplines available to students- allowing them to sample a great variety materials and approaches, or develop a strong secondary skillset. Graphic design and illustration have often been paired together in schools, as it was in mine, but I've seen great results from metals students taking the illustration courses and combining jewelry and character design to develop a cosplay skill set as I mentioned earlier. Likewise, I have worked with students familiar with 3D animation programs on developing their zbrush characters and concept art renderings.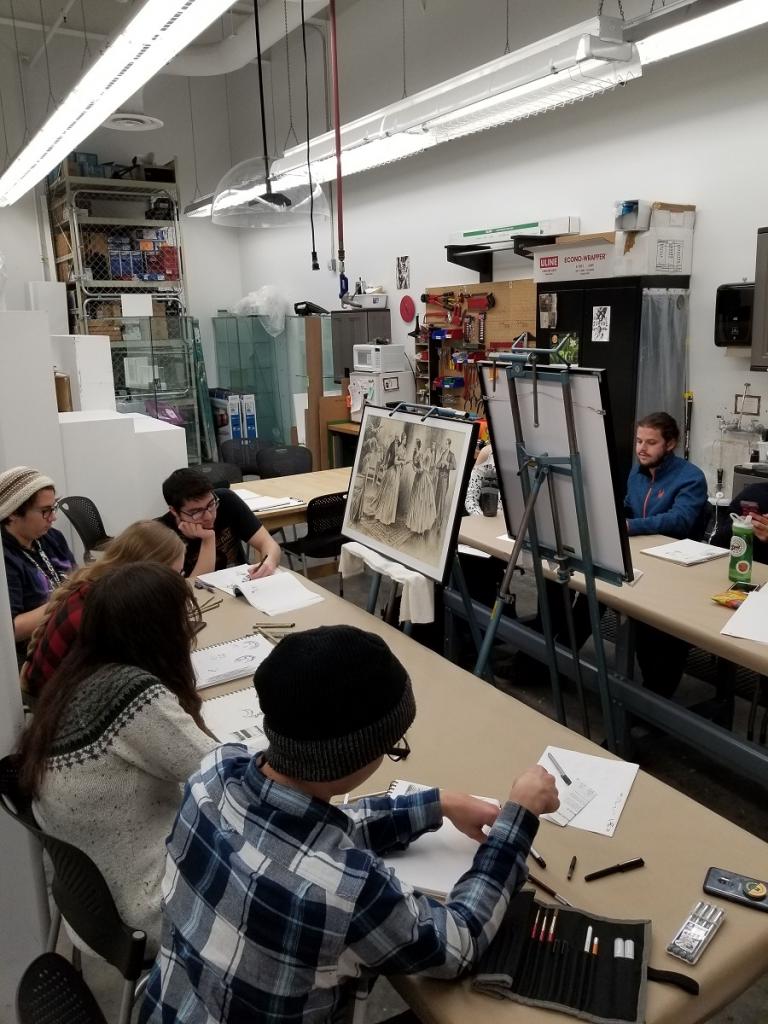 ACR:  Steven, your own career in illustration exemplifies the many ways in which you can leverage your skills for diverse clients and projects. Reflecting on some of those projects, do you have any favorites or ones that are particularly memorable?
SH:  Perhaps the most unusual application of illustration (I did) was for a Toronto Blue Jays Charity Auction. I was asked to paint on an actual baseball bat an illustration based upon one of the Blue Jays' players. I was given themes provided by the player to develop art that related to their life experiences and goals. It was eventually signed by the player and auctioned off at their big charity gala.
That project came about as a direct result of my Masters thesis work that focused on illustrations of baseball players as larger-than-life figures to highlight the game for youth in inner cities. I tell my students that their portfolio should contain work that they want to get hired to do in the future. This is a perfect example of putting your personal interests in your work and having it pay off dividends in the future.
ACR:  Given the increasingly freelance-oriented landscape within the arts and design, what traits and skillsets will serve students best in the long run?
SH:  Flexibility to pivot when plans go differently than expected; the curiosity to keep learning new skills and research a new subject area whether that's for your own story or a client's; and perhaps most importantly, having the personal motivation to keep going when the external motivators (like school assignments or commissions) are completed.
ACR:  Steven, it's been a pleasure learning about Northern Michigan University's Illustration program. All the best to you and your students!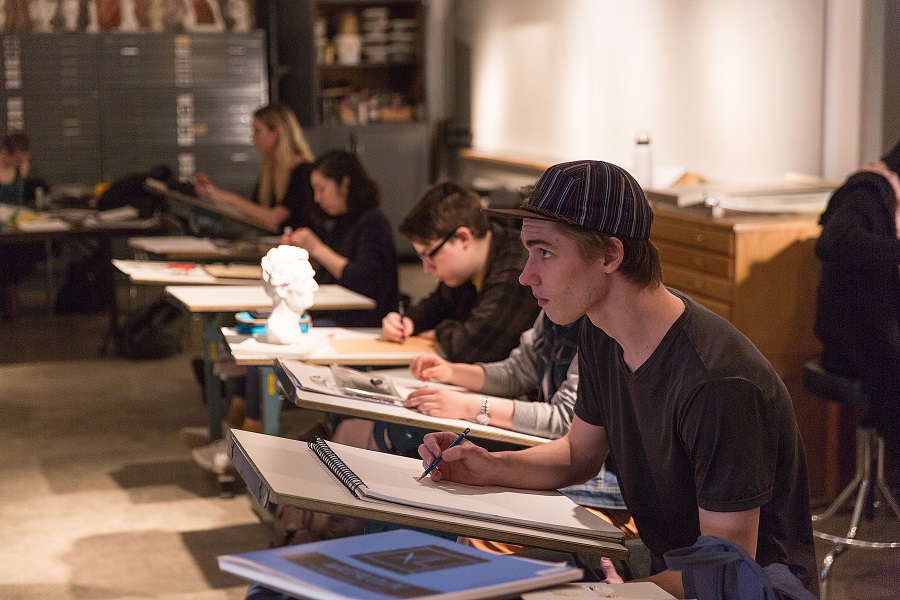 Check out more interviews at Animation Career Review's Interview Series.