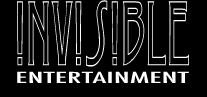 "Seriously, we are like ethereal mist, like deadbeat Dads, like evidence of efficacy for homeopathy, we are simply not there," whispers Invisible Entertainment. But, despite their good-humored ribbing that they were "super-secretly founded in 2004", Invisible Entertainment isn't quite that invisible.
The tale of the studio's creation is still shrouded in mystery but on the far-reaches of the Internet universe (read: Google) I read on engraved tablets in ancient Aramaic that "rumour tells of 5 partners running a small company co-operative out of a hidden tomb in the sub-basement of an old Masonic lodge". Sounded plausible to me so I ran with that.
My apologies to my readers for shamelessly-quoting Invisible's website—but the stuff coming out of their heads reads like a Douglas Adams novel. "We want the notoriety that only complete invisibility can bring," says the executive-branch samurai at Invisible's carefully-concealed HQ. "We contribute nothing of immediate value to society, but dogs tend to whine uncomfortably when one of the shows we worked on airs on TV."
Before he vanished into the mist from which he came we got a chance to speak with the dis-embodied voice of Mark Cappello, one of the five rumored founders of Invisible Entertainment. Oddly enough his CV was easy enough to find, and proudly boasts that before creating Invisible he was the Studio Manager for Collideascope Digital Productions, Studio Director for Helix Animation, and before that a lowly Layout Artist/Supervisor/Designer/Toilet Scrubber at Funbag Animation. He is also yet another Sheridan College alumni featured in our Interview Series, which made it funny when he told me about the sense of entitlement and arrogance of Sheridan graduates (ironic smile).
For solid advice or a hearty laugh here is Mark's tales of success and incredibly tangible and relevant advice to aspiring animators (including great tool recommendations, an understanding of the US/Canada animation divide and a sincere diatribe about life in the industry):
What is your firm's focus within animation and what led your firm to have such a focus?
Invisible Entertainment was created as a boutique service company serving the larger animation companies in Canada, in Atlantic Canada specifically. I opened the company after being contacted by a number of companies in a short span of time to do various design and storyboard components on series. I was working full-time as a Designer/Studio Manager at a studio in Halifax but because of my reputation in the region as one of the more experienced artists I was pretty well known. My peer connections and management skills allowed me to create and organize small focused teams, often with a crew that was moonlighting from their regular animation jobs, and it gave our company a nimbleness without losing focus. I got pretty busy and chose to 'share' out the ownership of the company and now we basically run the company as a loose co-operative with a core group of 5 equal partner/owners.
Fill in the blank: The future of animation is _________.

'Impossible to predict'. The only thing I know with certainty is that talent and creativity will drive the industry regardless of any future direction.
What are the best and worst aspects about working in the animation field?
I think the best aspects are those intangibles that can drive a passionate artist to be consumed in the art and the process of creating and visualizing great stories. Unfortunately it's this very trait that allows us to be taken advantage of quite easily, and I guess that's the worst aspect. It's a difficult industry where I find myself in it after 15 years because of sheer passion and desire as opposed to a great steady salary and retirement plan. Too often I've seen great talents snuffed out by the cruel economic realities and the frustration of an artist having to bend to what is truly a commercialized industry.
Among your firm's achievements, which one(s) are you the most proud of?
I don't want to sound like a communist but I'm most proud of our team's ability to work together and put the interests of the group, the art, and the project ahead of their own personal interests. I think it's rare to capture that kind of lightning in a bottle and harness it positively. It honestly can't be about the money, there are much easier ways to make an average of $20-30k a year in the work force.
What skills/qualities does your firm seek out when hiring new employees?
Talent and attitude. A portfolio can only demonstrate half of that equation, and portfolios can be deceiving. We like to hire people with experience because the network of artists in this region and in the country is quite strong in communicating a potential employee's pros and cons. When I hire people straight out of school I find they largely need to be retrained, not in terms of the technical skills but in terms of the practical applications of their craft and their attitude and understanding of the 'actual' industry. Most graduates have a very rose-colored view of the industry and they tend to become bitter quickly when they are faced with the sometimes seasonal nature, the job insecurity, and the pedestrian pay rates. It can be a shock to someone who spent a lot of money for training with instructors telling them they will make hundreds of thousands of dollars.
What particular schools, if any, does your firm recruit new hires from? If none, where do you recruit new hires?
We are not snobs when it comes to requiring specific educations. Some of our owners graduated from college (Sheridan and NSCC), and some of them never graduated from an animation course at all. The natural talent combined with an opportunity to lean in the actual industry can be much more of an education than 3 or 4 years in school. I like the Sheridan graduates who are not already convinced they are ready to be art directors, and I really like the graduates from Ottawa's Algonquin College, they have a strong work ethic, they benefited from great instructors, and unlike some Sheridan grads they have a refreshing lack of arrogance and entitlement.

What advice would you give to aspiring animators?
Work your ass off, constantly challenge yourself and network with your peers. It's actually easy to spot the rising stars in the industry as they are the ones who are drawing constantly, teaching themselves new skills and production modalities, and they always manage to maintain a wide-eyed wonderment towards all things animation.

What were your most challenging projects, and why?
Every project is a two-fold challenge in my opinion. The first challenge is meeting the clients expectations often while juggling a low budget, tight schedule and problematic producers/clients who are unfamiliar with the process and pressures of production. The second challenge is meeting your own expectations in terms of growth, skill improvement, and rising to accept new challenges. It's all about getting better and being better and you are often your own harshest critic.
What kind of education did it take to get you where you are today?
I graduated from Sheridan College in 1996 and at that time the entire course was analog and we actually shot our tests and films on actual film stock. We hand painted our cels and Backgrounds and we were taught to understand dope sheets and a physical camera set up. Everything digital since then had to be learned on the fly, and it was not easy for this old dog to learn all the new tricks. My Cintiq helped a lot, as I was unable to easily use a tablet and draw where I wasn't looking and it also helped to move more into design and management as my career evolved so I could learn things like Photoshop and Flash at my own pace without production deadlines. To be honest though, the best skills I learned were time-management related. Artists are not usually known for that side of things and it's critical in order to consistently meet deadlines and organize teams. Finally, learning and understanding the full production process is key to appreciating each department, each role and how they depend on each other. Many animators live exclusively in their own department insulated from the larger picture and it can create a crippling ignorance. I was fortunate to enter the industry when I did, and I was lucky that I chose to work for a smaller studio as opposed to one of the major studios as I noticed that my friends at the larger studios languished in a single department for years while I was able to try every department on various projects learning and adapting as I went.
What animation software packages does your firm prefer to use? Which one would you recommend to beginners?
We use Flash for our animation, and I recommend it to anyone starting in the industry. It's easy to learn and relatively easy to master and it allows you to be a one stop shop for producing your own fully realized shorts and pieces. ToonBoom has it's definite production upside but each license can be pricey and the learning curve is much much steeper. The nice thing about Flash is it also allows you to easily produce work for gaming, advertising, commercial work and web based design. It's a great total package. Photoshop is almost a required program as well and for extra points and an extra layer of marketable skills I heartily recommend learning or understanding After Effects.
Could you share with us your best story about working in the animation industry.
My entire 15-year career has been my best story, with too many positive fun experiences, negative learning experiences, and a chance to meet the nicest, most creative, intensely talented individuals in the world. I'm lucky to have spent my working life in this great, inspiring, tumultuous industry.
Has the trend of outsourcing animation overseas affected your firm, if yes, how have you dealt with it or compensated for it?
Outsourcing has been a constant threat throughout my entire career. I've been unlucky enough to see a great work migration in the late 90's as even design and layout and posing were sent overseas creating a massive drought on the Canadian animation landscape. Flash production brought a lot of that work back from 2002-2006 but our animation brothers and sisters overseas quickly learned the necessary digital programs to undercut us over here yet again. Working predominantly on storyboards and design has insulated us somewhat here but the effect is a cascade. My American colleagues may think I'm whining simply because our high Canadian tax credits and non-union labour has been undercutting them for a long time. Sorry Team USA!
Do you think that there is an increasing or decreasing demand for animators overall? Why?
I think the need is relatively constant for animators and despite the fact that we've seen a real upswing in animators being hired in the games industry we've also seen a dramatic increase in the amount of colleges and trade schools pumping out high amounts of graduates. The reason I believe the demand is constant is I've seen countless 2-,3-, and 4-year vets step out of the industry into something much more stable. There seems to be a point where the animator reflects on his/her career and decides to leave the flaky field in order to work in another career. In all the studios I've ever worked at I've noticed that there are always a lot of new students and 1-year vets but very few 'lifers' or animation artists with a decade of experience or more. It always struck me as odd until I reached that 3 or 4 year point where my peer group was thinned out by one more layoff or one more bounced cheque or one more promise of work that failed to materialize... They looked around, newly married, new child on the way perhaps, approaching their late 20's and decided that they were not so passionately attached to this animation mistress that demands so much of their time and energy and patience. I guess the rest of us prefer the mistress. You can take that 'lifer' lot and split it into the half that are severely bitter about their choice and their industry and the other half that loves it still and regrets nothing. Regret nothing and don't approach this industry because there may be jobs in it, approach it because it's all you ever wanted to do.
Check out more interviews at Animation Career Review's Interview Series.