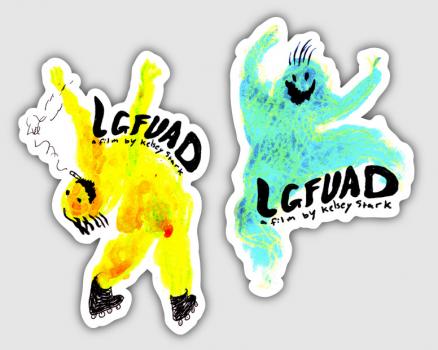 While working on our Interview Series, profiling prolific animation studios around
the country, it was recommended to me to step beyond studio and executive
profiles—and to pursue an interview with someone newer to the industry. A fresh
perspective with the vision to change the face of animation in America. Kelsey
Stark is one of those people.
Even though she is relatively new to the industry Kelsey is already making her
mark on it, through her extremely provocative work. After her student work
LGFUAD (an acronym for Let's Get Fucked Up And Die) won "Best Undergraduate
Animation" at OIAF she earned international attention. LGFUAD is a short film
that explores Kelsey's feelings about growing up in suburbia and showcases her
explosive talent. Kelsey is currently on the animation staff of New York city's
famed Ace & Son Moving Picture Co.
We recently scored some time with Kelsey to probe into her slightly perverse, and
complex, mind to see how it felt to win an international festival award at a young
age, her hopes for the future and advice for how aspiring animators can follow in
her successful footsteps:
Your independent animation work is quite provocative, what inspires you
to create such unique work?
All art should be provocative and thoughtful. Animators tend to get away with a
lot of mindless garbage just because it's cute or looks slick.
Animation in America has this stigma of being either for children or for comedic
entertainment purposes only. I find myself consistently frustrated with work I
see coming out in the field that plays into that. Making provocative films with a
somewhat traditional narrative structure can help change people's perception of
the medium, which is something that I am particularly interested in.
With such a creative mind, what drove you into animation as opposed to
a more traditional art form?
Animation is the marriage of so many really potent art forms; and a totally
limitless medium. It takes all the really great characteristics of film and video art,
like the ability to manipulate time as well as the interaction of image and sound-
- but then takes it to a more intimate level. A level that I don't feel can occur
in live action film. It's something similar to reading a diary or looking through
a private sketchbook. It's a very fun medium with a very fun history and it has
endless potential.
Have you always known that animation is something you wanted to do?
I never really thought of animation as a viable career path, though I have always
been quite enamored with it. I remember a friend laughing at me when I told
her I still watched nickelodeon in high school. As I began to develop as an artist
I realized that animation was a conglomeration of my interests, I thought it the
best means for my expression.
Your animation LGFUAD (which stands for Let's Get Fucked Up and Die)
is quite risque and bold, what gave you the inspiration (and cajones!) to
create that project?
LGFUAD on a personal level was a statement of rebellion. It's hard for me to
scream at the top of my lungs or sing in front of people, but surely, as everyone
does; I have these intensities within me that come out through my work. I was
reading a lot of Kathy Acker and William Burroughs at the time I wrote the piece,
also watching a lot of Richard Kern and Ken Anger and 90s toy commercials I
remembered from my childhood. All these influences collided, some deliberately
and others more subconsciously and LGFUAD was born.
You won the Ottawa International Film Festival's best undergraduate
animation for your work on LGFUAD, was that something you applied for
in order to be considered?
Yes, Ottawa is a huge festival. I attended the festival once through school,
and it was just something that was always highly regarded by my professors. I
was encouraged by my advisors to apply to as many festivals as I could. I was
shocked to have won at Ottawa; and that really paved the way for many other
festival acceptances and recruitments. It's been really exhilarating to know so
many people are watching my film around the world.
How did you get hooked up with your current position with Ace and Son?
Richard O'Connor saw my film at our senior screening and wrote a really nice blog
post about it. He is a good friend of one of my professors, and reached out to me
when he was making some changes in the studio and needed some permanent
staff members.
You have experienced success as an animator right out of the gate, what
can you recommend to aspiring animators to be equally successful?
People should aspire to create a unique voice. So many films attempt to imitate.
In a perfect world animators will stop thinking of themselves as 'animators' and
think of themselves as artists. The word 'artist' carries a heavy burden though:
you must be critical and innovative. It bothers me that so many animation
programs are focused on building technical skills. That has always been a
secondary concern of mine. Work with a strong conceptual base is always the
best work, and will earn you more respect as a living breathing thinking artist.
Moving forward how do you hope to grow as an artist?
I hope to keep creating independent work. It gets tough to do so once out of
school where I had deadlines and consistent support to keep going, but it's
something I really want to keep up with. Animation installation has always been
a really interesting and unexplored terrain for me; I can definitely see myself
moving toward that path in the future. I'd really like to find a harmony between
fine art and the pop culture aspects of animation in the US.
What do you feel the future of animation holds?
It's endless. Animation has been changing and growing a ton with the advent
of the technological age. Animation has this incredible potential to bridge a
cultural gap between art culture and mass culture because of its reputation and
accessibility. This is very exciting to me, and I just hope it keeps pushing that
further.
Do you feel isolated from the pressure put on American animators of
outsourcing to cheaper countries because of the amount of originality in
your work? And do you consider this critical in these times?
I don't feel too much pressure. From what I've experienced in New York, the
animation community is very self-sufficient and there are a ton of independent
animators and studios that do all the work themselves. It's definitely an issue I'm
aware of, but I haven't run into at all so far in my career. As far as my own work
goes, I will continue to do all the animation myself: It's a part of the process that
makes it a really rewarding experience.