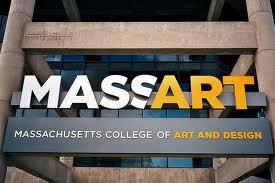 Massachusetts College of Art & Design, better known as MassArt, was founded in the latter half of the nineteenth century to serve as a training school for drawing teachers in Boston. Today, it's a publicly funded art school which has grown to encompass a plethora of top ranked departments including an animation program rivaling any other.
Comprising both the traditional and the experimental, animation at MassArt focuses on fundamental problem-solving skills to ensure graduates are ready for whatever the future holds. Students benefit from close collaboration and camaraderie with one another and faculty, all of whom have enviable working experience. For our latest spotlight Q&A, we spoke with Professor Flip Johnson- a founding member of the department whose insight into the program and the art form sheds light for students and readers alike. (The interview, conducted via phone, has been edited for length & clarity).
ACR:  Flip, thanks for participating in our latest Q&A. To start, you've accrued many accolades over the years as a working artist. What was your own career trajectory and how did you ultimately find yourself teaching animation at MassArt?
FJ:  I went to an art college and learned how to animate mostly on my own. I really became a self-taught problem solver and started making short films that actually got a lot of acclaim. Eventually, I found myself needing to fix my front porch, so I succumbed to doing commercial work.
Because of my short film experience, I was able to go into directing spots and I did that for 15 years. I directed commercials for many big clients like MTV, M&M Mars, Combos, Hidden Valley Ranch, the Las Vegas Convention Bureau... a lot! All the while I had been teaching as well. When the opportunity to come to MassArt about ten or twelve years ago as a founding member of its Animation program arose, I seized the chance.
ACR: What attributes of the animation program do you credit with making it as unique and highly regarded as it is?
FJ:  A common thread of the program is putting our students in positions where they can fail without consequence and are actually encouraged to do so. We call it "lowered stakes teaching". Instead of doing a thesis project during junior year like many schools require, our students make about 15 short films a year so that they become highly experienced. We give them a set of limitations and expectations with each of the films- for instance they might have to use a camera 10 different ways with 10 different functions. This allows them to become problem solvers which is imperative to their futures.
ACR: Has the curriculum changed much since its genesis?
FJ:  The main difference is we've grown and we've increased the electives we provide. A lot of the core courses are broad-based but now we allow our students to specialize in areas with courses in character animation, stop motion and even sound design for animation. If you have a particular interest, you can get very deep into it now. Our juniors even design a public service announcement and collaborate with students from Berklee College of Music (nearby) who score the piece. The growth has been offering electives to augment and allow for our students to get deeper into an interest if they choose.
Ultimately, we aren't a vocational program. We're happy if a student wants to be a fine artist. We build creative capital in our students that will serve them well in the long run. As soon as you commoditize focused skillsets, the jobs go overseas. We want our students to be conversant with the skills but for the purposes of directing and overseeing rather than teaching them to do very specific tasks. 
ACR:  Do you find that your graduates work in diverse roles because of their solid background?
FJ:  Yes. Our graduates are really varied. We don't have a direct pipeline to any studio and we aren't a specific vocational school. Our students really push and define their own paths. We have a couple of graduates working for Double Fine Productions right now in gaming. Mondo Media has used our students for creating webisodes. Some are at the National Ministry of Design in Boston and others are doing cartoons at TitMouse and product design for Hasbro. We have graduates at Laika, Bent Image, Sesame Street Workshop and even Houghton-Mifflin doing book graphics. So it's a wide range of things.
ACR:  Indeed! How do you inspire your students to find their creative voices, particularly given their varying interests?
FJ:  It's the Nike cliché 'just do it'. It all comes down to that. I give my students garbage bags with the instruction to go collect garbage and then bring it back, empty the contents and make a short film out of it. If you just do it, you'll be amazed at what's inside of you.
Be prepared to fail. We support failure. Don't think that you have the answers because at 20 or 21, you don't. If you had them hardwired into your brain, we wouldn't be creative people seeking answers. It takes trial and error. When you find your solutions, it's as if they naturally exist in the world but you have to search for them like a scientist.
ACR:  The lesson of learning from failure is invaluable…
FJ:  It is. Each year we bring all of our students to the Ottawa International Animation Festival and it's a great experience. The festival includes all different genres to inspire them. They all bond, becoming colleagues and friends and supporting one another. We come back to campus and we talk and critique as a group. They learn to speak very eloquently about their ideas and the ideas of others. They understand that their combined failures are like a symbiotic organism which will inspire their classmates. There's the common knowledge that we're all failing and succeeding together and inspired by one another.
One thing that you find in an art school like MassArt, not unlike a liberal arts school, is the ability of our students to write well, to speak clearly and to be well-rounded individuals. That is certainly up there as one of the most important things that any professional must possess. Students need to be experientially and academically well-rounded to become artists.
ACR:  And that's the perfect note to end this on. Thank you for telling us a bit more about MassArt's Animation program, Flip. It was a pleasure!
FJ:  Thanks, Bonnie.
Check out more interviews at Animation Career Review's Interview Series.