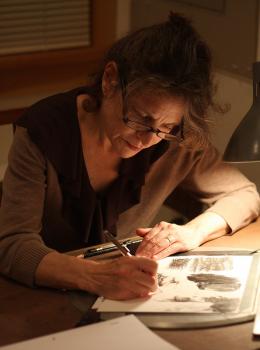 In the worlds of abstract animation and the instruction of the craft, Amy Kravitz is as good as they get. She has been an integral force in the Film/Animation/Video (FAV) department at the prestigious Rhode Island School of Design (RISD) since the very inception of its animation offerings.
First studying the craft at the tender age of eleven under the tutelage of Yvonne Andersen at her famed Yellow Ball Workshop, Kravitz went on to merge her diverse educational background and interests into a recipe for professional and creative growth. Her avant garde approach to animation and its instruction has influenced generations of acclaimed artists, both within and outside of the walls of RISD.
We were thrilled to ask Kravitz a few questions about her work, her teaching style, and RISD's program for our latest Spotlight Q&A. We know you'll enjoy this one.
ACR:  Amy, you earned a B.A. in social anthropology from Harvard before turning to experimental animation as a grad student at CalArts. Tell us about your background and how you molded yourself into an animator.
Amy Kravitz:  When I was a child my toys were alive to me. I tried to figure out how the cartoon characters got into the television. I told my mother when I was four that I wanted to be a horse. These inclinations were the foundation of my interest in animation – finding life and humanity in unexpected places. I started making films when I was eleven at (Yvonne Andersen's) Yellow Ball Workshop and teaching when I was fourteen. So, I literally grew up with animation. Its methods and forms shaped the way I perceive time, images, movement, sound, and even the way I reason.  
Harvard extended that ability to reason. I studied anthropology, perhaps because like animation it weaves ideas and knowledge from many disciplines. It synthesizes science, art, history, psychology and more, just as animation combines drawing, dancing, music, literature, theater and more. Animation and anthropology taught me about both personal and cultural creativity, as well as what we classify as alive and not alive. My graduate work in animation at CalArts gave me a formal film education, but more importantly it gave me the opportunity to work with Jules Engel who helped me forge these potentials and interests into mature work.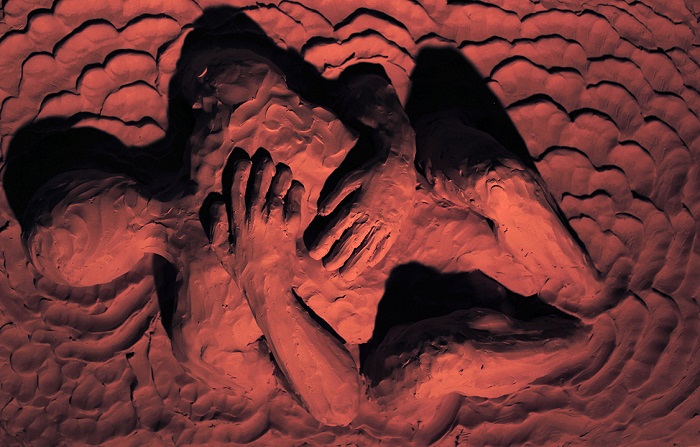 ACR: How have those educational experiences shaped the way you tackle the craft of animation?
AK:  My early experiences of animation came from deep inside of me. I projected my life onto the world around me – that's why inanimate objects could be alive. Anthropology taught me a formal method of viewing others – other peoples, other cultures, other social constructs. It taught me to see outside myself, beyond my own construction of reality.
Now, I approach animation in a comprehensive way. I research. I study. I work slowly. I make hundreds of preparatory drawings and animate many more sequences than I use. Deep reflection and learning drive the filmmaking process. I try to look in two directions at the same time – one, inward, the other outward. But all of it still requires that fundamental empathy that enabled me to experience my toys as alive – and, I have come to see that animation can activate the profound human communion that holds our souls and societies together.
ACR:  You've been teaching at RISD for many years now, Amy. What was your initial attraction to the school, and what aspects of RISD have kept you rooted to it?
AK:  I was very young when I started and RISD had no structured animation program at the time. Yvonne Andersen was teaching introductory classes that had generated enough students to continue so I began teaching the advanced courses. Together, Yvonne and I shaped the curricular flow. I was given great freedom in my teaching and I really used that freedom to explore the animation learning process deeply with the students. I took a hiatus for my graduate education, but I returned right after. RISD students are like no others – hardworking, engaged, brutally honest. I never have a day without new insights and surprises, and most of those surprises are good ones.
ACR:  A unique aspect of the FAV (Film/Animation/Video) curriculum at RISD are the many courses available to students that challenge them to learn new skills and develop existing ones. The similarities with your own diverse educational background is striking.
AK:  At RISD FAV, students come into the department after a year of foundation work in drawing and both two and three-dimensional design. Within the major, students then study live action filmmaking, video making, and animation. They also take studios outside the major. So, when students explore animation they have a deep artistic vocabulary with which to work – their thinking is not insular. Animation itself is a relatively small set of courses, however students bring inventive, energetic thinking, and rich skill sets to it thereby achieving excellent results.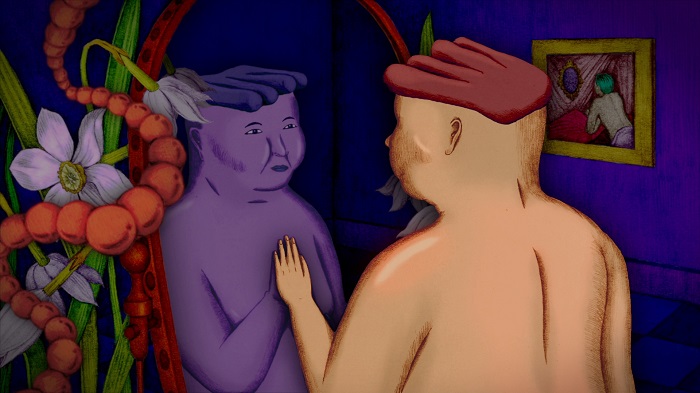 ACR:  Particularly given the rapid progression of technology, do you believe animators will increasingly depend on interdisciplinary skill sets that require collaboration and an understanding of these broad areas?
AK:  Animation is by nature interdisciplinary. It resides at the intersection of many fields – dance, literature, visual arts, sound.  It can also communicate ideas, emotions, and relationships with unique clarity; so, cogent thinking – visually, intellectually, kinesthetically, aurally – is important. In addition, animation is used in a growing variety of fields and digital tools make collaboration more possible.  For all these reasons, interdisciplinary skills, knowledge, and relationships are useful.  
ACR:  Your students often say that you use 'unusual' practices in the class/studio. What do you do differently in terms of teaching and mentoring them?
AK:  I teach the whole person and I work hard to create lessons that have good questions and fun mixed together. We do weekly aesthetic experiments that allow for individual discovery, give us a communal class focus, and have concrete results. I have developed and refined these experiments over many years of teaching. The process does not assume that skills give rise to animation, but that questions and aesthetic needs induce the growth of skills. I want the students to realize that every time they come to class they receive something – and if they give energy in return we will all push the whole field a little further.
ACR:  Have your own instructors and mentors like Jules Engel, who you mentioned earlier, influenced your pedagogical approach?
AK:  Yes. I have had a series of great teachers who not only taught me about the medium but who taught me how to teach. My first teacher, Yvonne Andersen, took me seriously even though I was a child. She saw what I could be and taught that part of me. She also taught me to design lessons that I, myself, would want to do. Dennis Pies (now Sky David) taught me to explore underlying theoretical questions. He also taught me about the importance of developing and understanding kinesthetic sense. He gave me the idea that classes could be based on weekly experiments that have theoretical foundation and structure beyond craft. Kathy Rose taught me objectivity and acceptance – not to judge work in process. She taught me the value of disciplined, daily work.
Jules Engel taught love – the most important of all. He always said – "It's not what you give a student, it's what you don't take away". He also said, "If a student's work looks like the teacher's work the student hasn't learned anything."  From my own life, I've learned that one of the greatest teachers is kindness. There is little that genuine kindness cannot cause to flourish.
ACR:  In your own work, you employ various tools to bring life to your ideas. How do you decide which to use, and do you have a method when using something for the first time?
AK:  Choice of media and the skill of its use are important parts of directing. I look for transformative properties on screen.  I look for deep change that occurs through the animation process. I experiment constantly and I am patient through many failures until I really see life being generated on screen.
ACR: True or false: animation is just as much about problem-solving as anything else.
AK:  You can answer a question with a question.  For example, "How are you?" can be answered, "How should I be?"  Puzzles are fun because they make you see things differently.  You have to travel unexpected pathways for solutions. Creating good problems is important for artists. Although animation is about more than problem solving, creating good questions to ask definitely provides creative fuel.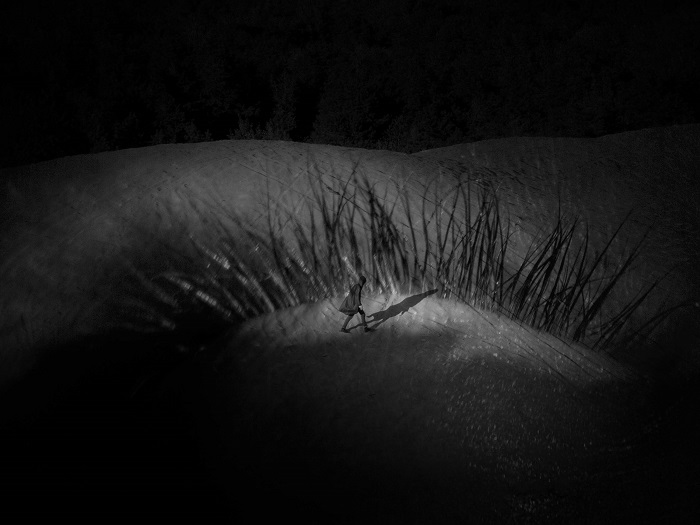 ACR:  Given the high stakes of today's system, I've spoken to some educators who find it difficult getting students to work outside of their comfort zone when grades are on the line. What do you make of this?
AK:  The problem is not grades. A teacher controls the grading process. Risk taking can raise a student's grade. Concerns about employability are an issue. Students may make work they think potential employers want to see – rather than exploring their true interests – and education must help students understand their true interests. When students work from genuine interests, they generally make strong work and are eager to challenge themselves. It is important to let students know that they can build professional foundations on many kinds of work – kinds of work that we have not yet seen, that they themselves will invent.
ACR:  You have taught emerging artists who have gone on to highly acclaimed work in the fields of cinema and animation. What is the biggest reward you gain from teaching younger generations the craft?
AK:  I love to see people grow in strength, vision, and knowledge – and to experience the vitality of the field itself as a result. The teacher is the person in the room learning the most. I also love the 10,000 new ideas I find every day from discussions, questions, and the beautiful people I with whom I work.
Check out more interviews at The Animation Career Review Interview Series.