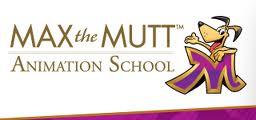 Max the Mutt is not your typical art school. From its humble origins as a place for students and artists to congregate and learn together, the school has spent the better part of two decades growing into its current footprint which today encompasses diploma programs in Animation, Concept Art and Sequential Arts.
High expectations of students remain a priority for MtM, which emphasizes on developing solid work habits that will turn budding artists into working professionals. Rigorous foundational training, a collaborative environment and competitive tuition rates all help to draw students from around the world to MtM's location in the heart of Toronto. We caught up with founder Maxine Schacker who shared her insight for our latest Q&A. Enjoy! (This interview was done via Skype Voice & has been minimally edited for length & clarity).
ACR:  Maxine, the genesis of Max the Mutt started out in your own art studio. How did it come about?
Maxine Schacker:  I was a professional showing artist and supplemented my income by teaching life drawing for animation. Students would turn up in my studio asking for help and it grew from there with other artists that came to teach in the evenings and weekends. We added space in that building but eventually moved to our current location in the art and design district (of Toronto) 10 years ago. We will be moving in the not too distant future. That said it's important that we keep the intimate culture of the school with small classes, mentoring, the sense of community that brings artists together here.
ACR:  Instructors play a crucial role, obviously, in an education. MtM's come from diverse artistic backgrounds. How do you choose your teachers?
MS:  Carefully! I've had artists come to our industry evenings, see the quality of our (students') work and approach me to ask about open teaching positions. We just recently gained a top concept artist who is freelancing now; he knew others who taught here that recommended him and we're thrilled to have him. Sometimes, freelance artists can get lonely and they want to exchange ideas with students and fellow artists so they can be a good fit here as teachers.
When I realized that Russian academic art was what we needed here, that also altered who I wanted teaching.
ACR:  Interesting. Explain…
MS:  I really don't like the new classical training; a lot of it looks like photo realism to me… you can't tell one person's work from another. It seems to lack soul, a sense of modeling and form. I started seeing Russian classical work and I was knocked out! It's a very high level of fine art training. I began looking for people here in Toronto that came from that tradition and I found Roksolana (Tchotchieva) and Costa (Dvorevsky) who teach concept art for us.
The way we teach painting here is also a bit different. We start with a modernist approach taking the Hawthorne method (American painter Charles Hawthorne) and not allowing students to use anything other than primary colors. They learn how to mix colors and play with light. In fact, they are not allowed to use any black or brown paint at all.
ACR:  How important is a student's artistic abilities before they come to Max the Mutt?
MS:  Our philosophy is centered around opportunity. The teaching of art in high school in Canada has gone downhill. Students that get into the excellent art programs have been privileged to receive an art education previously. We consider ourselves a school of opportunity and I base this commitment on my own life because I came very late to art for a variety of reasons. People can be so talented and grow so much as artists; those who succeed have the most grit, not necessarily the most talent.
You create yourself as you work. We literally change the wiring of our brains the more we use them.
People coming out of high school get sidetracked; at least here in Canada, they can cut all of their classes but if they hand in their work at the end of year, they can still pass! This doesn't wire them for success and that's made our job harder.  
We had a young man graduate last year- Aaron Long. He's quite brilliant as an artist but he probably would not have gotten into the "top animation" programs in Canada because he lacked strong drawing skills when he came in. While he wasn't meant to be a great fine artist, we gave him what he needed to feed his animation mind. He was recently hired to work on a series in LA and he cited the life drawing courses were the most important he had.
ACR:  Along with life drawing, what is the animation curriculum like at MtM?
MS:  Our curriculum treats animation as an art within a broad based art education. We've introduced animation-specific courses to the first year to help them see the connections between fine art and animation. Interestingly, our curriculum follows almost exactly what Sony Imageworks is looking for and that was not planned: they want people who have a fine arts background, who can do 3D, do sketchbook work, anatomy, and demonstrate classical animation on a demo reel.
Movement and action are a huge part of animation; you act through body language so anatomy courses are required for animation and you also need them for doing 3D! We have a powerful design and composition course that is critical to their learning; they also get a year of cartooning and character animation now. They take acting courses for animation and drawing for animation courses, as well.
ACR:  Do your animation students typically work alone or collectively on projects?
MS:  Both. In year 3, they do an independent film of their own based on a number of courses in pre-production work: they have a story developing course, a character design course, and story boarding 1 and 2 courses. They have an extra 4 weeks to finish their films once the year has wrapped up. In year 4, they do a group project under a professional director done in 3D… it simulates the work environment that they will face and everyone plays a role in collaborating.
ACR:  I understand your students come from around the world- a bit unusual for a small school.
MS:  It's funny… we're a very small school but we've had students from Zimbabwe, Mexico, India, England, Germany, across South America, Thailand, the UAE… everywhere it seems! Plus, Toronto is an interesting city- it's the most international city in North America so many of our students from Toronto are themselves first generation Canadians from around the world. We have a lot of teachers from around the world, particularly from Eastern Europe, along with excellent homegrown Canadian teachers with real passion. This place is so unusual- there's a lot of love and commitment here. There are ways to be better, certainly… we're human! But the overall level is amazingly high and the commitment unusual.
ACR:  That brings me to my last question: who is the ideal candidate for a Max the Mutt animation education?
MS:  We're looking for people who have a real passion to do this; people who have grit; who understand that things don't come easily. You have to be able to deal with failure and pick yourself up. We grade on professionalism as well as course content- you're expected to be here on time, know what's going on, meet your deadlines, make arrangements when necessary… in short, we demand whatever behavior is demanded in the workplace. Ultimately, it has to be something you really want to do because there's a lot of work involved. For people that really want it, the opportunities here to be mentored and get help and learn new things are tremendous.
ACR:  Maxine, thank you for filling us in on a Max the Mutt animation education!
MS:  Thank you, Bonnie!
Check out more interviews at Animation Career Review's Interview Series.