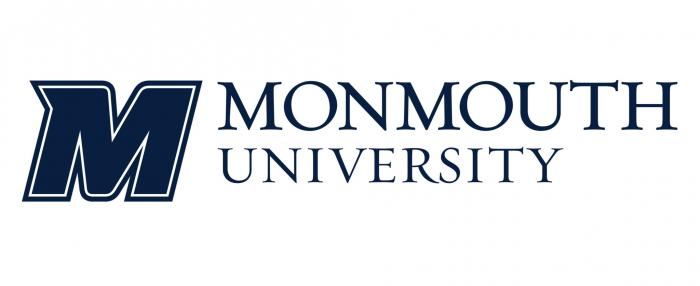 Michael Richison serves as Assistant Professor and Departmental Advising Coordinator in Monmouth's Art & Design Department.
When it comes to degree programs for aspiring multimedia artists, few are more multifaceted or functional than Monmouth University's BFA in Design and Animation program. The university sits on an idyllic suburban campus along New Jersey's Atlantic seaboard, with close access to both NYC and Philadelphia that students leverage to their full advantage. The BFA's well-rounded curriculum offers a Graphic & Interactive Design Concentration for those eager to open the doors to a range of career paths.  
Assistant Professor Michael (Mike) Richison keenly understands the importance of a solid foundation in the arts and design for today's graphic and interactive artists. As a multimedia artist and designer himself, Richison continues to leverage many mediums in his career. For this interview, we catch up with him to learn about the Design & Animation program's Graphic & Interactive Design concentration, as well as the merits of studying at Monmouth University. Enjoy!
ACR:  Mike, as both a designer and educator, what attracted you to Monmouth's Design & Animation BFA- Graphic & Interactive Design concentration?
Michael Richison:  Monmouth is a very good fit for me. I received my undergraduate degree from a school about the same size as Monmouth, so the overall student body size and the average class size were things that were familiar to me. The Art and Design Department is intimate and allows both students and faculty to work between media and disciplines easily.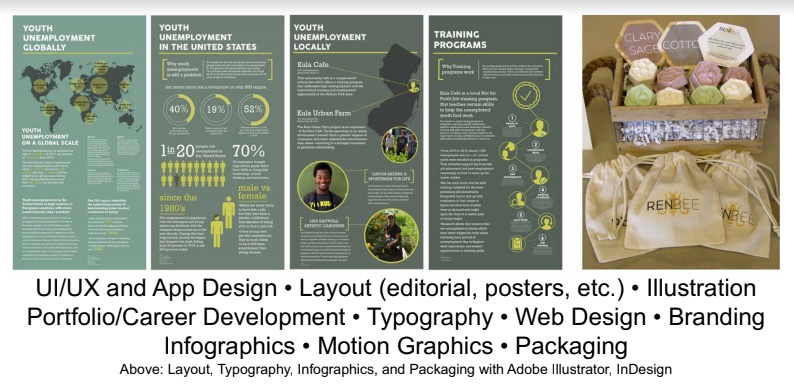 ACR:  As a BFA degree, your students develop a strong footing in the arts and design. Students within the Graphic & Interactive Design concentration leverage that to hone their skills further. Tell us a bit about the curriculum, Mike.
MR:  The curriculum of the Graphic and Interactive Design Concentration has a strong foundation based on hand skills that encourage critical thinking. All of the students in the Art and Design Department go through our foundation program. Basic design, color theory, drawing, art history, and photography are all a part of that foundation. Within the Graphic Design area specifically, we address branding, typography, UI/UX and app design, layout (editorial, posters, etc.), illustration, portfolio/career development, web design, infographics, motion graphics, and packaging.
Hands down the most important skill set our students acquire is the ability to ideate. They must start with a strong concept and understand the brand, the experience, design piece, etc. Having a thorough comprehension of the client and end user is vital. When our students build brand identities, they already have a strong grasp of the intent and direction of the brand. Likewise, when students create UI/UX experiences, they start with a clear profile of the user and build the experience around that user.
In order to do that, the students must understand the history of graphic design. We have an excellent semester-long course in design history that gives our students hundreds of years of design-related image-making to draw from. Students must also take a 300-level art history course. We offer a survey of Asian art, history of photography, studies in new media, or critical writing and theory. This part of the departmental curriculum requires quite a bit of academic writing and research. The practice of writing helps students become better artists and designers.
At this point I should mention that the entire curriculum of Monmouth University is fantastic. Our general education curriculum features areas that help forge well-rounded individuals who understand their world.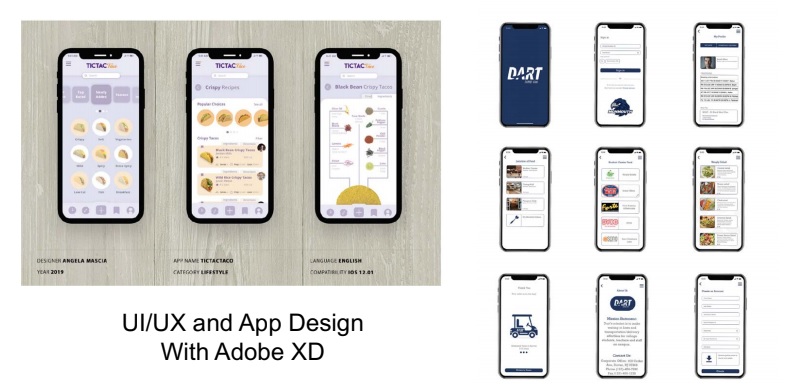 ACR:  How do you strike the balance between the foundations of design with the ever-evolving tools of the trade- particularly with regard to UX/UI & 3D? 
MR:  The interesting thing about UI/UX, new media, and time-based design is that the foundations of design still come into play. If a student has a strong foundation in branding, type, and layout, they can apply these skills to the UI/UX field. That said, the addition of UI/UX and Adobe XD to our curriculum is an exciting evolution. We have added UI/UX elements to Graphic Design 1, Graphic Design 2, and other courses. We also offer a free-standing UI/UX class. Essentially, the addition is not a difficult one and the balance between this new area and our existing topics is synergistic.
ACR:  You've mentioned the role of motion graphics within the curriculum. Tell us about what students learn in the motion graphics courses that you teach, and how those skills can be applied to industry.
MR:  Students in our motion graphics courses learn a variety of approaches and software packages. They begin with getting familiar with basic cinematic techniques and theories such as the "grammar" of film, camera skills, and editing in Adobe Premiere. They learn to tell a story that is infused with an overarching concept or emotion. After this project, the students spend the rest of Motion Graphics 1 in Adobe After Effects. They use After Effects to animate logos and create a kinetic type project. Our last project in Motion 1 is a short, greenscreen broadcast bumper that brings all the previous lessons together. There is also a second semester of Motion Graphics, where the students learn Cinema 4D and build on what they learned in Motion 1. You see the kind of work we teach in both semesters pretty often in music videos, commercials, and social media. Having a diverse set of skills makes the students more versatile.
ACR:  Give us a glimpse into the facilities and equipment that your students use, Mike.
MR:   The Graphic Design, Foundations, Art History, and Animation areas (as well as the majority of the faculty) moved into Rechnitz Hall on campus in 2013. This amazing building boasts an enormous, two-story gallery that exposes the students to high-level exhibits and gives them an opportunity to exhibit their own work their senior year and during an annual student show. 
Our equipment and other facilities are equally fantastic. In the Department of Art and Design, we have 5 full computer labs, professional laser and large format inkjet printers, six 3D printers, four 3D scanners, a darkroom as well as a digital photo lab, virtual headsets, a 4K camera, a video editing suite and sound room, a 360 degree camera, a greenscreen and lighting setup, and a laser cutting facility. I need to also point out that we renovated our ceramics studio and sculpture areas recently and built a makerspace. It's a very exciting place for a student!
ACR:  At the top of the interview, you mentioned how you enjoy the relatively small student population at Monmouth and the low student-to-faculty ratios. How does this influence students' education?
MR:   Our course caps in the studio area are set at 16. This is a very intimate setting that lets the professors get to know the students well and vice versa. We understand their work and what they're capable of. We can foster individual growth by finding and developing each student's strengths and interests.
ACR:  Tell us about the required internship that students in the major must fulfill.
MR:   All students in the Animation and Graphic Design programs must complete 150 hours at an internship. Over the past 20 years, the department has built long-standing relationships with many local and regional businesses, and the students have an opportunity to work with professional designers and animators. This experience gives them a chance to learn about the workplace as well as gain skills. We also have a dedicated faculty member who serves as a Career Advising Mentor. The CAM forges relationships with potential internship sites, organizes career-related events, and maintains the alumni network.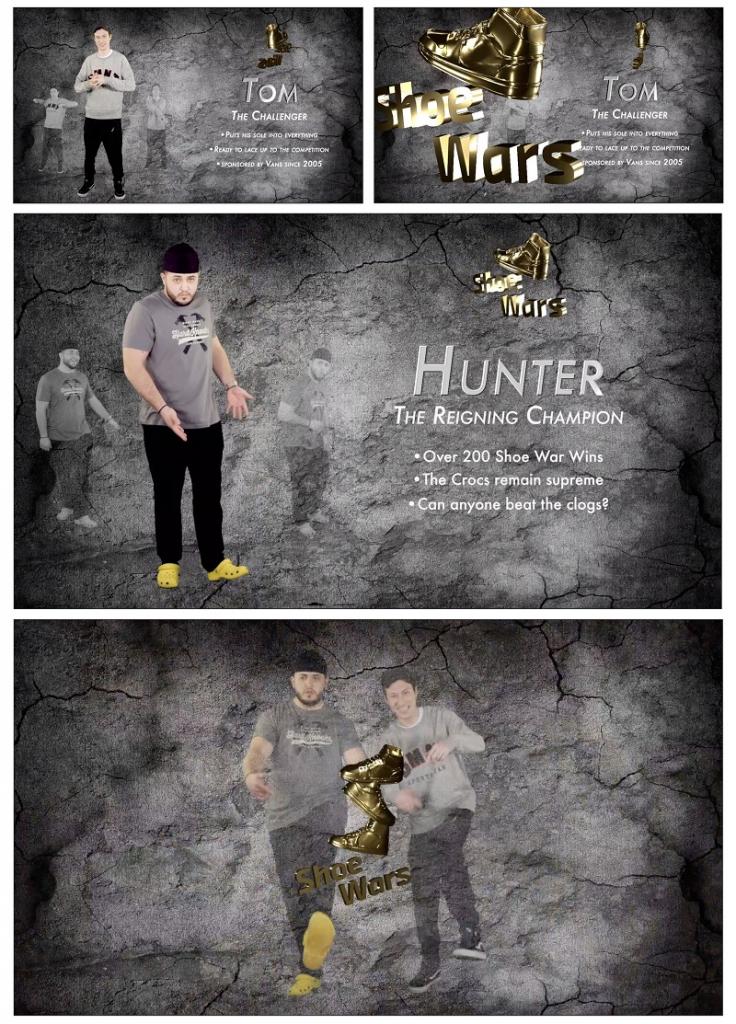 ACR:   On that note, Monmouth students enjoy close proximity to both NYC and Philadelphia. What's the current landscape like for graphic artists and designers in the region?
MR:   This is such a great area! We have students that work and intern in both Philadelphia and New York. One of our recent grads has done some very exciting work in motion graphics in the New York area. Asbury Park and Red Bank (nearby cities) also offer unique opportunities. We've created branding for a soup kitchen in Red Bank in the Graphic Design 3 course, and created projection mapping for a real-estate management company in Asbury Park in my Motion Graphics 2 course. Students have also found local nonprofits to work with as part of their Senior Portfolio course. We also see our students going to graduate school in New York at Parsons and SVA (School of Visual Arts).
ACR:  Mike, thanks so much for giving us a glimpse into Monmouth's Graphic & Interactive Design concentration. It's been a pleasure.
MR:  Thanks so much for reaching out and letting me talk about our program. It's truly an exciting place to be. 
Check out more interviews at The Animation Career Review Interview Series.