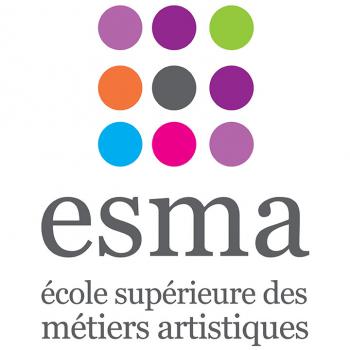 Along France's Mediterranean coast sits Montpellier, the country's fastest growing city and home to one of the most admired animation programs in Europe. A private school that was founded in 1993, L'École Supérieure des Métiers Artistiques (ESMA) has earned its well-respected reputation the hard way- by insisting students meet today's industry standards while displaying the creative vision and strong narrative voice that is synonymous with the country's film making heritage.
ESMA's 3D Animation program is among the shining stars of international graduate animation schools; its alumni feed not only the esteemed animation and film making studios of continental Europe but international hubs, as well. To meet the demands of the competitive industry, the school wastes no time introducing students to the rigors of a career in 3D animation. Thirty hours of class time per week with a similar number of after-class hours is often the norm, and students' progress is carefully watched and critiqued.
The sacrifices students make to earn a degree from ESMA find their reward during graduation when nearly 100% of alumni gain compelling industry employment within just a year (and 93% within six months). To learn more about it, we caught up with the director of the program Gérard Raucoules. We hope you enjoy! (This interview was done via email and has been edited minimally for clarity).
ACR:  Gérard, over a decade ago you left a successful career in animation to oversee ESMA's 3D Animation program when it was young. What was your impetus for doing so?
Gérard Raucoules:  I started with CG in 1989 after an initial career in advertising. Beginning in 1993, I owned two animation studios- Tribu in Montpellier, France, and Virtual Effect in Barcelona, Spain. In 2001, I was a part of a jury at the ESMA School and Mr. Khenissi (ESMA's Founder & Director) asked me to think about a program in 3D CG animation for his school. Within one year, I joined the faculty of ESMA to teach and supervise the 3D animation program
ACR:  As the word Superieure suggests to French speakers, ESMA is a graduate program. What are the minimum requirements and length of time your students spend earning a Masters Degree?
GR:  The students are admitted after their baccalaureate degree. Some of them come from (non-art) specialties like the computer sciences, but at a minimum all students must complete one year of study in art and drawing. They can do this in our school or at another art school. Until recently, the curriculum was more than three years but we have changed it and it is now more than four years to complete. Graduates earn a five-year Masters Degree of 3D Animation.
ACR:  How many students are there in a class, and what is the culture of the school like?
GR:  There are about 27 students per class during the first three years of study, and about 45 in a production studio classroom during the fourth year. The relationship between our educators and students is very important, as is the relationship between students. They are followed throughout their curriculum with annotations and marks to be able to evaluate their level in every subject. For example, first year students are mentored by older ones who can help them in their following years of study.
ACR:  I assume the production courses mimic the industry pipeline?
GR:  Of course, our production pipeline in the final year is the same as in the industry. During this year of their movie production they work in teams of five or six students.
ACR:  From that final year film making experience, many ESMA students and graduates have emerged with considerable accolades. This year, the short film Sweet Cocoon made by five of your students was nominated for an Academy Award. Did you ever anticipate that a student film would reach such critical success?
GR:  No, certainly not. Of course, we were aware that this movie was kind of particular with good character design and it was very well animated; it had a sensibility that appeared every time we saw the work in progress. Once finished, it won the first place prize at the final jury in the school and then it started to enjoy a good career in the festivals. To be nominated for the Oscars was an amazing surprise!
ACR:  Have students' interests or artistic persuasions changed in the years since you've been at ESMA?
GR:  Yes, the students have changed within these past ten years. At the beginning, they were just trying a new path and hesitating between different careers in the industry. Now they know much more of what they want to learn and what they want to do after their studies. Only a few of them are going into artistic careers like character, set design or storyboard; most of them choose a technical path today like rigging, modeling , rendering, animation, and so on.
ACR:  What is the most difficult thing to teach them?
GR:  Without hesitation, the artistic path!
ACR:  That is a tough one! Clearly, you're doing a job well done as ninety percent of your 3D Animation graduates find industry work within months of graduation. What is at the heart of this success?
GR:  I think it's because they have great practical experience during the curriculum. They have to do a lot of exercises in every course to prove their level of skill. Plus, they get used to working in teams.
ACR:  In addition to its famous arts and cinematic traditions, France has long been considered a global leader in 3D animation and visual effects. Indeed, Ubisoft is headquartered outside of Paris. What is the current climate like for 3D artists in France?
GR:  There is a tradition for CG in France and some famous schools that have helped to make this reputation have influenced the new generation of students as have their elders. Presently, many new graduates are going abroad to find their first job. Fortunately, new studios are beginning now in France and elsewhere in Europe which is good news for the future of employment! 
Check out more interviews at The Animation Career Review Interview Series.