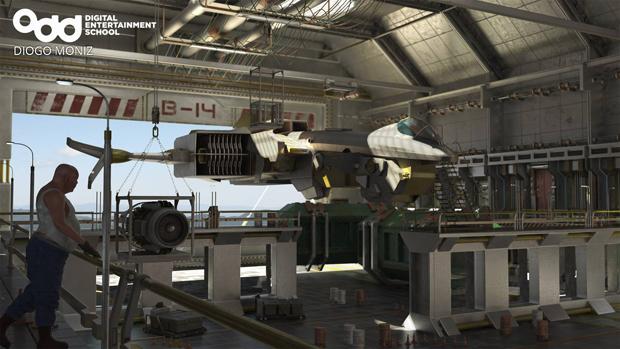 After Odd School placed 21st on our 2014 Top 100 International Animation Schools list, we reached out for an interview to learn more about their small but tremendously successful school in Lisbon, Portugal. We were so impressed that we asked them to stay in touch so that we could show our readers what their current students were working on. Their one year Advanced 3D Modelling and Texturing class just finished and we're honored to be able to share the outstanding results from their course in our six part student interview series!
With translation help from their class's instructor, David Dias, the second student we interviewed was Diogo Moniz, and you can see his impressive 3D work from the Odd School class below.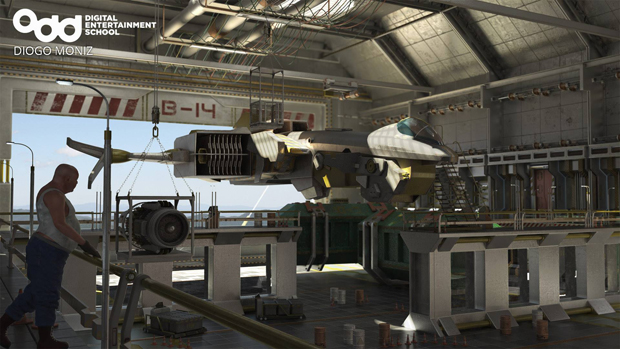 Congratulations on finishing the Advanced 3D Modelling and Texturing class with so many excellent pieces of art! Tell our readers a little about yourself as a student and as an artist. What are your interests and your career goals?
Diogo Moniz:  Hello guys, first of all thank you very much I'm very proud about my work. I´m 26 years old and I have a Degree in Design, but before that I was completely lost. I tried 4 different courses (Management, Math, Marketing, Tourism), and in the middle I worked as a Flight Attendant.. After that I decided to make some kind of psychometric tests, and the result was Sport and Arts. So I decided Art and Design. For those who are lost... Try to do something that you like.
I loved CG since I was a kid. I always loved sci-fi movies and effects but I had never known how they were made. "CG is everything, everything is CG" that´s what I had in my mind, when I thought about CG. Nowdays I´m working for a Lisbon Company and I´m trying to learn as much as possible with my coworkers.
How and when did you realize you wanted to become a 3D artist?
Diogo Moniz: The first time I used 3ds Max I knew I wanted to learn more and do more, and then I asked myself why not work in this field?
Some people are naturally good at art, but no one is born with 3D software skills. Your portfolio shows that you clearly learned a lot! What do you feel is your best 3D art skill? And what is your favorite part of creating 3D art?
Diogo Moniz: My best skills are definitely modelling and shading. I love to see the behaviors of the shaders with the lighting setups. I like all the components in 3D but modelling is my favorite part.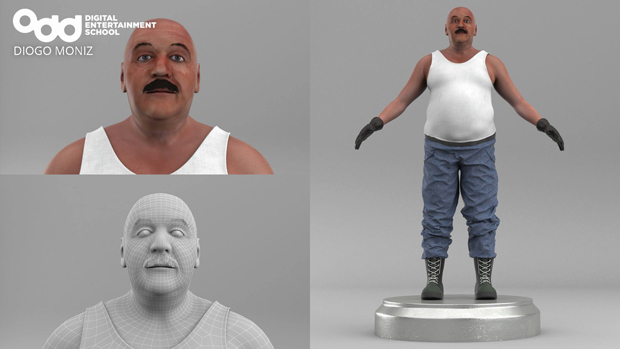 I'm a firm believer that perfect artists don't exist, and we're all constantly learning new skills and ideas. What was the hardest skill for you to understand and eventually excel at? How did Odd School help you strengthen your weakness?
Diogo Moniz: For me Lighting was the difficult part, because a lot of things depend on it such as shading and textures. Odd School helped me a lot with that weakness.
What were most assignments like at Odd School? What was your favorite assignment?
Diogo Moniz: We did a lot of tasks involving modeling techniques. The tasks were very different and had different deadline times.  I think my favorite assignment was the personal project we had all year to work on.
Tell us about your final project for the class. What were the challenges involved with completing it?
Diogo Moniz: I called it Hangar-14. Everything was created from my mind. I wanted to make sci-fi stuff because I love all the mechanics surrounding it. So I started to write the information that I need, like assets, light types, etc and blocking it all out in 3ds Max. Basically this project as all the stuff we learned from the first day of the program. A lot of sci-fi references were used, and it took a lot of long nights.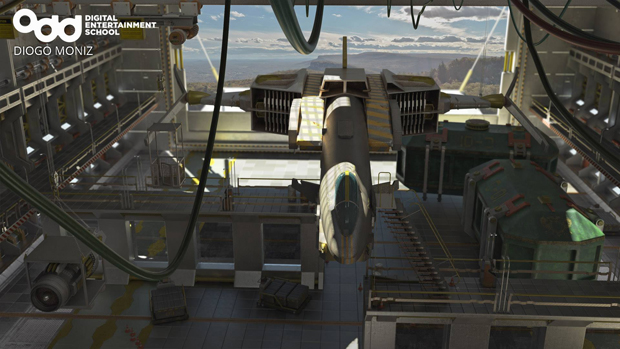 What was a normal day of class like?
Diogo Moniz: The morning classes started at 9AM with a break at 11AM and finished at 1PM. In the afternoon it was the same but started at 2PM and ended at 6PM. There was no standard day and it changed a lot.
David mentioned that the class also had workshops with Florian Degensicourt (Ubisoft Concept Artist), Manuel Virks (Crytek 3D Artist), and Vlad Costin (Character Artist for Guerrilla Games & Crytek). Can you tell us more about these workshops? What parts were the most helpful for you?
Diogo Moniz: All of the workshops were different, but my favorite part was definitely the Vlad Costin workshop. I learned a lot about anatomy and sculpting. The Manuel Virks workshop was about exclusive games production in the industry.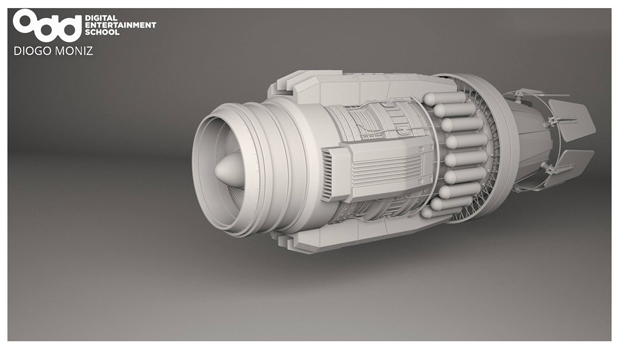 What software and plugins do you use the most? Tell us a little bit about your work process.
Diogo Moniz: I use Relink Bitmap, Copy/Paste, Floor Generator, V-ray, and Zorb.
What are your favorite resources for 3D art reference material?
Diogo Moniz: CG Textures, Bad King, Anatomy For Sculptors, and 3d.sk.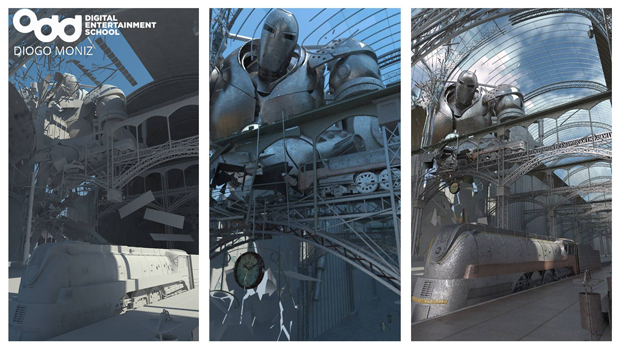 What piece of advice did you learn from Odd School that you think every 3D art student around the world should hear?
Diogo Moniz: Everything... Drawing a lot, Photography, Lighting, Materials proprieties.
For all the artists reading who are inspired to follow in your footsteps, what would you tell them is the first thing they should study and master before doing everything else?
Diogo Moniz: Learning the foundations of the software used (3ds Max, Photoshop, Zbrush), and then you'll be ready to start it.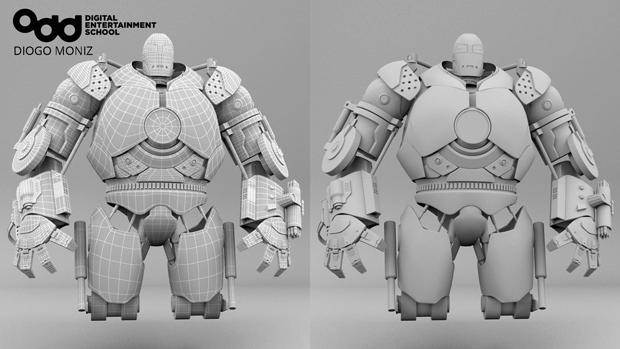 What are some of the popular trends you've noticed in the 3D art industry in recent years? In what ways do you expect things to change in the next few years?
Diogo Moniz: I think work in the 3D industry will be easier to do, with the main example of clothing. In the past we were used to modeling clothing nowadays we have specific software to do it: Marvelous Design.  Maybe it will reduce the pipeline of projects, where we use just one piece of software to do everything. This is all connected of course with the evolution of computers.
Where do you see yourself in a year from now? And where can our readers follow you online?
Diogo Moniz: Nowadays I have a job in Illusive Studios in Lisbon. I don´t know the future yet, but one thing I know is that I'm trying to learn as much as possible always.
You can follow me on Behance, Art Station, CG Society, and Draw Crowd.
Lastly, what other advice would you give to aspiring 3D artists?
Diogo Moniz: Don´t give up, don´t lose your hope, work hard, use a lot of references, don´t be shy to ask something you don´t know.
Thanks for your time and your thoughts!
This is just one of our six part Odd School student interview series. We've interviewed hundreds of schools, studios, and students in the past, and we invite you to check out the other discussions in our Animation Career Review Interview Series archive.