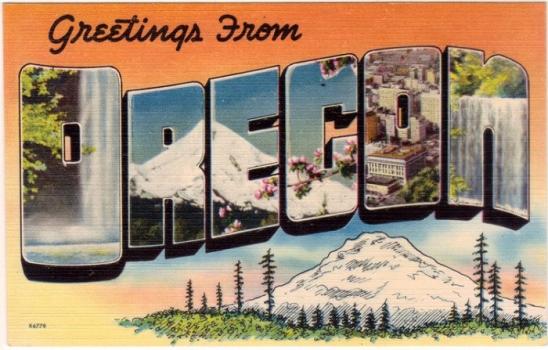 Animation Careers in Oregon Overview 
Portland Oregon hosts one of the biggest animation shows in the U.S. According to the Oregonian, The Northwest Animation Festival features 174 short films from 54 countries, selected by a team of 62 international jurors, all of which will be screened over seven days at Portland's Hollywood Theatre. The event is still growing after just five years in existence. The year before the 2014 festival, 127 films found their way to the screen, and before that, says the Oregonian, the festival took place over just two to three days. This is just one indication of how fast the animation scene in Oregon has grown over the years.
The Oregon Governor's Office of Film & Television has been around since 1968. Since then, the Office has been involved in animated productions such as ParaNorman (2012), The PJs (1999-2001), and Gary & Mike (2001 and 2003), and major film productions or television series such as Wild (2014), Twilight (2008), Into the Wild (2007) Grimm (2011-Present), Elephant (2002), A.I. Artificial Intelligence (2000), and of course, Portlandia (2011-Present), to name a few. 
Thanks to a long list of film credits, Hollywood productions call on Oregon regularly for help with all aspects of filmmaking, including post-production and animation. In fact, the Office has a special department for digital media and animation to meet the demand.
Oregon is also home to:
A growing population of talented animators, which has increased by more than 20 percent since 2013
Several studios dedicated to traditional stop-motion and 2D/Cel animation
A variety of companies that use CGI technology to produce commercials, video games, and web and branded content
Bend Studio (Part of Sony Computer Entertainment)
According to the Office, Oregon's animation employers range from large studios employing hundreds of people to small boutique studios. Aspiring animators in the state can also find employment in computer technology, advertising, and education. The state is home to hundreds of technology firms and creative agencies, as well as 60 Title IV degree-granting colleges and universities, and more than 1,200 elementary and secondary schools.
Employment and Salary Trends for Oregon Animators
Oregon is home to 23,600 professionals working in Arts, Design, Entertainment, Sports, and Media occupations. Of this large group, 830 are salaried multimedia artists and animators averaging $63,190 per year. In 2013, the state was home to 640 multimedia artists and animators averaging $60,570 per year. Today, Oregon has the nation's third highest concentration of jobs and location quotients in this occupation and the Portland-Vancouver-Hillsboro, OR-WA Metropolitan Area has the seventh highest employment level of the top 10 metro areas for animators and multimedia artists.
Across the nation, employment for animators and multimedia artists is expected to increase six percent for the 2012-2022 decade. The states with the highest employment levels for animators and multimedia artists are California, New York, Washington, Texas and Georgia.
The highest paying states for animators and multimedia artists are:
California ($82,170)
Washington ($75,740)
Massachusetts ($73,470)
New York ($70,660)
Idaho ($69,450)
In Oregon and across the U.S., the industries with the highest levels of employment are the Motion Picture and Video industries, Computer Systems Design and Related Services, Software Publishers, Advertising, Public Relations, and Related Services, and Other Information Services.
'Independent Artists, Writers, and Performers' has the second highest concentration of employment for animators and multimedia artists, along with an impressive average annual salary of $75,150 per year—the fourth highest paying in the nation.
The top paying industries for animators and multimedia artists (in order) are:
Wholesale Electronic Markets and Agents and Brokers ($81,760)
Other Information Services ($80,310)
Software Publishers ($76,090)
Independent Artists, Writers, and Performers ($75,150)
Motion Picture and Video Industries ($73,950)
Animation Career Opportunities in Oregon
Whether salaried or self-employed, Oregon is home to a variety of companies that offer employment opportunities for animators. Just a few include:
ADI, Portland
All Points Media, Beaverton
Bend Studio, Bend
Deep Sky Studios, Portland
Grady Britton, Portland
Happy Trails Animation, Portland
Hinge Digital, Portland
LAIKA Entertainment, Hillsboro
Lanphier Associates, Medford
Limbo Films, Portland
Passey Advertising, Medford
Roundhouse, Portland
Sockeye, Portland
Sublime Creative Agency, Bend
The Mandala Agency, Bend
Wallace Creative Inc., Portland
Watson Creative, Portland
White Horse, Portland
Wieden+Kennedy, Portland
While a large number of opportunities can be found in Oregon's largest city—Portland, as you can see, smaller (major) cities such as Bend and Medford are well worth exploring. Consider other major cities such as Salem, Eugene, Gresham, Hillsboro, Beaverton, and Springfield as well.
Oregon Animation Training Programs
Oregon is home to a variety of schools that offer top-tier art and design programs. Just a few include:
Pacific Northwest College of Art (PNCA), Portland – BFA Animated Arts, BFA Illustration
University of Oregon (UO), Eugene – BA, BS, BFA, MFA in Digital Arts, which concentrates on Animation, Interaction, and the Web as expressive mediums. -UO
If you would like to get your feet wet at a community college, consider Lane Community College in Eugene, which offers an AAS in Multimedia Design with animation coursework, or Portland Community College, which offers 3D Modeling & Animation classes, an AAS and One-Year Certificate in Multimedia, and a less than one-year Certificate in Video Production.
More Animation related programs to consider:  
Awesome Animation Fact: Grammy-winning singer, songwriter, producer, pianist and actress Alicia Keys auditioned three times for the role of Tiana in Princess and the Frog (2009). Beyoncé reportedly refused to audition and expected to just be offered the part. Neither superstar got the part—it went to actress Anika Noni Rose. -E! Loves