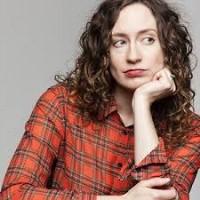 From ACR's Series on Women in Animation, Multimedia & Gaming
ACR's new interview series Women in Animation spotlights the work of women in the fields of animation, multimedia and game design. For over a century, women have influenced generations of animators and audiences, bringing their own perspectives and dedication to the craft. This series follows the work of this generation's women animators and brings you their voices.
In today's world, many animators follow predetermined paths to reach their professional goals. From courses and colleges attended to networks developed and studios employed at, there are key elements of an animator's CV that prevail. But not every animator fits into the mould. And it's delightful when they don't. Enter Sharon Shattuck.
Armed with an education in science and journalism, and fuelled by a passion for exploration and knowledge, Shattuck's award-winning work blends the world of STEM with the crafty and imaginative world of old school animation. She isn't your ordinary animator, and her work is anything but mundane or conventional. She breathes life into her subjects through simple yet vivid paper animations that uncover a world of inspiring discovery.
We caught up with Shattuck to pick her brain on her unique brand of animation, the subjects that matter to her, and the multimedia production company that she co-founded with fellow environmental journalist Flora Lichtman. We hope you enjoy! (This interview was done via phone and has been edited minimally for length and clarity).
ACR:  Sharon, your animations are simple yet powerful- not to mention incredibly addicting to watch. Interestingly, you didn't set out to be an animator. Tell us how you coupled your scientific curiosity with your artistic skills to become an animator.
Sharon Shattuck:  My background is in science and I didn't start doing film or animation until 2008. I developed my drawing skills throughout my life by observing plants and organisms and then putting pencil to paper. I studied botany and conservation as an undergrad and spent time at the Smithsonian Tropical Institute, but work isn't exactly abundant for naturalists in our age. So I went to graduate school, studied journalism, and began creating science-based videos. I felt the need to illustrate them somehow. I've always been attracted to handmade-looking animations like Terry Gilliam's (Monty Python); old school animations with lots of textures but nothing flashy. That's the animation that I wanted to do.  
I took courses in After Effects and my early animations were entirely analog. Then I did the animation for a feature film by my friend, Ian Cheney (King Corn), called The City Dark. That film had a lot of science which was the perfect fit for me. From there, I interned at Radiolab and met Flora Lichtman. After one episode on a whale fall- which is what happens when whales die- Flora and I talked about animating the process in a short film. We worked on it together for free just because we were eager to do it. Radiolab posted it and the next thing we know, it went viral. There was no language- only music- so people around the world watched and shared it. One day there were a ton of viewers on the east coast, and the next day it was China and the day after that it was Japan. It was amazing.
ACR:  Fantastic story. Was that the birth of Sweet Fern Productions, which you and Flora co-founded?
SS:  It took a few more years. After Whale Fall, Flora and I pitched a second video idea. We found funding and a new platform in the New York Times Op-Docs series Animated Life. Both Flora and I had our regular jobs, too. She was the multimedia and guest host on NPR's Science Friday with Ira Flatow. She left the program so we could devote more time to Sweet Fern. Then we were introduced to puppeteer Emma Wiseman who joined us. All three of us do what we do at Sweet Fern because we love it- then as in now.
ACR:  At Sweet Fern, you use paper puppet animations to showcase monumental scientific discoveries and the individuals behind them. How do you condense these singularly important moments in history into a five minute animation?
SS:  That's the challenge! We don't want to cover someone's entire life; we just focus on the discovery that changed the world. We're fascinated with how people come up with ideas that have literally altered the course of history. It's still so difficult to fit an entire story into such a short amount of time, especially as some of our advisors have passionate feelings about the people and really push for more details. I have to say, we're starting to add a few more minutes to them and it's hard to hold back.
ACR:  I can only imagine! How long do they take to make?
SS:  One video takes six to eight months… it's an insane time investment! First, we suggest topics to our funders (including the New York Times Op-Ed, the Howard Hughes Medical Institute and the Alfred P. Sloan Foundation) who then need to agree on content. We retain all creative control and move forward with the film making process. We reach out to advisors, as well.
It takes a month and a half just to do the audio cut because the structure of the film is hung from that. It's a painstaking process! We'll argue about whether we should keep a single line and we'll go back and forth. It gets intense, but in the end they turn out so much better for all these efforts. Right now, we're finishing up a Times' Animated Life piece on Mary Leakey, a twentieth-century British paleoanthropologist who discovered an extinct ape species that was an early human ancestor.
ACR:  So we'll soon see an animated short on a female scientist from you… exciting! Because all three of you at Sweet Fern are women, do you think that your gender plays a role in your work?
SS:  That's a really good question. We're not gender-specific with regard to who we work with or what scientists we research, and certainly we have worked with many men, but we do tend to work with many women. I think we approach our work from a personality perspective more than anything. We want to work with team players who are interested in sharing their ideas and working towards a common goal rather than overpowering everything and taking over. I think in very general terms, women tend to have those attributes that we're most interested in.
ACR:  Gender is also the subject of your latest documentary film, From This Day Forward, which is currently screening at film festivals around the world. Unlike your short animations, this feature film explores your personal story as the daughter of a transgendered parent. At what point did you decide that you wanted to tell this story?
SS:  This has been a dream of mine for many years now, though I wasn't sure if my parents wanted me to tell it. I also felt like I didn't have the tools to tell it until now. I did a lot of bad documentaries and short films over the years and realized that it takes a long time to be able to make a good documentary. My experience working with Ian Cheney proved to be essential training for me to be able to tell this story.
ACR:  Given how misunderstood the transgendered community often is, and how personal the story is for you and your family, did you have misgivings or apprehensions during the filming process?
SS:  It was so hard. This subject can be a mine field. There are a lot of people who feel strongly about it on all sides, even within the transgendered community itself. I definitely felt a lot of pressure and wanted to portray it accurately. But I tried to remember that this story is just one story… it's not everyone's story. During the (film making) process, we talked a lot about using graphic animations but ultimately decided it wasn't necessary. So there is no animation in it, which is ironic because it's my first documentary and I animate. It's been a great experience thus far and the reception has been much more forgiving than I thought it would be.
ACR:  Sharon, last question. In an age of more technical and immersive visual effects and animations, your relatively simple animated graphics are quite powerful and intriguing to watch. Why do you think that is?
SS:  I've thought a lot about that. I love Pixar and 3D animation but my brain doesn't work that way in terms of creating. I'm very much a child of the 80s who grew up with Labyrinth and Dark Crystal. It was a time before CGI. I'm glad people are interested in the paper stuff I do and the texturized digital animations like those in The Search for General Tso. It's old-fashioned and crafty and I think people can imagine making the graphics themselves when they see it on their screens in a theoretical sense- they can see how it was made. When I watch a Pixar film, I'm amazed at how they do it. My work is different but I hope equally as intriguing. Maybe that's the appeal.
ACR:  Your work has so many appealing and unique attributes to it, Sharon. Thanks so much for speaking with us about it.
SS:  Thank you, Bonnie… pleased to!
Check out more interviews at The Animation Career Review Interview Series.