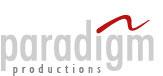 Many of the most successful animation production houses in the country have been
around since animation's infancy—Paradigm Productions is one of them. Since 1992
Paradigm has been creating Cel & 3D animation, CGI, photography, video and
illustrations.
Paradigm's long-standing success was built on taking a different spin on the business
side of animation; Paradigm offers not only a full range of production services but also offer advertising and marketing services via their Paradigm Marketing & Creative wing. By attacking the industry with an artist's creative touch and a marketer's out-of-the-box thinking they have succeeded in the zany and cut-throat animation industry. Paradigm's slogan paraphrases this: "creative story telling & digital media…that gets results."
Leading the successful team over at Paradigm is Charles Gaushell, company Founder and award-winning Creative Director. We got a chance to talk with the man with the plan and he offered some real-world, actionable advice for our aspiring animator readers:
For any of our readers not familiar with you could you explain your studio's
vision and what separates you from the (vast) competition?
Our goal is to provide more than just a product. We talk with clients about
what their needs are, what they are trying to accomplish, and then figure out the best way to help them. We see 3d animation as a tool to tell the client's story. We create work that is visually appealing and has a certain quality to it that clients can notice. We have a diverse "style" to our work that clients seem to like, and not having a specific style keeps our work from looking "cookie cutter". In addition, we are a full service agency, so animation and illustration is often a piece of the package. Consistency in all levels of branding, marketing and advertising are very important to us.
As a creative professional how have you handled the business-side to running
an animation studio?
Actually I majored in architecture, with a minor in business because I've
always seen the creative profession as both a design/creative outlet and a money making venture. We take our craft very seriously, but we also track time, develop processes and are highly aware of customer relationships. We haven't been around since 1992 (20 years) for no reason. Creative and business go hand in hand. Everyone that works at our firm has a design background with the exception of our public relations/copy writers. Myself and all of the project managers have lived and breathed creative so we are always sensitive to the artistic aspects – after all that is the fun part – but making a good living off of this also matters.
How did you initially get your foot into the door of the animation industry? (aka
what was your first job and how did you get it?)
Actually I was practicing architecture and using 3D as a design tool way back
in 1988 (using Datacad). In 1992 another architect friend and I decided that 3D had a
real future as a design, presentation and marketing tool. People thought we were nuts– guess they were wrong! We were self-taught and just decided to do this. It took a lot of hard work to grow the business but to date we've worked in over 40 states and 7 countries.
What kind of education did it take to get you where you are today?
Bachelor of Architecture with a minor in Finance. A lot of long nights and
weekends to learn CAD (Datacad and AutoCad), 3D (Lightwave3D), 2d programs
(everything Adobe), editing, multimedia, web development, etc. And many years of
working with clients to develop analysis tools for helping them clearly define their
business, service, product or project. Others in our firm come from a variety of
backgrounds – graphic design, fine arts, land planning, film school, and self-taught.
Who does the hiring for your company?
Primarily me, though I always involve others in the office in interviews and
portfolio reviews. Quality of work, diversity of skills and a real ability to take and give critiques is huge. If you don't like change or challenges you don't belong at Paradigm. We are always trying new methods and helping our clients be their best.
Has the trend of overseas animation outsourcing affected your firm, if yes, how
have you dealt with it or compensated for it?
As far as we can tell, it hasn't had any negative impact. The few clients of ours
that have tried overseas companies come back to use due to value. It isn't all about
money. If you don't get it, can't service the client or even communicate clearly there is zero advantage. Too many of those companies make it all about dollars and I've seen US based 3D companies outsource full projects only to have a major quality drop or huge inconsistency. Doesn't bother me – real business is about relationships, service and quality – e.g. Value.
If you were going to hire a new employee/intern what qualities would you look
for in a person and portfolio and where would you look?
The first place I would look is at the people I already know. The qualities
would be a strong portfolio that shows a variety of skills, not just talent in a specific
area like modeling for example. We look for people who can do multiple things well and enjoy learning and solving problems. A strong work ethic and ability to work in a team environment are important. We've had little luck with broad postings as people tend to apply while ignoring qualification requirements – it is tiresome weeding through those. Networking seems to work best. We are always happy to review work, but usually better if they touch-base up front.
Do you hire freelancers? If yes, what would make you throw work their way?
Only for modeling. Never for illustrations or animations. We won't outsource
those ever due to lack of quality control and frankly we work as a team and are tough on each other. Finding someone who is reliable, efficient, and accessible is important. Good listener. If they are doing 3d work for us then it's nice if they use the same programs.
What animation software packages does your firm prefer to use? Which one
would you recommend to beginners?
We use Lightwave 3d. It's a really easy program to use and can create some
amazing things. Unfortunately Lightwave would not be the first software I would
recommend to beginners. It's much harder to find studios that are using Lightwave. 3d Max is more common, especially in the architectural viz field. Even so, you can learn 3d in any software and still develop the skills that will translate to other programs. The most important thing is to develop an eye and understand some of the methods that exist in all the different software packages. We use Lightwave because it has a lot of pixel and color depth not to mention a softer look than Max. Modo is a good alternative, though anyone working for us ultimately needs to be on Lightwave. We have a large render farm that takes advantage of its rendering speed as well.
What advice would you give to aspiring animators looking to break into the
industry?
Spend some time creating good work and put together a strong portfolio or
demo reel. Try to have an element about your work that stands out from everyone else. The way you present yourself and your work goes a long way. Be aware of the good work that's out there and set a standard of the quality of work you want to be doing. Get to know others who are working in the industry. Listen to critiques and learn the art of observation. No spaceships, skulls or bad character animations. Architectural interior lighting and composition actually stump a lot of artists. Much harder than they think until they try it. And since we many times are having to wing it, design skills are key. Note that artistic skills are huge, but if you have to have everything handed to you and can't solve problems then you are pretty much a technical artist. We want design artists – problem solvers that create exquisite illustrations and animations that tell the story needed by our clients.
Check out more interviews at Animation Career Review's Interview Series.