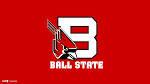 John Ludwick didn't get pulled into animation until he was already well on a career path in graphic design. A lifelong enthusiasm for drawing and comics morphed into a decision to earn an advanced degree where he followed his natural persuasions and combined illustration with story. Since then, his career has taken him from freelance animator, consultant and storyboard artist to lecturer and jack-of-all-trades at a boutique animation studio where he honed his wide-ranging 2D and 3D skills.
Today, Ludwick serves as Assistant Professor of Animation at Ball State University. While Muncie, Indiana, is not exactly an industry hotbed, the BFA and MFA in Animation within the School of Art draw dedicated animation students who are serious about learning the ropes in a competitive yet comfortable department. Working alongside fellow industry veteran Andy Beane (who readers will recognize from our 2013 interview), Ludwick leverages his experiences to instill skill sets that will benefit his students. But some of the best learning, he argues, comes when they're left to figure out some things for themselves.
ACR:  John, thanks for participating in our latest Q&A. Let's start with you. You began your career in Graphic Design. When and why did you pivot into animation?
John Ludwick: I always loved art and drawing and typography (I really loved typography!), but I could best be described as a sleepwalker in my Graphic Design studies at Savannah College of Art & Design. I had no fire in the belly which isn't uncommon for students. I spent my first years working just going from job to job. But I did comics at night all the time and they eventually they appeared in different newspapers.
I went back to SCAD to hone my skills for an MFA in Sequential Art- a brand new program at that time. I was very lucky to be there when I was because they were committed to developing it. They had a big comic arts forum and invited some of the top talent in the industry at that time: Scott McLoud, Mike Mignola, Will Eisner, Traci Haymans. It was a real who's who and my work was immediately reviewed by Mignola and McLoud! That's when I got that fire in my belly… I wanted it so badly. I probably exceeded 1000 images pursuing that degree. I didn't care so much about grades as I did about achievement. I wanted to get better. That's when I knew I wanted to be a storyboard artist involved in drawing and entertainment and that's how I got into animation.
ACR:  Your jobs within the animation industry were incredibly varied, weren't they?
JL:  They were! I loved working at a small studio best of all because I was responsible for doing everything. I was a storyboarder, animator, compositor, I did motion graphics, I was the assistant director and the director. It was a great experience.
ACR:  Are there skillsets that you wish you had developed sooner that you impart on your students today?
JL:  Absolutely. The big one is learning that the thing you do the most without being asked is the thing that you should be doing. When you're young, you often fail to realize this. Since I was a kid, I was uniquely designed to tell stories with images. I would actually frame my LEGO creations with my hands to get a sense of how they would look on a television. So when it came to storyboarding, I didn't have to sell myself as hard as I had to with other jobs, and I was better than a lot of other people at it. I knew it inside out- it was my personal pursuit and I was enthusiastic. I try to pass that lesson on to my students all the time.
ACR:  Speaking of your students, they receive a rigorous foundation in art that's balanced with a comprehensive digital animation education. Why are both components so important?
JL:  When I was exploring the idea of teaching here, Andy (Beane, course director) asked me what I thought students today miss. From my previous experience teaching animation within a science department, I told him that too many view animation as a purely technical form. I think it's primarily a visual communication. If you look at all the ways in which animation is used today, it's always trying to make a connection. It's well known in the industry that to be a 3D animator you don't need to know how to draw, but there's no doubt that people who do draw are more creative animators. Animation is a visual art form and must communicate on those terms. We strive for a 2-pronged attack: they can visualize and work their way around a computer.
ACR:  Since we last caught up with  Andy Beane in 2013, both the BFA and MFA programs have continued to grow, haven't they?
JL:  They really have. Our graduate program is operating at capacity now. We added Brad Condie as a faculty member to cover 2D animation and our character design courses. I now focus exclusively on storyboards and animatics, teaching two undergrad courses and one graduate. 
We have a low-residency MFA program for working animators that's in the pipeline for fall of 2015. It will target veteran industry professionals making a living but wanting to earn their advanced degree so that they can potentially teach. Most grads try to get an assistantship and we think that by joining our lecture circuit they would inject knowledge into us and we would help them earn their degrees. It would be a win/win. We're excited about that. I don't see myself as being anywhere near the pinnacle of where I want to be as an artist, so everybody – even me- benefits from learning from these masters who have been working in the industry for years.
ACR:  How do you guys approach collaborative projects?
JL:  I think in general the classroom assignment is like an isolated island; individual projects are good to teach students particular skills and aspects of the craft but nothing really comes together until they work on a group project. In the senior project class, every decision comes back to haunt them. It's life! If students skip over things, they'll pay later on. One class skipped over a few things in the storyboarding phase and Andy and I let them do it. Once they reached the animation stage, they realized there were two seconds of nothing; it came back to bite them. But that's how they learn.
ACR:  That's a common theme I hear from animators; creative problem solving is the name of the game.
JL:  I absolutely agree. There are walls around every corner and they have to be climbed. Many students come in thinking that a job in animation is always exciting and entertaining. But the temperament of an animator must allow them to work through problems and be very patient.
I'm a big fan of Scientific American Mind for teaching ideas. One recent study had two control groups that were each given a computer task. The first group was given instructions, and the second group wasn't. Then the groups were switched for the next task. The control group who hadn't been given instructions the first time showed exponentially higher brain activity during the second task because they understood what worked and didn't work with or without instructions. Students have to learn some things on their own to let them really sink in.
ACR:  Lastly John, what do you love most about your teaching role at BSU?
JL:  I love Andy's vision for the program; I bought into it. I love teaching, too. I feel like some of the bad decisions that I made in my career I can offset in a way. It's a karmic thing. It gives it all purpose.
ACR:  We appreciate you taking the time to check-in with us and keep us updated on the latest from BSU's Animation department. Many thanks!
JL:  Thank you, Bonnie!
Check out more interviews at The Animation Career Review Interview Series.