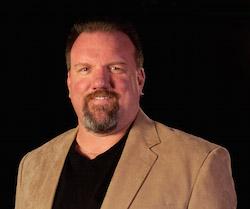 Just outside of Orlando sits Full Sail University, a top entertainment media institute that offers an industry-grade campus, compelling list of working alumni, and drool-worthy assortment of higher ed degree options. Among them, a 3D Arts department that reflects the mission of the university.
With an emphasis on production and work-readiness, Full Sail's 3D Arts programs offer many distinguished attributes including accelerated graduation timelines. For those eager to kick their careers into full swing, the immersive and rapid-fire option leads to a Bachelor of Science degree in either Computer Animation or Game Art in a whirlwind 20 months. The extended 32-month option beats the length of traditional bachelor programs, and the online bachelor option allows nontraditional students to have their cake and eat it, too.
The dazzling and innovative Full Sail campus has everything that a budding animator, VFX or game artists could ask for including a mocap studio, film lots, event venues, and state-of-the-art labs. Students at Full Sail don't stop learning when the classroom doors close for the day; in fact, the doors never close. The campus operates 24 hours a day, with students and faculty working and congregating around the clock. If you really want to know what it will be like to work during crunch time, test your mental mettle in a night course.
Full Sail graduates' names grace many of your favorite films and triple A games and faculty is drawn from far and wide. Thanks to longtime industry partnerships in Orlando and beyond, career opportunities abound for students who have what it takes to succeed in the accelerated pace and ultimately make it in a competitive field. To learn more, we caught up with Full Sail's Director of 3D Arts Pete Bandstra who thoughtfully tells us about the options, approach, and why so many grads find success. We hope you enjoy!
ACR:  Pete, Full Sail's 3D Arts program is like few others. Students are immersed in their areas of study both in and out of the classroom. Give us a glimpse of a Full Sail education.
Pete Bandstra:  Our degree programs are offered at a faster pace than traditional schools, so students adapt to the 24/7 nature of their industries. A bachelor's degree can take just twenty months here instead of four years. Our students learn more in a shorter period of time and thus start on their professional path earlier. Students work a minimum 40-hour work week in an intensive study of art (both traditional and technology based). Combined in and out of classroom time, students can spend any where from 60-100 hours a week on their areas of interest.
Full Sail's creative approach to education provides an immersive, fast-paced, and relevant learning experience that mirrors the workflow and collaboration found throughout today's industries. Each program is designed to enable creative-problem solving through relevant, project-based coursework using industry technology and workflow.
ACR:  What does a typical day-in-the-life of a Full Sail 3D Arts student look like?
PB:  Students attend a lecture during the day to discuss ideas, concepts and theory. The students may go to a 4-hour lab environment to work on topics discussed during lecture. Other time is spent working on artwork, attending seminars, synchronous and asynchronous online events, individual mentorship or guest speaker presentations.
ACR:  This integrative approach has long defined a Full Sail education, hasn't it?
PB:  It has. Full Sail University has always believed in providing students with an innovative style of education. For decades, we have supplemented our classroom lectures with complementary, hands-on laboratory environments that provide students with relevant, real-world learning experiences.
Our integrative learning model represents an expanded version of this same ideology- advancing our campus education model to meet the demands of the 21st century. This new method for instruction has proven itself a benefit to the student learning process with more out-of-class opportunities and individualized attention from instructional staff. The students' work has improved and their engagement in the classroom has not only increased but there is also a higher level of peer-to-peer learning.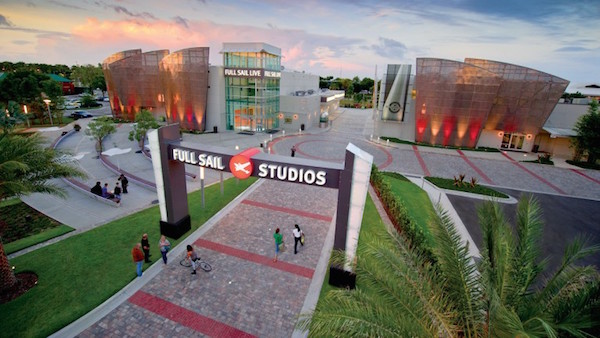 ACR:  You've described the 3D Arts program as being reverse-engineered to accommodate industry needs and ensure students have what it takes from day one of their careers. How do you do that?
PB:  We have always remained on top of industry changes in both technology and techniques. Monthly course changes provide us the opportunities to modify curriculum and add the necessary information into it. As you know, software updates are regular in the animation industry. When new tools, updates, or complete package releases are launched, we spend a month learning the changes in the software and updating the curriculum. Our goal is to put it in students' hands a month after release. The ability to make changes quickly and add it into the curriculum within a month or two is important in helping the students stay up to date with the ever-evolving industry.
ACR:  Can you give us an example of a recent change to curriculum?
PB:  We moved portfolio courses to earlier in the degree recently so that time is spent in practical application (using) skills developed to create portfolio content. We have also transformed our learning process into an integrated one with an instructional strategy that employs multiple forms of engaging experiences to connect learning over time, across courses, and between academic/personal/professional life. The idea is to support learning that is meaningful, comprehensive, interactive, and engaging.
ACR:  Is there an industry trend that has you and your colleagues particularly excited to share with students?
PB:  3D printing technology has advanced rather quickly over the last couple of years. A standard use is rapid prototyping of objects. At Full Sail, we have used it to print characters and objects made by the students. This technology continues to remain an interest for the faculty as we watch it move into the production industry in a series of stop motion animated films including LAIKA's "Kubo and the Two Strings" and "Anomalisa" from Paramount Pictures.
The ability to print facial expressions, full characters and environment pieces is merging traditional stop motion techniques with technology to create animated films.  This continues to prove an interesting trend that many of us are excited about and looking to connect into the curriculum in the future.
ACR: Full Sail's one-of-a-kind campus just outside of Orlando mimics industry with professional-grade labs, studios, and the latest hardware and software. What awaits 3D Arts students on campus?
BP:  The 3D Arts Building is a dedicated space designed for animation students to refine their skills in digital and traditional arts. Animation students create projects on workstations running industry-standard software packages, providing the tools needed to produce high-poly rigs and models. The facility also features gallery spaces that showcase artwork, sculptures, and designs from students from all stages of their programs.
Part of the students technology package includes a launchbox of tools including an Apple MacBook Pro with a suite of professional software tools including Adobe CC, Final Cut Pro, The Foundry NUKE, SynthEyes, Pixologic zBrush, and a Wacom tablet. In the 3D Arts labs we have two labs with 24 Wacom 27HD Cintiqs, for students to paint, animate and create content. Our campus facilities also include a twenty-four camera Motion Analysis system on our motion capture stage.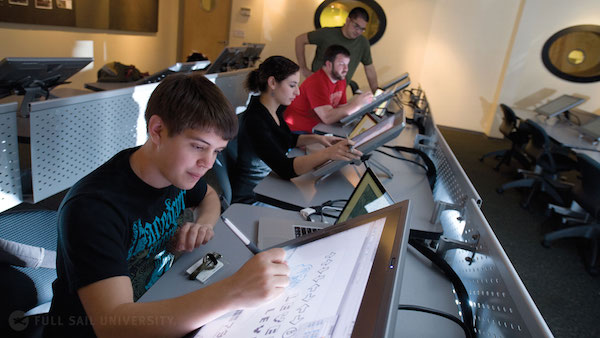 ACR:  Both 3D Animation and Game Art offer online bachelor degrees. How has the online option evolved in the years since its inception?
PB:  The transition to online proved to be interesting, however the content for both online and campus is now matched. At this point, we don't have a blend between on-campus and online. Full Sail designed its own online learning platform for student and staff interaction and delivery method for all instructional material.
The online students are truly amazing in their desire and passion to complete a degree while dealing with the pressures of home and work life. Think about how easy it is to shut a laptop and go fix a leaky faucet, deal with a child's issues or go to a social event with friends. These online students are dedicated and have to work regularly to balance out their home/school life to get the education and pursue their future in the animation industry.
ACR:  Full Sail habitually boasts high job placement ratings into industry for its graduates. Tell us a little about the network of graduates, industry partnerships and alumni that help make this happen.
PB:  From career guidance by advisors that are dedicated to specific industries, to an outreach team that brings in companies for events and recruitment, our Career Development department stays tuned in to relevant trends and hiring needs. Our graduates are located all over the world and we hold networking events globally to provide resources for alumni to stay in touch and share professional insights.
One of our more recent 3D animation graduates, Chelsea Lavertu, is a great example of what our graduates are doing. She obtained a position at Walt Disney Animation and has worked on projects including Frozen, Wreck-It Ralph and Big Hero 6.
ACR:  Lastly Pete, as Director of the 3D Arts programs what do you find most rewarding about your role at Full Sail University?
PB: I enjoy the interaction with the students- watching their faces as the proverbial light goes off because they get it and can apply what they've learned. Our 3D Arts Studio is a gallery of both traditional and digital student work that is changed out regularly. You can't help but be inspired by the work the students present and the variety of different content that represents their unique skills and abilities.
Many of our graduates return as guest speakers or heading into the labs with current students to critique their work. After years of production work, we invite some to join the Program Advisory Board to help mold the future curriculum. It is fantastic the way the graduates always want to give back and return to the classroom in a different capacity because they remember what it is was like to be a student. A highlight is when the graduates come full circle- from student to successful professional- as highlighted through our university's Hall of Fame.
Want to learn more about Full Sail University? Get the facts on our Full Sail U profile page or visit its website.
Check out more interviews at Animation Career Review's Interview Series.