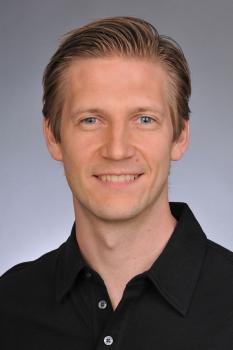 As Wisconsin's only polytechnic university, students at the University of Wisconsin-Stout (UW-Stout) gain relevant, working knowledge of their fields of study through applied learning. Taking theory to the next level, students partner with industry and communities on real world projects that add to their professional development. It's little wonder that an enviable 98.2% of its alumni found employment within just 6 months of graduation.
Dr. Andrew Williams serves as Director of UW-Stout's Game Design & Development BFA program, which happens to be the only one of its type in the state of Wisconsin. Like all UW-Stout students, those in the game program apply their knowledge to their field through a robust, project-based curriculum, industry internships and more. They have garnered big praise from industry and academic, notably winning the inaugural E3 College Game Competition in 2013 among some 400 contenders.
For our latest Q&A, we catch up with Dr. Williams to talk about the unique attributes of his program at UW-Stout. We hope you enjoy!
ACR:  Let's start at the top. What was the genesis of UW-Stout's Game Design & Development program, and what attracted you to it as an educator?
Andrew Williams:  Game Design and Development at UW-Stout was created in 2009 from a vision of cross-disciplinary collaboration between two programs: one focused on visuals including art, animation and UI which became the BFA program; the other focused on programming, AI and networking which became the BS program. As an educator, this collaborative approach is attractive as it allows us to work with teams of students who have well-developed skill sets in their area and can produce highly polished work.
ACR:  How does UW-Stout's status as a polytech university impact what or how your Game Design students learn?
AW:  As a polytechnic university, we embrace the application of theory and practice to projects in the classroom. The instructors in our Game Design BFA program frequently coordinate classroom projects with a variety of internal and external partners such as the Jim Henson Company, regional museums, healthcare facilities and local schools to show students the versatility of their skill sets and to open them up to new possibilities.
Our project-based, interdisciplinary curriculum means that students gain essential skills in planning, communication and conflict resolution that are applicable in every career field. We see the experiences as essential for helping students establish professional networks and navigate their future careers.
ACR:  On that note, digital artists are in high demand across many industries. How does that alter UW-Stout's curriculum and what your students are tasked with learning?
AW:  From the beginning, our BFA in Game Design and Development was envisioned to provide the students with a broad base of knowledge in art and design while allowing them to accumulate expertise in their area. This positions our students to fit into these emerging roles as digital artists. A similar line of thought informed our approach to building our professional network as we are advised by a wide range of professionals. We see this approach pay off as we have had our graduates pursue many paths: freelance artists for companies like Fantasy Flight Games, a number of QA testers for Activision, technical directors at Dreamworks, designers of interactive web advertising and other "playful" media as well as self-employed independent game developers. In many ways we see game development as the new liberal art!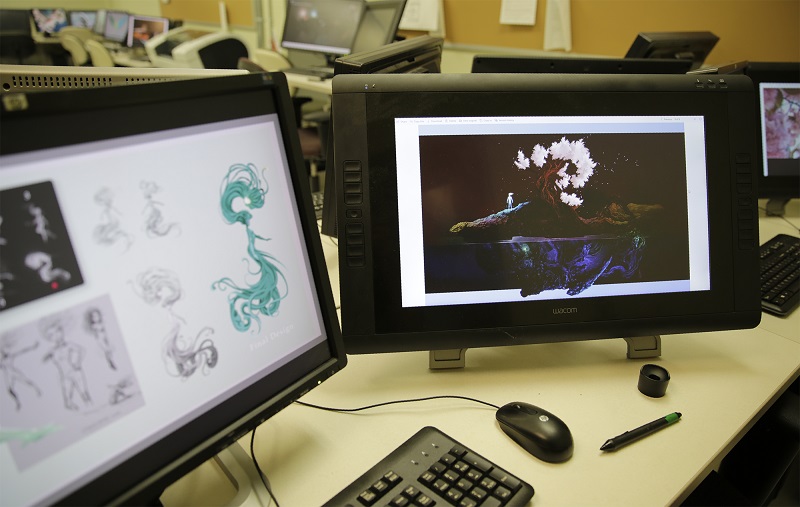 ACR:  Do your students participate in internships or projects with industry or community?
AW:  Absolutely. Companies hire our students as interns in a variety of capacities from 3D modeling and general art and design to working on VR game engines. Additionally, students must professionally exhibit their work at the Stout Game Expo which includes designing a booth, promotional materials, business cards, and even swag. We offer an experiential learning course centered on portfolio development and professional practices - the final exam is attending the Game Developers Conference in San Francisco!
ACR:  With the fall semester just around the corner, what will your students find in terms of hardware/software and studio space?
AW:  Our Game Design students have access to a new 360 sq ft, eight camera motion capture studio, photogrammetry system, three computer labs with industry-standard software including dual monitors, large screen television monitors, Cintiqs and high-powered computers for rendering/compiling game builds.
Our Game Design students also make use of a well-stocked board game library containing more than 100 games, the Fab Lab's 3D printers and laser cutters as well as large dedicated collaboration spaces for senior students to communicate with each other during their regular team meetings. Not to mention our traditional art and design studio spaces that support the 800 other art and design students in UW-Stout's School of Art and Design. It is much easier to describe the scope of our program if you pay a visit!
ACR:  We heard that you played an important hand in creating the Gaming and Digital Innovation Lab on campus, Andrew. Tell us about it.
AW:  The Gaming and Digital Innovation Lab houses over 40 years' worth of game history in the form of original working game consoles. It was created out of a convergence between three smaller projects: a vintage game collection that I created, the university library's initiative to collect current games, and a desire to have high-end computers for digital productivity applications. It is used as a special classroom space for courses including my History of Interactive Media class, as well as for general recreation by student organizations and individuals.
ACR:  I want to pivot and talk shop for a minute, Andrew. What technologies or market trends have surprised you most in gaming, and where do you see games' trajectory in the near term?
AW:  The thing that surprised me the most was the long history of arcades and how strongly their design trends- think steep learning curves and limited attempts per coin- have permeated into games created for other contexts like home consoles and computers.
In the next few years, we will probably see a range of new directions related to games emerge: indie games will continue to fill unique niches but will become increasingly difficult to tell apart from games produced by large AAA developers; high-end game technologies such as game engines will become a standard part of the production pipeline in other entertainment industries; and excitement about augmented reality will start to break out in the general population like VR did a few years go.
ACR:  Since you mentioned virtual reality, what are the biggest challenges for game designers when working with it presently?
AW:  I think the biggest challenge is that VR requires a lot of investment in expensive hardware by the player. The other big challenge is that we still haven't found that one use of VR that is so unique that it compels widespread adoption. Right now VR is largely employed to enhance things that are already in existence.
As far as design, working with VR-based games brings more restrictions than liberties. Many of the cinematic techniques currently used by games such as quick cuts between sequences of action are not comfortable to experience in VR. This is causing developers to seek out new methods of communicating content, but we have yet to arrive at the point of the truly new and innovative in VR for games.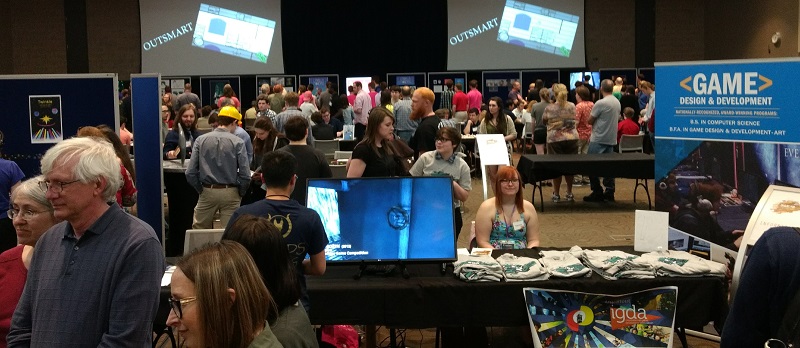 ACR:  With that said, how do you and your colleagues prepare students for the many possibilities that VR, AR, and other technologues may bring to their future careers?
AW:  VR and 360 renders have worked their way into our upper-level 3D modeling and game engines courses. One of our special summer session classes in game engines uses travel to Los Angeles as a source of inspiration for VR-based interactive environments. These projects focus on the possibility of VR for environmental storytelling and are often made of highly interdisciplinary teams that include students from our game design, entertainment design, interior design and graphic design majors.
We have also cultivated a number of VR-based internships that provide the students the opportunity to use their knowledge for simulation and training applications. Lastly, our students frequently work on independent projects overseen by faculty who have created a number of VR-based projects and exhibitions.
ACR: Is there a course offered in the major that really stands out to you as an educator?
AW:  Among all the classes, the capstone course stands out the most as it lasts an entire year from the initial ideation to the public launch of their game. In that time, teams of up to twelve artists and programmers form their own studios, create a complete social media campaign and produce a highly polished experience. This experience is invaluable for them as they learn how much their work is worth, how to resolve the inevitable conflict of ideas and gives them as real of an experience as possible while still receiving the necessary guidance from their producer/instructor.
ACR:  Last but not least Andrew, what do you enjoy most about your role as the Director of the BFA program?
AW:  I most enjoy the opportunity of managing a nationally-recognized program filled with talented and highly-motivated people. And I am most proud when I hear of the successes of our students, whether it be in landing their first job, winning awards, completing an internship or talking with them for the first time after their acceptance to the program.
Our students are some of the hardest workers due to the rigorous requirements of a BFA degree. They need to balance a wide range of art and design courses that teach technical skills applied to creative projects that are delivered on time. We also have amazingly dedicated and accomplished faculty that work well together. All of these things have allowed us to build a culture of excellence at UW-Stout.
Check out more interviews at Animation Career Review's Interview Series.