Earlier this year I gave an overview for BrainDistrict's new paint program on the market, PaintSupreme, and recently I talked with their Sales and Marketing associate, Richie Lopez, about the future of their product. Since my previous article on their software, they've launched their updated PaintSupreme 1.1 version, which you can try for free here. Richie was also nice enough to provide our readers with a discount code for the full version!
Tell us a little bit about your company's studio(s). Where are you located at? How many employees? What else should our readers know about the people who are responsible for the software they use?
We are located in Cologne Germany and have a team of about 5 full time workers plus several contractors.
What do you think is a current trend in your target market's industry? How did the most recent version of your software try to focus on this?
We think that the overall market is moving to lower cost, specialized products which get distributed over the AppStores. The AppStores allows ISVs like us to distribute software directly to end users without high costs (like marketing). We therefore kept the price of PaintSupreme low to fit this model.
What do you think is the most underrated aspect of your program?
I guess that would be the vector support. We have a full range of vector tools available in PaintSupreme, a feature mostly found in much higher priced products.
What do you foresee as the future demands of the market? What's the next big thing?
We are working on a special effect image product called IFX-Supreme which will also integrate into PaintSupreme. The two will make a powerful team. Apart from that our upcoming RaySupreme animation and rendering package will give 3D rendering a new twist, however we cannot talk about it yet.
 
How does your studio plan on adapting to the future? What features and improvements should users look forward to in your PaintSupreme's next version, and is there a target release date yet?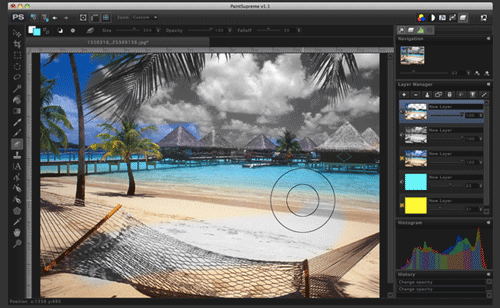 We just released v1.1 of PaintSupreme with improved vector support and user interface and also added quite a few new features.
Roughly how many people across the world have purchased or licensed your most recent software release?
We just released PS v1.0 in December but the user base is already in the thousands, an encouraging sign that we are doing something right.

Do any schools offer classes or training for your BrainDistrict software?
No, not yet. Again PaintSupreme is only 3 months old and we are right now working to get the infrastructure in place.
Which achievement is your company the most proud of accomplishing?
Creating innovative software products and technologies. PaintSupreme is just the beginning of a series of great value products.
Are there currently any sales deals available for any of your products?
Everybody reading this article can get a 10% discount on PaintSupreme when ordering PaintSupreme on our Web shop at www.braindistrict.com. During the order process please enter "ANIMATION" as the voucher code. This offer is valid until the 20th of April.
Check out more interviews at Animation Career Review's Interview Series.