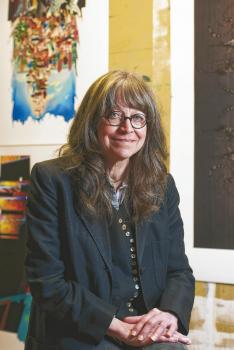 Professor Shelle Baron is an accomplished, award-winning artist and graphic designer who brings her enthusiasm to Edinboro's classrooms.
Nestled near the shores of Lake Erie in northwestern Pennsylvania lies one of the region's most robust public universities with an art department that rivals those found in urban hubs, and at a fraction of the price tag. Edinboro University's long history of cultivating artists dates back a century. The arts play a celebrated and vital role at Edinboro which offers more than a dozen majors to choose from within its Art Department. 
Among them, Edinboro's Graphic and Interactive Design B.F.A. boasts award-winning faculty, an enviable roster of accomplished alumni, and an interdisciplinary approach that develops designers of today and tomorrow. The program is deeply rooted in the foundations of art and design while including the practical aspects that produce graduates capable of hitting the ground running in their careers. It's little wonder that their students' work can be found far and wide winning top honors in juried design competitions and exhibitions. 
Professor Shelle Barron has earned her own share of accolades as a veteran artist and graphic designer. Prior to coming to Edinboro as a faculty member nearly three decades ago, Barron served as Art Director at a PBS affiliate where she worked on national PBS productions. Today, Barron remains passionate about the role of graphic and interactive designers- perhaps more so now than at any time previously. She continues to learn the latest tools of the trade and techniques while working with her students and faculty colleagues in the Graphic and Interactive Design program at Edinboro. For this interview, we catch up with Barron to talk about Edinboro's many merits. Enjoy!
ACR:  I'd like to start the conversation with you, Shelle. As an accomplished graphic designer and artist, what was it about Edinboro University's Graphic & Interactive Design BFA that compelled you as a designer-educator?
SB:  Edinboro attracted me for two reasons. First, our students come from all backgrounds and socio-economic status. They have talent and ambition, but often can't afford the high tuition of private (and expensive) design schools. They come to Edinboro without a sense of entitlement but with a great desire to learn and ultimately to lead a successful life as a professional. It is a joy to teach them and watch them grow. 
Secondly, the large and diverse art department at Edinboro created an opportunity for students to experience graphic & interactive design in tandem with courses in studio arts and art history. This approach gives our students a broader experience with art mediums, and allows them to become better thinkers and problem solvers.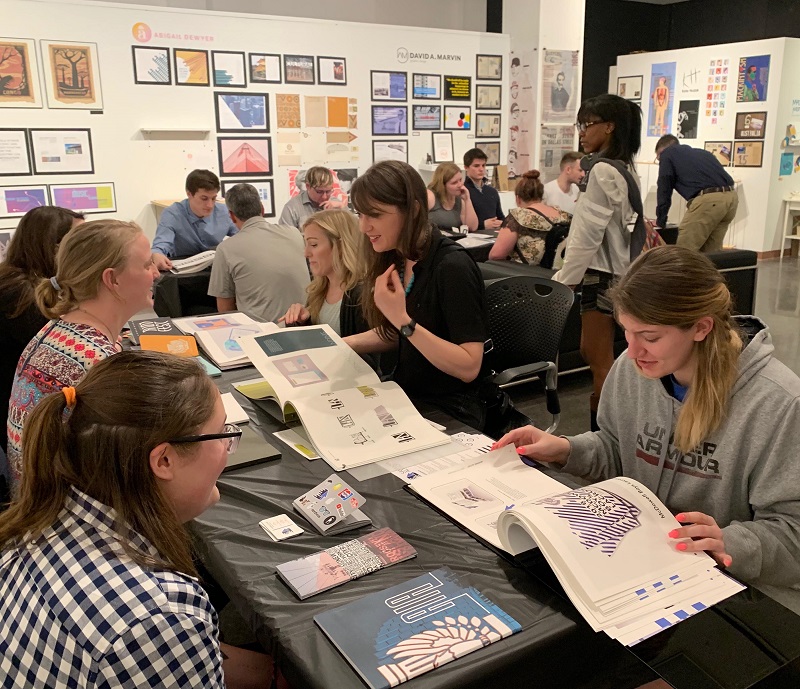 ACR:  You work alongside equally accomplished designers. Tell us about your faculty colleagues at Edinboro and what they bring to the classroom for students.
SB:  Every one of my faculty colleagues has the heart of a teacher. By that, I mean we approach each student as an individual and devote ourselves to developing their talent and helping them find their path in the design profession. Every member of our Graphic and Interactive Design (G&ID) faculty has expertise in more than one specific area. I've maintained dual practices in design and studio art. The professional experiences and personal interests of my colleagues inform our teaching practices and enable us to give our students a broad education in all aspects of design. 
ACR:  As a BFA, your students gain a well-rounded education in the arts. Walk us through the curriculum, Shelle.
SB:  At Edinboro, the Graphic & Interactive Design program is located within the Art Department. Every student admitted to the Art Department takes the same foundational courses: two-dimensional design, three-dimensional design, four-dimensional design (time-based), color, drawing one, drawing two, and overview of art history. As a second term freshman, our majors take the first course in our sequence: Graphic Design Software. As students enter our matrix of courses, they will take two required G&ID (Graphic & Interactive Design Courses) every subsequent term until senior year. 
Students apply for candidacy in our program during first-term sophomore year courses, Principles of Graphic Design and Typography One. They then move forward to intermediate and advanced courses in our program, Typography Two and Web Design followed by Corporate Identity and Movements in Graphic Design. From that point in their studies, our majors can choose an interactive track (Web Design and Motion Design) or the print track (Publication Design), although a large number of our majors choose to take courses in both tracks.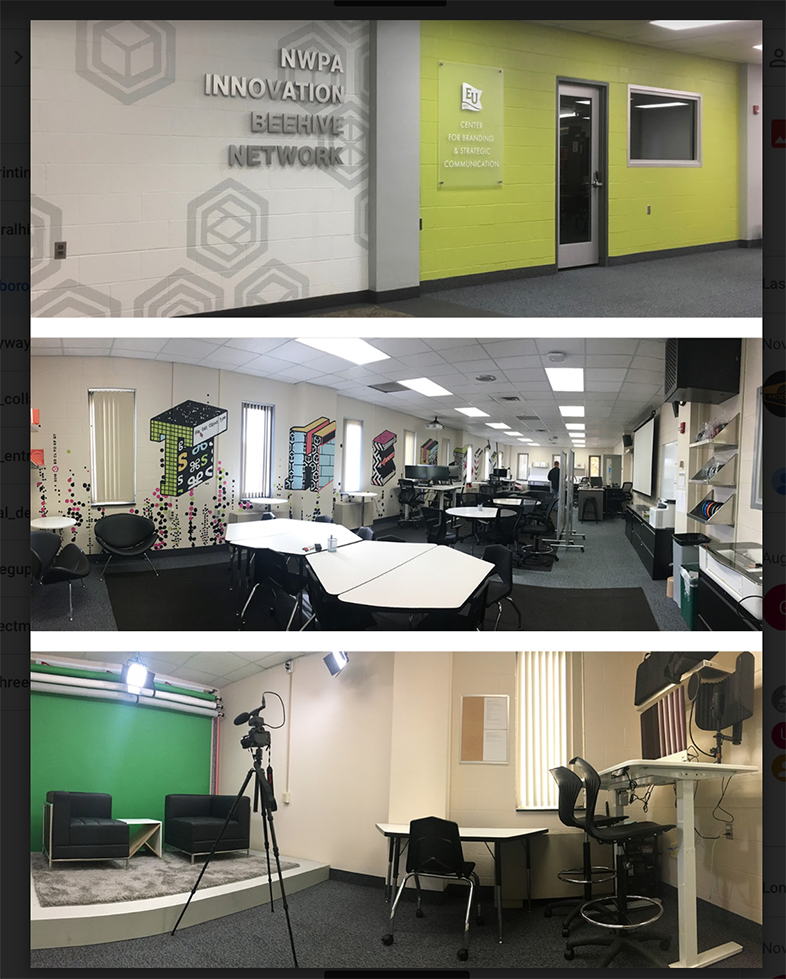 ACR:  What's included in the senior year curriculum?
SB:  Students usually choose to do an internship in the summer between junior and senior year or fall term of senior year. The final required course Senior Projects, is a capstone course in which students perfect their portfolios, do a thesis project, attend portfolio reviews with regional professionals, and participate in an exhibition juried by well-known professional designers, who come to campus to lecture, hold workshops, and jury the show (past jurors include Ellen Lupton, Rick Valicenti, Dan Boyarski, and Skolos & Wedell). Many of our advanced students also choose to take one or more of our G&ID elective courses reserved for majors. Popular among them are Packaging Design and Design Practicum (a course that is run as a professional design studio with real-world clients).
ACR:  You've alluded to how students and faculty of different majors collaborate at Edinboro. How does this benefit them?
SB:  An excellent question! Because all Art Department students across the fourteen major areas of concentration take the same series of foundational courses, so cross-pollination and lasting friendships begin freshman year. A design student takes foundation courses with students from animation and film, painting and drawing, printmaking, wood furniture, jewelry & metals, ceramics, sculpture, art education and art history. An interdisciplinary attitude and interest in collaboration continues throughout their four years at Edinboro both inside and outside the classroom, through clubs, activities, shared events on campus, and travel opportunities open to all Art Department students.
Another reason our program is unique among other graphic design programs is the inclusion of studio arts requirements in our curriculum. Our students are required to take a course in animation, film & video production, or photography. They are also required to take one course in another 2D studio discipline (painting or printmaking) as well as one course in a 3D studio discipline (ceramics, sculpture, jewelry & metals, or wood furniture design). Quinn Thompson (G&ID class of 2018) fell in love with our program in wood furniture, and completed a minor in the wood furniture design. He landed an internship creating models for architectural mural sites and following graduation, and found his dream job in New York that combines his passions. He now creates architectural models for displays and interiors.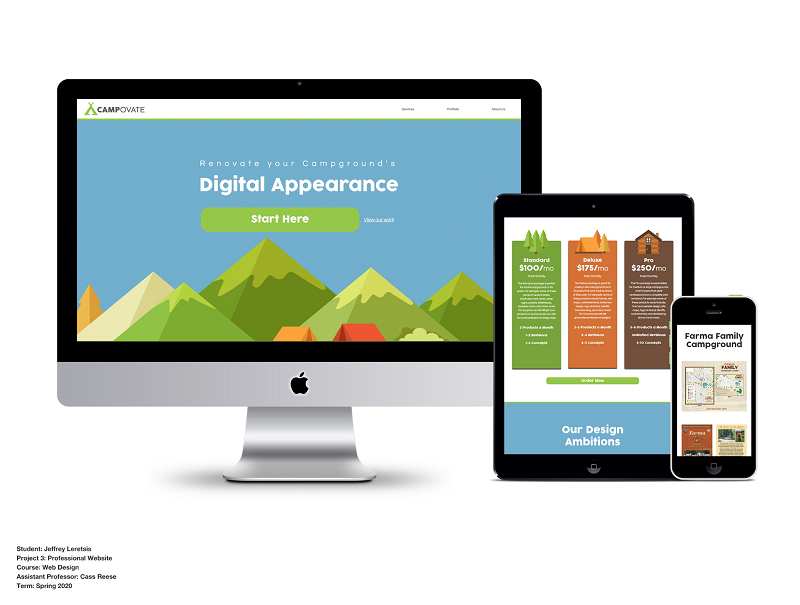 ACR:  In the years since you've been a practicing designer and educator, technologies have advanced considerably. How do you and the G&ID program as a whole stay on top of the latest technologies and trends?
SB:  The evolution of design technology and software has had the greatest impact on my teaching pedagogy and practice. Within the G&ID program, we have devoted ourselves to maintaining currency on all of the software used in our profession in order to prepare our students to enter the field with a skill set that will give them an edge in gaining their first position in the professional environment. Learning the software concurrently with the principles of design accelerates learning and allows students to rapidly create numerous variations on an idea. The emergence (and eventual domination) of digital design required a substantial shift in our course offerings and program design, opening new paths and expanding opportunities for our graduates.
That said, one of the most important goals when designing our curriculum is to pair the learning of the (Adobe) software with concept development and problem solving strategies. Our belief is that while learning the software is critical and necessary to becoming a successful professional, idea generating and creative problem solving is equally if not more important to learn in tandem with the technology. This strategy, along with advanced studies in typography give our students an advantage in the marketplace, and result in strong student portfolios.
ACR: How does the curriculum evolve to include new trends or technologies used in industry?
SB:  All aspects of interactive design are eclipsing print and although students need to have a breadth of knowledge on both platforms, this realization has changed the way we educate our students in order to be competitive in the marketplace. A recent trend in graphic design is "motion posters" - animating a poster for digital settings (think subway stop to mall placement). Our motion graphics students have begun to design these moving posters for a variety of settings.Motion design and animated infographics are current trends that have opened new opportunities for our graduates. Our Beehive Studio has recently acquired 3D printing capabilities, allowing our Design Practicum students to prototype packaging and product design for clients.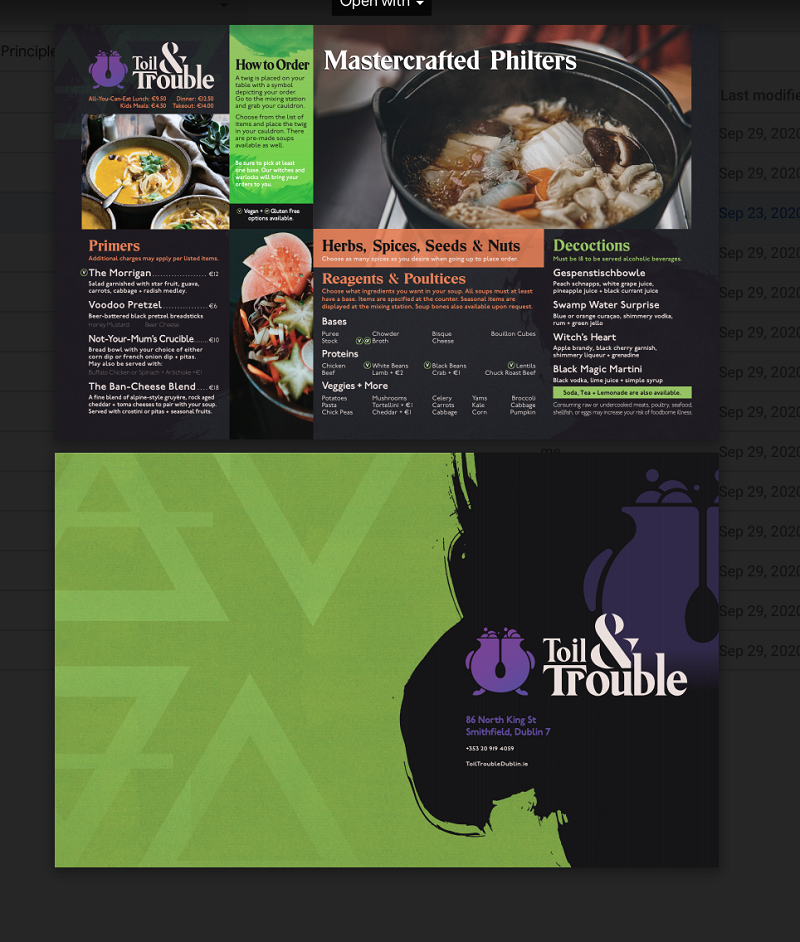 ACR:  Does the program collaborate with nearby industry partners?
SB:  A majority of G&ID majors choose to take an internship (for-credit) or an externship (non-credit experience as an undergraduate or immediately after graduation). In the 21st century, students who complete at least one internship have far better outcomes in gaining a professional position in design. Regionally, our students are in demand with more sites requesting interns than students available. Our network of successful alums in design studios across the country gives our students additional options far from campus in Pittsburgh, Cleveland, Buffalo and Rochester. Some students have gone farther afield to New York City, Chicago, Washington DC and Florence, Italy. G&ID students and faculty frequently provide design services to non-profits in the region (including the Erie Art Museum, the United Way and others), designing and producing catalogues, posters, websites and collateral materials.
Since 2014, Edinboro University has been a key partner in the Northwest Pennsylvania Innovation Beehive Network, four regional universities to spark innovation and support entrepreneurship in the Erie region. Edinboro is the designated university for branding and strategic communications. The program harnesses the talents of students, offering them valuable real-life experience, while providing assistance to growing businesses and non-profit regional partners. We provide free assistance to regional entrepreneurs and organizations in areas such as public relations, advertising, graphic design & branding, web design, and social media management. 
Each term, G&ID students enrolled in our Design Practicum course work in collaborative teams to serve clients that request design services. Working under G&ID faculty, the Beehive studio (located in our library building) functions as a professional design studio, giving our students a valuable and authentic pre-professional experience. The success of our Beehive can be measured in the number of accolades awarded to the design teams, and the waiting list for clients requesting design services.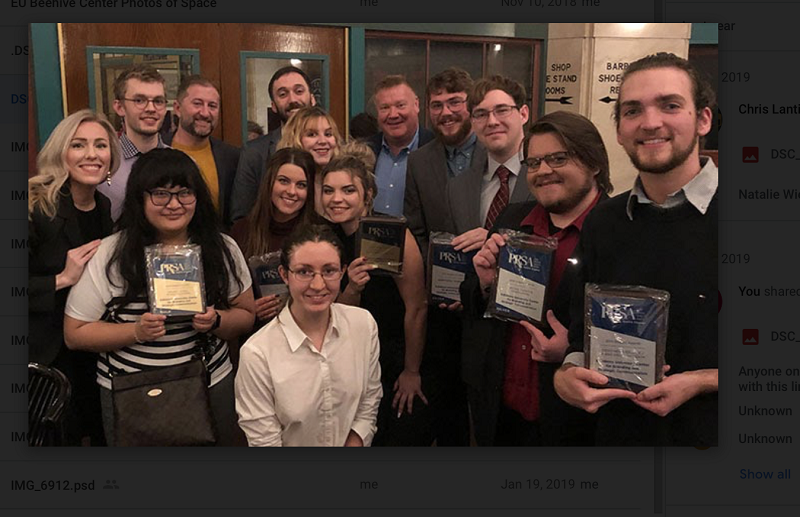 ACR:  On the subject of work experience, there are more job and career-path opportunities for graphic and interactive designers than ever before. Where do Edinboro's alumni work?
SB:  You are absolutely correct… there are more career paths in design available today than ever before! From working in-house for an institution or corporation, to a laid-back small studio setting, a large full-service agency, web design studios, to freelance and entrepreneurial opportunities! Our alums are represented in all of these categories, as designers for companies including Apple, FitBit, Microsoft, Wayfair, Shopify, Hershey Foods, American Eagle and Bath & Body Works. Our sports-loving alumni design for the Chicago White Sox and the Pittsburgh Pirates. Some of our grads have gone on to become creative directors at agencies in New York, Chicago and Toronto, and senior designers at the Pew Charitable Trust and the National Trust for Historic Preservation in Washington, DC. Other grads have gone on to start their own successful studios. 
A number of our students go on to graduate programs to earn an MFA in an area of Design, Museum Studies, or Book Arts. Sometimes these students are interested in teaching at the college level, others want to study a specialty like UX design to enter the field at a higher level. Our graduates have attended MICA, MCAD, CalArts, University of the Arts, Cranbrook, Kent State, School of Visual Arts and VCU. We are proud of our alums that are currently teaching at colleges and universities throughout the United States.
ACR:  I don't want to overlook Edinboro's very competitive tuition rates for both in-state and out-of-state students. Tell us about the value of the education students receive.
SB: Thank you for asking about our competitive tuition rates. When Rick Valicenti (AIGA medalist) came to campus as a visiting designer and to serve as juror for the annual G&ID Senior Exhibition, he commented that our senior design work caliber measured up to the design work he sees at universities throughout the country. His comments confirmed our belief that Edinboro students have the talent, dedication and discipline to compete at the highest levels with the well known (and expensive) design schools around the country.
In G&ID, we serve students from all socio-economic backgrounds and locations including international students. Many of our students attend Edinboro on grants and loans, and some students are the first in their family to go to college. Others have been accepted at prestigious private design schools, but could not afford the tuition. Some have associate degrees from a regional community college, but realize they need more than technical skills in order to become a designer with stronger opportunities to advance in the profession. I am constantly amazed at how much enthusiasm and determination our students bring to their projects. We take pride in delivering an excellent and competitive curriculum at a lower cost to our students, especially since many of them will need to pay back their student loans after graduation.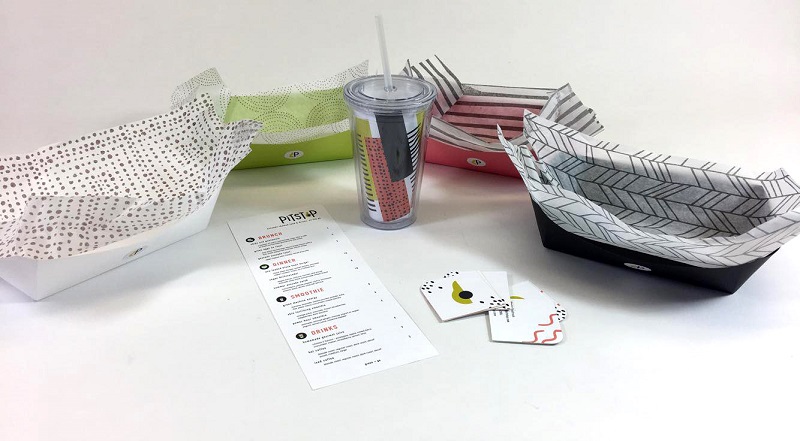 ACR:  How would you describe the culture within the Graphic & Interactive Design program?
SB:  We are an inclusive and vibrant community of faculty and students where lifelong friends are made. Our five faculty members benefit from small class sizes (15 to 20) and 2.5 hour studios. This allows for substantial individual consultation and small group critiques. Our students are stimulated by healthy competition, but are always willing to help each other to perfect their projects, in and out of the classroom.
There are many art department clubs on our campus, as well. Our Graphic Design Club holds biweekly meetings and is affiliated with both the Pittsburgh and Cleveland chapters of the AIGA. Club members regularly travel to lectures and workshops offered by the AIGA, attend design conferences, host invited designers for workshops, and contribute design to non-profits in the region. Edinboro's Student Art League encompasses all of the art department programs, and operates our student gallery, where G&ID students regularly mount exhibitions of their work.
ACR: Last but not least, Shelle, what would you tell a prospective Edinboro student that we haven't touched on already?
SB: We encourage interested students to check out our G&ID program on Edinboro's website as well as on our Instagram. Scheduled campus visits are welcomed, and interested students can shadow one of our majors for a day and get to know our program, our students and our faculty. A new high school graduate will find a welcoming community of like-minded art and design students on our campus. 
Students have the option to live in the Art Living and Learning Community in the Highlands Residence Halls where students work together to complete their foundations projects, get feedback, go to events together, and make friends. A student Art Scholar lives in the building to assist students with questions about their projects, concentration, scheduling, or just hang out. Our G&ID printing lab and design studios are available 24/7 to work after hours in a safe environment.
The Art Department is the flagship program at Edinboro University and the largest Art Department among the fourteen universities in the Pennsylvania State System. Art is the largest major at Edinboro University with five art buildings situated in an Art Quad and thirty full time art faculty. Every Art Department course is taught by faculty (not by graduate teaching assistants) with terminal degrees and professional work experience. We strive to develop individual talents and interest in every student, and we are dedicated to the success of every student we serve. 
Check out more interviews at The Animation Career Review Interview Series.