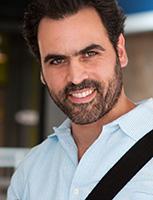 Students at California State University Long Beach (CSULB) are just a stone's throw away from the world's largest and oldest animation and film studios. But while the dazzling L.A. industry and glistening beaches provide ample persuasion to some, the university's Illustration/Animation BFA program attracts aspiring animators by its own unique merits.
Rooted in the traditional principles of the craft, the program instills the fundamentals in its students before they choose an area of focus. Less than 100 students study within the animation track which allows for close collaboration between faculty and students. At the helm of the dedicated roster of instructors is industry veteran Aubry Mintz. He and his colleagues have bred a culture of hard work and creative skillsets that produces alumni whose only boundaries are the ones they choose for themselves. For our latest Q&A, we interview Mintz about his own work in animation and the program at CSULB. We hope you enjoy. (This interview has been minimally edited for length).
ACR:  Aubry, let's start with you. After attending Sheridan College's prestigious animation program, you embarked on a career that took you from animating at Industrial Light & Magic to founding your own production company. Walk us through your journey.
Aubry Mintz:  At Sheridan College, they infected me with a filmmaker's bug which remained throughout my time in the studio system. When I was at ILM, employees could submit a request to work on a short film while in-between projects. While waiting to animate on an original version of Frankenstein, I pitched my college short, it was green lit, and I was lucky to be one of the few short film productions at ILM. They supplied me with an editor and a few artists and we worked on revising the film from a student level to a professional production. A month or so later, the Frankenstein movie did not pan out and hundreds of employees were laid off – including me.
I decided that I wanted to keep going with my short, "Nothing to Say", so I moved back to Canada and worked day and night with a small dedicated team on it. We were awarded a few government grants which allowed us to open a small studio in Hamilton, Ontario. It did not pay all of the bills but with some creative budgeting, freelancing on the side, and the support of an investor we were able to keep afloat for a couple of years and we created some pretty cool stuff.
ACR:  Why did you decide to leave industry and turn your attention to teaching?
AM:  Unfortunately, (my studio) was not a sustainable model and we ran out of money. In 2002, I decided to make the leap into education full time so that I could use the summer breaks to progress on my short films. I moved back to California and have since helped develop two college animation programs from scratch (LCAD and CSULB) while working on short film productions and freelance producing/directing/animation and storyboarding. In the last few years, I have also been writing about animation storytelling for Focal Press and am currently working on a book for MWP.
ACR:  What was it about CSULB's Illustration/Animation program that attracted you to join its faculty and head the animation arm?
AM:  CSULB was the perfect storm of supportive leadership, colleagues, and motivated students that allow me to continue with one foot in industry and the other dedicated to growing a reputable animation program. CSULB is creatively driven and allows students to experiment with different skillsets in order to find their own artistic voice. This approach is different than the industry-based education model. I have taught (and studied) in the latter and find what we are doing at CSULB is more inspiring to the creative mind; as a head of the animation program it drives me to continually take risks and try new things with the curriculum while retaining the tried and true lessons that have made our animation heroes so great at what they do.
I'll also add that at CSULB many of the students are first generation in their families to go to college and they seem to appreciate the opportunity they have  - it is very rare that I must ask a student to work harder. These students are hungry to learn, ask great questions and make good decisions; all of that makes it easy for the faculty here to teach and gives us more time to develop their skills through an advanced curriculum.
ACR: Speaking of curriculum, what coursework do Illustration/Animation BFA students take?
AM:  When students enter CSULB's School of Art, they take part in a foundation curriculum that develops their skills- drawing, painting, and working with the 3D form (digital and traditional). As they progress, they have choices for a more focused direction. Once they complete their foundation courses and are accepted into the Illustration/Animation program, both illustration and animation students take the same classes for the first semester – this includes Rendering, Illustration A and Anatomy for the Artist. Students studying animation will also take an Introductory course to give them an overview of the animation track that includes assignments in storyboarding, visual development, history of animation and animation itself (traditional and experimental).
Once these classes are complete, students entering the animation program have the choice to focus on certain areas of the animation pipeline such as storyboarding, character animation, visual development/character design, or putting them all together as an animation filmmaker. It is our belief that all students have their own artistic voice and we are not interested in a 'one size fits all' approach; students develop their skills in their chosen areas to produce the strongest work for their own artistic growth and portfolio. They work harder when they are invested in their work.
ACR:  When it comes to 2D and 3D animation, do students choose between them or do they take coursework in both?
AM:  The Animation program is traditionally based so the students will have a solid foundation in hand drawn animation focusing on the 12 principles of animation. They are then given the opportunity to transfer their 2D knowledge to the digital platform using large 21/22
Cintique tablets and animation software such as Toon Boom Harmony, Flipbook, Photoshop, After Effects and TV Paint. Students also have a chance to develop 3D skills in our Computer Animation classes. Within this structure students can choose to focus in any of these areas but also merge traditional and digital worlds with traditional sculpture, 3D modeling and 3D printing.
 ACR:  Against that backdrop, how do you determine what software is the most important for students to get comfortable with?
AM:  Much of this is the student's choice. We provide as many platforms as we think there are options. The only class that is software specific are the computer animation classes where we teach Maya. Outside of this, students are encouraged to learn different software on their own. The great thing is that CSULB has an open ended license to Lynda.com where all of our students have access to hundreds (maybe thousands) of online tutorials in many of the software packages we have in the computer lab. This gives our students the opportunity to learn the software they need for any given project any time at CSULB; as an added bonus it also gives the faculty more time to teach principles and skills which are sometimes lost when focusing too much on software instruction.
ACR:  Do students typically collaborate on projects or go it solo?
AM:  In almost every class, we give students assignments which allow for collaboration including group critiques. There are a couple of classes specifically designed for collaboration such as Animation 3 - where students work in teams to produce a very high level animated short film. I feel that the collaboration model motivates the students to step up their game as they are following each others lead and must keep up with the pace of the class. It seems to become a personal challenge for all of them to produce work at the level of the strongest students – and it works very well!
At CSULB, we also promote inter-disciplinary collaboration. We have a wealth of talent in the College of the Arts and our animation students often work with other students from its various departments such as Music, Theatre Arts, Dance and Film, and Electronic Arts. As an example, students from Theater Arts may create acting reference for our students' animated characters and/or use the sound booth to record voices for those characters. A very special collaboration is with our senior animation filmmakers who are paired up with a film score class in the Music department and they collaborate on developing original music for their short films. These scores are then recorded with the CSULB 60-piece orchestra giving the student films added emotion with incredible custom-made scores.
ACR:  Another avenue for close teamwork is your '24 Hour' event. Tell us about it...
AM:  I host an event from our campus called "24 HOURS" which has grown considerably through the last decade. Students from over 25 campuses around the globe work in teams of 5 to create a 30 second film in a 24 hour period. It's based on a prompt that I give out over a live Youtube stream. Our students participate with roughly 80 students each year and compete to claim one of the 5 top prizes. Films are judged by industry pros and studio/industry sponsors hand out excellent prizes. This has become a tradition at CSULB and students begin to create their teams well before the October event and even have been known to "practice" in anticipation for this annual contest. I joke that my students seem to work harder in this 24 hour period than in a 16 week semester. While this isn't necessarily a true statement, there is something about this quick paced collaborative format that keeps everyone motivated to produce really nice work in an almost impossible time frame.
ACR:  Towards the end of their studies, seniors get to lay it all out on the line with a final semester project. What are the parameters?
AM:  It's a class called "Special Studies" that students take in their final semester(s). They pitch a final project on the first day and work with the instructor to develop a realistic schedule that will allow them to complete a final body of work at the highest quality possible. Students choose from a range of focused choices which may include: Visual Development/Character Design, Storyboarding, Layout/Background Painting/Set Design, TV pitch, Character Animation (traditional and/or Digital), Experimental Animation or 3D modeling. I have also seen a combination of these or even new ideas like Theme Park Design or Graphic Novel. As long as the student can prove that they can produce quality work with their experience while using the resources they have, we approve the projects.
Students may also choose short film production. This choice requires more planning and time to develop, write, design and create a completed short film so students take this class over two semesters. They also take a Writing for Animation class one semester prior so that they can develop several ideas, landing on a final script that will go into production in the class the following semester.
ACR:  Aubry, I want to pick your brain on the hot topic of virtual reality. Does VR's increasing role and potential play into curriculum considerations at CSULB?
AM:  VR is very exciting and is obviously starting to show up in many arenas. I am currently on the steering committee for ASIFA-Hollywood's Educator's Forum and this year we have hosted several panels on this topic including events at CTN, SIGGRAPH and USC. The common thread that we are learning is that VR is in its infancy with massive potential for growth. I will not be surprised to see VR make its way into school curriculum.
CSULB does not currently have instruction for VR, however the perimeters for film production is similar across the board; you need a strong understanding of both story and artistic skills and we teach both. In my opinion, I think the exciting thing about VR is that it will allow artists to experiment with the narrative structure. It's a new frontier of the animation storytelling medium -  I am very interested to see where it goes.
ACR:  Your students study under faculty and lecturers who, like yourself, have considerable experience. Fill us in on their diverse backgrounds.
AM:  Yes. The entire faculty at CSULB has a great variety of experiences that makes us all unique individuals and this affects our teaching in a variety of ways. Students seem to learn from each of these various strengths and I believe this helps to create a well-rounded student. The faculty experience ranges: (we have) storyboard artists for live action and animated films; award-winning editorial Illustrators for print and high profile magazines such as Time and Rolling Stone; studio animators from Disney, ILM, Futurama and Nickelodeon; directors, producers and creators of animated television shows; independent filmmakers; costume designers; web/graphic designers; and published authors.
ACR:  I would be remiss to not mention CSULB's graduate program...
AM:  Our graduate program (MFA/MA) is individualized and dependent on the student's preparation, interests and talents. It centers on each student developing a strong personal and independent creative vision. Students in this program create a focused body of work in the form of an exhibition or film as the culminating experience of the degree.
ACR:  Last but not least, is there anything on the horizon at CSULB that you're particularly looking forward to, Aubry?
AM:  The animation program is fairly young and is showing tremendous growth each year. Our students are starting to root themselves into industry jobs and the reputation of the CSULB graduate is growing with every positive experience. As we expand, we also add new sections and are creating new classes to enrich our robust curriculum. This opens the door to exciting new faculty and students that will help continue to shape the program for years to come.
Check out more interviews in our Animation Career Review Interview Series.