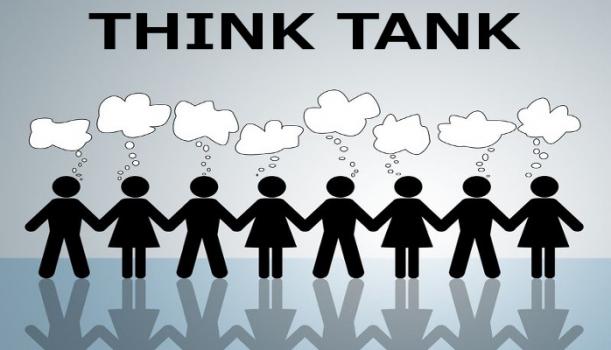 Vancouver's Think Tank Training Centre caters to very driven animation students who seek a studio-like environment to learn the ropes of the industry. And do they ever find it! When the school was founded in 2005, it became a beta tester for the then-new Mudbox, the 3D sculpting tool used by Peter Jackson's Weta Digital. Think Tank was also an early educational adapter of zBrush, TopoGun, UVLayout and Mari when most schools couldn't (and still don't) dream of incorporating them into their curriculum thanks to tight purse strings.
But as our latest Q&A explores, state-of-the-art equipment is just one appealing element of Think Tank's approach. A near 100% job placement rating caused us to raise an eyebrow and wonder what their program is doing so darn well. We caught up with co-founder Scott Thompson to learn what makes the program tick. Relying on the wits of veteran industry professionals and a tight-knit community of students, Think Tank Training Centre is one of the most unique schools we've interviewed to date. Whether it's a state-of-the-art workstation, returning alumni or old school arcade games to release the stress, students find everything they could possibly need at Think Tank… and if they don't have it, they get it!
ACR:  Scott, thanks for speaking with us today about Think Tank Training Centre in beautiful Vancouver, British Columbia. As a co-founder, fill our readers in on the genesis of the school.
ST: I come from the TV animation industry and worked on shows like HotWheels and Spiderman and many others for MainFrame Entertainment (now Rainmaker). They were one of the first CG television studios in the world and I was an animation supervisor there. I started teaching and worked with Joe Bullock, who was at Mainframe as well and also did some really cool comic book modeling. I was considering starting up a school because I've always been an entrepreneur wanting to drive the ship. I knew from the get-go that Joe would be the perfect partner to do so with, so when he said he was on board, Think Tank Training Centre began and that was in 2005.
ACR: Did you both know early on that Think Tank would take a mentorship approach to education, rather than a more traditional structure?
ST:  I think we agreed on the template for the school years ago when both Joe and I were working for a year in France. We talked everyday about the school we were creating and we discussed the best way to train people in innovative ways with a really fresh approach.
I think the best thing we do is demand students tell us the studios they want to work at after graduation. Then we do whatever we can to get a mentor from those studios! Right here in Vancouver there are so many studios and all the big studios have a presence here, as well. We let students rub shoulders with their mentors in the 2nd semester and then the students can make an informed decision about whether or not that particular studio or path is really what they want. We also tell our instructors to have fun and bullshit with students about what the industry is like because we don't want them to get shell-shocked when they get there. Our graduates know what they're doing in the studio pipeline right away because they've been learning that.
ACR: On that front, you have assembled a long list of working animators with very diverse backgrounds to teach your students the ropes. What attracts them to spend their spare time mentoring?
ST:  I think they absolutely enjoy it. We have tremendous loyalty among our instructors. A number of them have said to me that they would volunteer their time to teach, but we pay them of course! Ultimately, they want to give something back and that's a common theme in the industry. They are very invested in their students. Some of them teach elsewhere and they will often say to me how they love coming to Think Tank after teaching courses or having a class cut elsewhere or whatever… I think that's because we are like a big family and we treat each other well. I think animators, as a whole, have that same mentality so I'm really proud that we can convey that to our students and instructors.
ACR: You're like a big family with a pretty slick studio environment!
ST:  Yes, it wouldn't be possible to do what we do without our equipment. Our students don't always know how spoiled they are until they get out there and see what students elsewhere have to work with. We do get students who have gone to other schools previously and they fill our guys in on just how different we are. If someone needs something, we just go buy it… and we don't nickel and dime them or put up any barriers. We want everyone to have access to the tools they need to learn.
ACR: Now to the nitty gritty: students spend one year (three semesters) with you. What courses and methodologies do you use in each?
ST:  The first semester is all curriculum. We do 3D on the very first day. We slam them with it right away from animating to lighting and everything in between. The philosophy is sink or swim from the get-go. If someone is absolutely green, we try to lift them up a little bit before the course starts but for the most part they all have enough knowledge to get going right away. We review students very often, so they get a ton of one-on-one time and that's because there is very little room for failure. If you miss a class, you'll get a call from me. It's very normal for us to have perfect attendance. They are very committed.
By the second semester, it gets even more demanding with 11 courses. Our theory is train everyone in everything with a broad background before they declare their area interest and head in that direction. It's common in this industry to travel from job to job and you never know what you'll be doing, so they learn it all.
ACR: And what's this I hear about an open-door policy… can students really stick around after they've completed their last semester to work on their demo reels?
ST:  Yeah, they stay as long as they want for free and we continue to train them. I have a student from Mexico here waiting for his visa and we picked up his tab so that he could continue to stay here while he waits and learn… he's an exceptional artist and we really believe in our students. We also allow them to come back after going out in the industry if they want to retrain at no cost to them. It's a win/win for us and them… they sharpen their skills while bringing knowledge and experience to our new students.
ACR: You can boast one of the highest job placements ratings anywhere in an industry that is notoriously difficult to break into. How do you do it?
ST: It's a very demanding industry to be in which we preach to our students from the get-go. A number of schools out there recruit a lot of bodies, basically. We're culling and selectively choosing our students because it's really hard to get a job. You have to be in the top 1% of the world, which we reiterate to them every single day. We are very close to a 100% job replacement. It's somewhere in the upper 90s right now. We obviously can't hand hold everyone to go out there and get a job, but overwhelmingly our graduates are eager to start working and they've done what they need to do to get their first job.
ACR:  On that note, it becomes imperative to carefully select students into your program. Who is the perfect candidate for one of Think Tank's spots?
ST:  In a perfect world, we'd love to meet all incoming students and get a feel for them because Think Tank really is like a big family. But we have students every semester from all corners of Canada, the US and the world. It doesn't necessarily matter if incoming students are great at drawing, but being expressive and creative is imperative. One guy made incredible furniture and he was a great fit for us because he had vision that works well in animation. In general terms, I like students who aren't fresh out of high school- maybe they're in their mid-20s and have a steady job or even a family of their own. They are committed in their lives and to their futures so they will probably stick with our program even when it gets really tough. We also lean towards female students even though not many apply.
ACR: Interesting! Animation is a male-dominated industry… what would you tell an aspiring female animator?
ST: Pound for pound, they are better than males… and yes, I'm generalizing a little bit. But they listen very well and they are very artistic. They also don't assume they know everything. They're willing to learn and admit they don't always know things and that's refreshing. I only wish we had more females apply because they make super animators. Studios are the same way- they always ask for female graduates so females actually get snatched up pretty quickly in the job market. I think a woman in every animation suite helps studios immensely because they really bring a new perspective.
ACR: As a small school with a demanding course load, I would imagine that all students really get to know each other very well. What's the comraderie like?
ST:  Absolutely. There's a lot of bonding going on. We want them to know each other because they do spend their waking hours with one another. We host socials and go snowshoeing or to the movies or just to Starbucks together. The whole school- all 55 of us… and yes, we pay! We recruit students based on everything in their application plus we seek out nice people because we are like a family… to the point where we don't lock things up. If you come into our class studio, you'll see cameras and iPods lying around because we trust one another. In that regard, there's a strong parallel to the industry itself- animators work really hard and have a lot of fun, but jerks get canned!
ACR: I don't want to neglect asking about the many opportunities that Vancouver has for students. Let's hear 'em!
ST:  Vancouver is such a unique city in many ways. I was talking with an LA-based special effects artist recently and she said Vancouver is the new hotbed for CG. With employment, it's hard to beat Vancouver. We need local studios for instructors and for job placement, so this is the perfect spot for us. It's a nice place to live, great scenery and skiing and boating. Virtually every student wants to stay in Vancouver when they're done here!
"The thing about the school that is so special is that we really care about each and every one of our students. I drove two students recently to Seattle, on the school's dime, for interviews because I knew they'd get the jobs- and they did- but they need the transportation. We care about our students and we spoil them. We celebrate birthdays, we've helped people move, we pick them up at the airport. It's that mentality that makes our school great, to me.
ACR:  It's little wonder that Think Tank fills up every seat every semester…
ST: Yeah, we have sold out our seats for years. Students should and can apply all the time, though, because you never know… sometimes, someone has to drop out or a visa doesn't come through.
ACR:  Fantastic. Scott, it has been a pleasure learning more about Think Tank Training Centre. I only urge readers to check out your website for a glimpse inside a really innovative approach to animation education.
ST:  You bet! It's been fun. Thank you!
Check out more interviews at The Animation Career Review Interview Series.