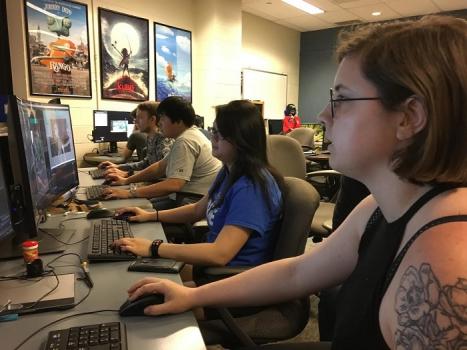 Just outside of Nashville's thriving music, arts and foodie scene lies a comprehensive university that attracts talent from around the state and far beyond. Middle Tennessee State University (MTSU) is well known for its signature media arts programs; and included among them is one of the region's oldest and largest animation programs.
After twenty-five years, MTSU's Animation program recently converted to a full-fledged Bachelor of Science degree which blends state-of-the-art equipment with a broad foundational curriculum taught by industry-experienced faculty. Students benefit from low student-to-faculty ratios, an interdisciplinary approach to the craft, and even their own ACM SIGGRAPH chapter on campus (one of only 20 in the world). Eager to learn more about the depth of MTSU's animation offerings, we catch up with Assoc. Professor and Head of the program, Kevin McNulty, for our latest Q&A. Enjoy!
ACR:  Kevin, what was the genesis of MTSU's Animation program, and what has differentiated it from others in its 25 year history?
Kevin McNulty: Our Animation program was started by Marc Barr in 1992. He was the initial driving force behind it, setting it on a course that has lead to its longevity. My colleagues and I have carried on that torch. Though the technology has changed over the years, our focus on students' wellbeing and future careers remains steady. That's who we are and why we do what we do.
Our students graduate as generalists with a heavy focus in 3D computer animation, but with additional skills in studio art, 2D animation, motion graphics, compositing, and filmmaking. This opens more potential doors of employment. Typically, students go to school with aspirations of getting into film, television, or gaming- which our program can certainly prepare them for- but we open their eyes to all the other very viable career opportunities that they may not have thought about or even realized existed. We want to make sure our students have choices and options after graduation.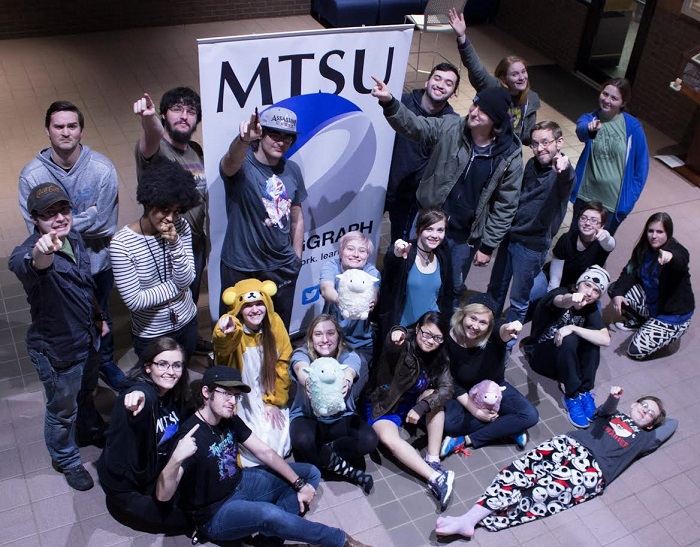 ACR: Your animation students earn Bachelor of Science degrees within MTSU's Department of Media Arts. Both the major and the department have seen recent changes. Tell us about these developments and how they benefit the program.
KM: We've had several very positive changes occur in the last seven years that would not have been remotely feasible without the encouragement and support of our Department Chair, Billy Pittard. He has his pulse on the industries related to our programs, and an uncanny ability to know where trends are heading. The name of our College and Department were changed to The College of Media and Entertainment and The Department of Media Arts, respectively. Though they are only name changes, this gets right to the core of who we are and what our programs offer.
Our Animation program is now a full major, whereas prior we were a concentration under a Mass Communication B.S. degree. Last year, we were officially granted new accreditation from NASAD (National Association of Schools of Art and Design) without having to make any curriculum changes. Our major also has new Candidacy requirements that are more robust and in line with industry and ensures our students are on the right path to success. Students apply for Candidacy after completing 45 hours of specific pre-candidacy courses in the major as well as a new Portfolio Review component (in which) our faculty review student work, give critique and make recommendations. When students don't pass the Candidacy requirements, we figure out what other interests they have, and try to find a field of study the student will be successful and happy in. The bonus is that our pre-candidacy courses are also the same courses required for our new Animation Minor!
The addition of new faculty members Rodrigo Gomez and Rick Lewis have also brought new and exciting experiences and ideas to our program. These changes, and more, are all for our students. It's an amazing feeling seeing students thrive because we offered them what they needed to succeed.
ACR:  Kevin, your own educational background is rich in communication, production, CG animation and studio art. Are your students equally as varied in their interests or classes? And is this diversity of interests and experiences an important strength for an animator to possess?
KM: Yes, and yes. A lot of our students come to our university with similar tastes in entertainment that help strengthen their initial relationships, allowing them to form strong bonds with each other that they might not have had in high school. Beyond that, each one of them is unique, bringing different experiences and interests to their work. Some take an additional foreign language, while others want to expand their knowledge with history courses. Some students are economically comfortable, while others need part- or full-time jobs to support themselves while in school. Some students are athletes, and some are members of fraternities/sororities. The list goes on and on. Couple that with varied points of view or ways of looking at the world during critiques, it makes for amazing and varied work. That's one of the reasons we have open critiques. Students have great ideas, and we want to hear them.

ACR: Similarly, is there overlap or cross-pollination between students and projects within or outside of the Department of Media Arts that you believe to be particularly advantageous?
KM: Absolutely. Most recently, our animation faculty has been working closely with faculty within our Interactive Media program on VR and AR projects. Our students worked with the Video and Film Production students on creating graphics for our recent state gubernatorial debate.
But the cross-pollination goes beyond our department. Our students worked with the Theater program in creating an animated backdrop for a play. They often work with Recording Industry (RIM) majors for their films; our students need help with audio for their films, and RIM students need visuals to make music and sound effects for. All these varied opportunities for collaboration help to better prepare our students for real world work situations where collaboration across disciplines can often be key to the success of a project.
ACR: Narrative, acting, studio art… these all play central roles in the life of an animator. As you mentioned at the outset, your students take a wide range of classes. How do you balance the fundamentals of the craft with teaching the tools of the trade?
KM: You're very correct. Tools change over the years, but knowledge and practice of the fundamentals is paramount to a student's education and future career. Our Animation majors are required to have a Studio Art Minor. They are also encouraged to take computer science, theater, photography, video and film, or additional art classes to help supplement their education and portfolios. Additionally, all our classes focus heavily on story and pre-production even before they dive into the computer. History and theory are woven throughout the curriculum and stressed. They need to have rationale for their design choices. Knowing the software is important, but we don't want our students to just be "button pushers."  We want our students to know why they are pressing the buttons they're pushing.  
ACR: That said, animation students at MTSU do get to utilize state-of-the-art, industry standard hardware and software. Are there any that you view as most critical for them to be comfortable using by the time they graduate?
KM: Maya and Photoshop are probably the biggest and most widely used software in the industry that we use. Even if a company uses Cinema 4D, 3DSMax, or their own proprietary software, our students will be able to transition more seamlessly to other packages having had prior background in 3D software. As students continue to move through our Animation program, we gradually let go of the reins to help turn our students into lifelong learners. There is less and less handholding with higher level classes, encouraging students to be more independent critical thinkers and problem solvers, but at the same time still be guided and nurtured by faculty.
ACR:  Switching gears, you're an active member of ACM SIGGRAPH and your students also participate with their own chapter on MTSU's campus. How does it impact your students in terms of their educatio both within and outside classroom walls?
KM: I'm currently the new Communications Director for SIGGRAPH's Education Committee. Prior, I was the committee Booth Manager for the main conference, as well the curator for the Faculty Submitted Student Work Exhibit (FSSWE). My role has allowed me to get deeper into an organization that I love. The Education Committee runs year-round supporting educators with resources and opportunities for program and career development. For instance, we have the FSSWE in which faculty submit the best work their school has to offer along with the assignments given to students to create the work. That work gets shown during the yearly SIGGRAPH conference to thousands of attendees. This is an additional incentive for students to have the best work possible, knowing they could have their work seen by countless professionals in the industry. It benefits the programs as well as the students.
Beyond the committee, I'm also the faculty advisor to our ACM SIGGRAPH Student Chapter here at MTSU which is to date one of only 21 student chapters in the world. Our chapter compliments our Animation program dramatically. Anything we can't get to in classes gets funneled into the chapter, making it much more valuable to our students. This includes industry guest speakers, workshops, attending the yearly conference, and lots of networking opportunities. I don't really like the term "networking," because to me it carries a cold impersonal subtext. I prefer to say, "making friends." I believe that subtle shift in approach has helped foster a larger and more caring community among our Animation students. Our students aren't just classmates or even future industry colleagues, they are lifelong friends who will go to the ends of the Earth for each other.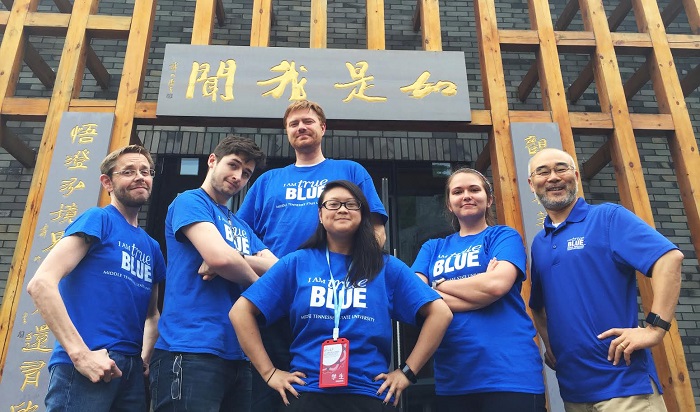 ACR:  Recently, a few of your students had the opportunity to work on a short film with a group of international students and travel to China. What was the project and how did it come to fruition?
KM: For the last two years, we've been a part of Wonderful World- a short film exhibition dedicated to creating films for the public welfare/service. The exhibition is the brainchild of Dean Yang of Qingdao University of Science and Technology (QUST), in Qingdao, China. QUST and MTSU, along with two schools in Germany and South Korea, are the main schools on the advisory board for Wonderful World. Each year, a new theme is chosen to drive the content of the films and raise awareness and understanding on said topic. The topics are designed to transcend cultural and language barriers that affect humanity. The first year's theme was autism, in which our students created "Sensations," an animated short film about a boy with autism who goes on a harrowing journey through a dangerous dungeon corridor.
This past year, our students chose to explore the topic of the environment. They created an animated short film called "The Green Touch," about a young environmental activist who discovers she possesses the gift to change the hearts and minds of her community. The film is currently on the film festival circuit. Participating school teams travel to the host country to screen their films at the exhibition as well as well as engage in cultural excursions learning about the host country and its people. My students and I have found the experiences to be extremely fulfilling and educational. It's opened their eyes to not only the filmmaking process and working as a team, but also other cultures and ways of thinking they never dreamed they'd experience.
ACR:  Speaking of travel, you've had the opportunity to study, work and teach around the country, Kevin. What do you value most about MTSU's location in the central part of the state of Tennessee, and what does it offer that you'd be hard-pressed to find elsewhere?
KM: I really enjoy it here. I'm originally from New York, and I initially had the impression that Middle Tennessee- in particular Nashville- was nothing but country music. I couldn't have been more wrong; there is so much to do here and so much more culture than I imagined. Between Nashville and the surrounding cities, there are art galleries, Civil War historical sites, sports franchises, and of course, plenty of different genres of music. The entire Middle Tennessee area has been growing and developing dramatically, and is ripe with opportunities. It's a great place to be.
ACR: Last but not least, Kevin, what has made MTSU's Animation program so successful and at the forefront of animation education? 
KM:  I think our program has remained successful for so long because we aren't afraid of change, or to try something new if it's for the betterment of our students. That's extremely important in an industry like ours. We've made some amazing strides in the development of our program and curriculum, and our students are reaping the benefits.
Check out more interviews at The Animation Career Review Interview Series.