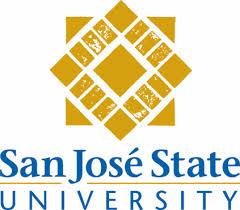 Situated in the downtown corridor of sunny San Jose, California, sits San Jose State University- the founding school of the California State University system. Not to be missed for our readers, SJSU's acclaimed Animation & Illustration program is one to remember. It attracts students from around the world with its comprehensive approach to the craft, a-list guest lecturers and internship opportunities, a challenging curriculum and faculty at the top of their game.
Students begin their journey with integrative foundational studies before choosing a focus in one of four concentrations- story, visual development, 3D modelling and animation. Their work is nothing short of astounding- showing a high degree of creativity, narrative and aesthetic understanding.
To learn more about how SJSU consistently turns out top-notch graduates in its Animation & Illustration program, we caught up with 3D faculty member Raquel Coelho. A native of Brazil, Coelho's extensive career has taken her from illustrious animation studios to illustrating children's books and everything in between. In our Q&A, she shares the secret ingredients of what makes SJSU's program stand out. Enjoy!  (This interview was done via email & has been edited for length & clarity where necessary).
ACR:  Raquel, thanks for telling our readers about the exciting things going in the Animation & Illustration program at SJSU. Your background is enviably broad in the arts. When did you know the visual arts were your calling and how did you find yourself drawn to animation?
Raquel Coelho:  My mother is a fine artist and my father a science researcher, so I grew up in a family where there was a lot of art as well as a strong emphasis on curiosity and inquiry. I use to go with my mother to the fine arts school in the local university where she was a teacher and (later) a director. There were a lot of artists in my family's circle of friends, too. Everyone was well read and interested in books, plays, cinema, music, dance.  The visual arts were always connected to storytelling and music and even performance… that's probably that's why animation made a lot of sense to me.
ACR:  Are there more similarities or differences between, say animation, and illustrating children's books?

RC:  It is very similar. Both are about images and storytelling. Children's book are often read aloud by a parent or teacher and that can be almost regarded as a type of performance with a rhythm in the turning of pages and a bit of acting in the tone of voice. Animation has similar elements. What is fundamentally different, though, is the fact that animation is a screen art- it is supposed to be projected on a screen of some sort and have real movement and audio to go with it. I guess it is easy to imagine that someone who writes and illustrates children's books would have a strong interest in animation. After all, animation is a wonderful way to bring stories and characters to life.
ACR:  You are, of course, a faculty member in San Jose State University's acclaimed Animation Department. What drew you to this opportunity?
RC:  I heard about the SJSU Animation Illustration program through Marilyn Friedman who was spearheading DreamWorks Animation amazing outreach program at the time. She told me I had to see what they are doing (at SJSU), so I went to their website and was really impressed by the quality of the student's work. They had amazing concept art pieces, paintings, drawings, and short films. Shortly thereafter, I learned they were looking for faculty with a focus on 3D. I applied for the job and in the process of interviewing for it I got to know Alice Carter and Courtney Granner, the founders of the program and largely responsible for its success. They had so much passion for what they were doing and a myriad of great ideas to create and maintain a great Animation and Illustration program. I felt immediately connected to what they were doing, and felt this would be a great place for me.
ACR:  Coursework for animation students at SJSU includes a well-rounded variety of foundational studies during the first two years. How do these years set the tone for the upper division courses in advanced digital animation and conceptual illustration?
RC:  Our foundation courses are extremely important. We hand-picked an amazing group of faculty… we even fly our drawing instructor from LA every week because we feel he is the right person for the job. We are very careful in crafting our curriculum and making sure we have top notch faculty. Students who come in without any previous art instruction are able to draw and paint with fluency after taking our foundation classes. The results are off the charts.
In our foundation courses, we set the tone for the rest of the program. Students understand the level of commitment required to be great in this field; they also understand that in our program we all work together and help each other. Even though we demand a lot in terms of commitment and quality in the art work, we despise ugly competition between students – instead we put emphasis on helping and learning from one another.
We have an amazing student club – called the "Shrunkenheadman"– and during the foundation semesters students get to understand the importance of the club and how to be an integral part of the inner workings of our program. We don't see the school experience as a whole bunch of individual classes mashed up together- we are always making sure that the parts connect and turn into a wholesome learning experience. So, not only the individual classes are important but also participation in the student club, attendance in guest lectures and a variety of other events available to the students.
ACR:  The Shrunkenheadman club is a true asset to your students. Tell us more about it.
RC:  Every student in this program is an integral part of it and every year they elect officers who kind of "run the show". The name Shrunkenheadman is about being humble (aka having a small ego) and also being hard working. That's the attitude they want to inspire in the students. To never think you are good enough, to always strive to be great, and to help your peers along the way. The club is very active in fund raising for the program, sponsoring a series of extra-curricular activities: they organize lecture series, performance events, field trips and more. They run and maintain an amazing library of reference – a resource available to all students. They photograph and document all of our events. They even have a charity group that works with local organizations that need a hand. The Shrunkenheadman is really the heart and soul of the program.
 
ACR:  Do students work on projects collectively, individually or both?
RC:  Students have the opportunity to work individually and in groups. We feel both group and individual practices are important: an artist should be able to sit alone and work on a problem or idea until it is finished; and an artist should also be able to work collaboratively with other artists, supervisors and directors. There are many individual assignments in almost all of our classes. In terms of group work, some classes have group assignments as well – they can be short sequences or long format – short animated sequences with shots done by different people, or maybe a pre-production "bible" with concept art for an animation project. Our senior year usually has a number of group projects in which each student is able to contribute their individual area of expertise – just like in an animation studio. There are also opportunities to work on short films done collaboratively in our program.
ACR:  Year after year, SJSU turns out graduates whose names are on just about any film or game title out there. How do you get them ready for the very demanding careers in the field of animation?
RC:  Well, I guess is a combination of great classes, an amazing cast of guest lectures, a very strong relationship with industry, and all the opportunities the program offers in and out of the classroom. We plan field trips, we take them to Animation Festivals (we go to Ottawa every year with students), we take them to visit studios here and abroad (London and Paris in the past, and who knows what other places we will visit in the future!).  Nowadays, animation is a very demanding field. We know that, we love that, and we make the students understand that. We also keep a great relationship with our alumni. People who graduated from SJSU Animation and Illustration often come back to talk to students and to help anyway they can. I guess all of this makes our program an amazing experience for all involved. 
ACR:  SJSU students leverage a full arsenal of guest lecturers, adjunct faculty and industry professionals from the likes of nearby DreamWorks and Pixar. Is this thanks in large part to your location in the Bay Area?
RC:  Our geographic location is really amazing. We have developed a solid relationship with the top studios in games and feature film in California and elsewhere (BlueSky Studios visits us every year, and now we have also a connection with Laika). Our program has a strong industry component which we highly value. Another part of this "ecosystem" is our alumni. We have alumni working in virtually all the top studios in the country. And they keep in touch, come back for lectures and to critique students work, and they also help on fund raising and all sorts of things. It's like a big family where everyone keeps connected, doesn't matter where they are.
ACR:  Last question: what, in your opinion, makes SJSU's Animation & Illustration so successful?

RC:  I think every animation program has its strengths as well as things they want to improve on. To create and maintain a great art program is a form of art in and of itself. What I find interesting about the SJSU Animation Illustration program is that it is hard to pinpoint one factor that makes it all work: it really is the combination of the people, faculty, students, ideas, events, an ever-evolving curriculum grid, the student club, the field trips, the guest lectures, the alumni, the industry component, that makes it all work... somehow we were able to create our own culture and it's that culture that makes it all worthwhile. It's really like a short film: many pieces have to come together in order for it to work. And then you can have a truly artistic experience.
Check out more interviews at Animation Career Review's Interview Series.