Seneca College may be Canada's largest college (with multiple campuses in the greater Toronto area), but more importantly from our perspective is that it's home to a powerhouse animation department on everyone's radar. Seneca's esteemed animation program boasts a rigorous 3 year curriculum with working faculty members who carefully cultivate the next generation of 2D and 3D artists (many of whom can be found working in little known studios such as Pixar, Disney and Blizzard).
To learn more about studying animation at Seneca College, we chatted with Program Coordinator Jim Zubkavich. A working professional with a host of experiences and accolades under his belt, Zubkavich speaks to the importance of the craft's foundations along with the rigors that students go through to become top-notch talent at Seneca. (This interview, done via email, has been edited for length & clarity). 
ACR:  Jim thanks for participating in our latest Q&A! Along with coordinating the Animation program at Seneca College, you've got a dream job as a comic writer. How did you get your start and eventually find yourself teaching at Seneca?
Jim Zubkavich:  I've had a pretty varied background that's lead me to this point. After taking a year of Film & Multimedia (where I learned basic film language and script writing) and an Art Foundation year to strengthen my drawing fundamentals, I studied Classical Animation. After leaving college to attempt a start-up company with some friends, we slammed into the realities of commercial entertainment. Learning those kinds of hard lessons when you're young is probably for the best.
I eventually worked on Layout/Background design for a few Canadian cartoons and then, just as I was looking to go back to school and re-train in 3D animation, I landed a job at UDON Entertainment (an art studio in Toronto that specializes in creating art & design for movies, video games, comics and advertising). About six months later I started teaching part-time at Seneca and in early 2006 I took over as Program Coordinator for the Animation program. I'm still juggling both careers and have some extra freelance writing heaped on top of that. It's a good and busy time in my life right now.
ACR: That keeps you busy indeed…

JZ:  Being at UDON has given me the opportunity to work with a lot of different companies and opened up opportunities for me to start writing as well as producing artwork which has been really exciting. Almost all of the instructors at Seneca are part-time and stay actively involved in the art/animation industry and I'm no exception. I want our students to gain real world experience and know that the people teaching them are current in their field.
ACR:  Some animation programs focus on the classical fundamentals of the craft and others look to the latest tools of the trade. Where does Seneca fall on the spectrum?
JZ:  A lot of schools take a very software-heavy approach to their teaching but with technology changing so fast and hardware/software growing by leaps and bounds, it can be really hard to teach something current and expect it to still be relevant 3 or 4 years later.
Seneca focuses on core skills in storytelling, art, design and an understanding of animation principles first and then brings those elements into the latest software as the students enter their final year. (That way) students are as up to date as possible, building on a base that won't go out of style. It's been very successful for us so far. We have graduates working at Pixar, Disney, Weta, Blizzard, Bioware, UbiSoft, Rockstar Games and our co-production of 'Ryan' with the National Film Board of Canada won the Oscar for 'Best Animated Short' in 2005.
ACR:  2D skills never go out of style, do they?
JZ:  Both in terms of my background and from what we're hearing from our industry advisory board, 2D art development and training has become absolutely fundamental to what we do. Computers are great and we use a lot of technology in our department but the art is where it all begins. We look for strong art fundamentals in our applicant portfolios and build great 3D animators from that traditional base. 
The industry has taken a strong turn towards art and creativity over the past 10 years. They're not looking for tech-heads anymore. They'd rather have a great storyteller/animator/artist and teach them a software package than try to develop a technician into an artist. Software is replaceable, while a great communicator and creative thinker is invaluable.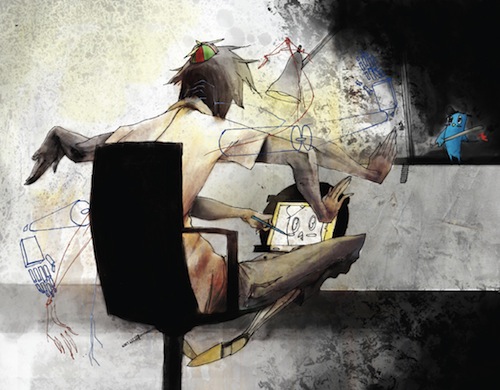 ACR:  What are some ways that you prepare students for the rigors of working within a pipeline and why is this crucial for aspiring animators to learn?
JZ:  The ANI program at Seneca is intense and students have to learn to multi-task and juggle deadlines right from the start. Almost as important as the art and animation skills taught is driving home an understanding of time management and responsibility. Animation is team-based. It requires communication and the ability to understand what's happening in different departments and how your output alters the workflow of other people. Even though students will eventually find a focal point for their skills, we want them to understand the whole production pipeline and their place within it.
ACR:  As you say, animators have to collaborate and deliver results while being creative thinkers. How do you foster in students their ability to tap into both their left and right brains in this way?
JZ:  There's definitely a balance to be struck with a "work hard, play hard" attitude that permeates the halls of our department. We expect a lot from our students but we also want them to remember what inspired them to get into animation in the first place and the joy that comes from creating art and stories.
We have a really fun Spirit Week in the fall packed with community-building events and themed days. We have 'Drawing Jam' get-togethers with staff, students and alumni meeting up to do café sketching and socializing after each term wraps up. The students build tight bonds with each other and those friendships will help carry them through low points of productivity or the stress that comes from cascading project deadlines. We foster a very strong sense of community and it benefits both sides of the right-left equation.
ACR:  Have trends such as outsourcing affected the career paths of new graduates?
JZ:  A lot of the traditional 'grunt' work is moving overseas, absolutely. We teach our grads communication skills that will help them move into more creative and leadership roles over the long term; roles that aren't outsourced as often. Quality production work is obviously crucial but communicating ideas clearly and confidently fostered through our Acting and Portfolio Development courses give our alumni a leg up over someone focused only on their production skills.
ACR:  Lastly Jim, what advice would you give to an aspiring animator considering the study of animation?
JZ:  Stop being a passive viewer of your entertainment. Dig deeper and analyze yourself and your inspirations- art, story, characters, you name it. The sooner you realize what's involved in creative commercial art and start understanding the level of dedication and passion required, the more time you'll have to build the artistic and technical skills required to reach your goals.
ACR:  Awesome stuff. Thanks so much for filling us in on Seneca's Animation program!

JZ:  Pleasure!
To read more about Jim's work as a comic writer and see some of his tutorials, check out his official blog Zub Tales! And don't forget to visit out ever-expanding Interview Series for Q&As with a variety of schools, studios and animators.