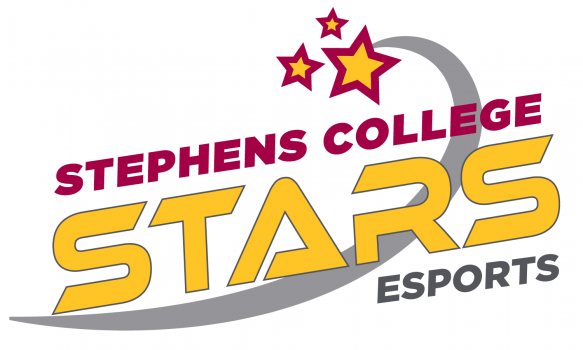 Alyssa Tinker is the Esports Head Coach at Stephens College
Setting goals in competition and academics, Stephens is growing esports at a fast pace.
Animation Career Review: What are the esports in which your school participates? 
Alyssa Tinker: Stephens College participates in Overwatch. It the only title that we are currently participating in.
ACR: If you offer esports scholarships, please describe your program (full ride, in-state only, etc)
AT: We do offer scholarships for both our Varsity and JV teams. These scholarships can amount up to $4,000. There is criteria that has to be met to qualify for a scholarship.
ACR: Please fill us in on your recruiting efforts.  How are potential students identified? Key stats?  What can a student do to connect with your program?
AT: Our primary recruiting efforts are online. We utilize Berecruited, social media, and Discord in identifying and recruiting potential students. The admission office also plays a big role when it comes to recruiting. They are able to hand out information about our program to high schools around the country.
There are several ways a student can contact our program. They can contact me by email at [email protected] or fill out the recruitment form for esports at http://www.stephensstars.com/become-a-stephens-star. Students can also contact us via our social media.
ACR: Esports are new to everyone.  Please share with us the story of how your program came to fruition. 
AT: The President of Stephens College firmly believes esports will be the next big thing and, since we are a women's college, wanted to make sure women were fairly represented.  She tasked the IT department with investigating starting a team.  She suggested Overwatch as our sport since it had a good background story and strong female characters.  An available room was outfitted with computers and an open house was held to see if there was student interest.  The interest was enough to form both a varsity team and a full backup squad.  Stephens became the first women's college to offer varsity scholarships for esports.  The program continues to recruit and field varsity teams in Overwatch. 
ACR: Describe the type of student are you seeking.
AT: Our program is looking for players that want to succeed in both academics and esports. Players are students first and we want to help these students graduated and be successful in their chosen career field. We are looking for students that want are willing and wanting to put in the hard work necessary to be successful at esports. Students need to be able to take criticism and be efficient communicators.  We have a team first mentality and potential players must adopt this mentality as well.
ACR: As esports are so new, what are the common misconceptions people have about them? 
AT: The most common misconception that would have to be that esports is not really a sport.  Esports requires most of the same skills and abilities that are needed to be successful in traditional sports. Communication, teamwork, and fundamentals are skills that utilized every time a game is played in esports. Players have to practice and learn game management skills. They are showing dedication and commitment to hone their craft.  The previously stated skills are also need to be successful in traditional sports. Esports is a sport.  It just slightly differs from traditional sports.
ACR: What are the common concerns you hear from parents regarding esports participation?
AT: I think a lot of parents are concerned about the amount of time their children are spending on gaming and fearing that their academics could suffer because of this.  Our program has safety nets set in place to make sure that students are keeping up with their academics. We require study hours and maintain at least a 2.5 GPA. Players are students first and we must ensure that we have a proper balance between esports and academics.
ACR: Tell us about the season.  What other schools are in your division and conference?  How many opportunities are there to compete for a student athlete?
AT: We compete in the varsity league and tournaments held by TESPA.  There is a preseason in the fall, followed by a bigger tournament and league play in the spring. Players have several opportunities to play. They are able to play in games that are normally every week in the spring as well as scrimmages that are scheduled.
ACR: What can an esports student athlete expect in terms of time commitment?  How many hours of play, practice, travel?
AT: Esports athletes can expect about 12 hours of time commitment per week. Two of the weekly hours are study hours that are a requirement.  The remaining ten hours is spread across team practices, individual practices, and film study. Our student athletes do not have to travel as all our games are online.
ACR: What are the academic expectations?  Are there minimum GPA requirements? Do you offer study tables or other programs to support the student athletes?
AT: We require players to have 2.5 GPA in order to play in games. Players are allowed to participate in practice and other team activities if they have not met the required GPA. These students are just not eligible to play in games or scrimmages.  Players are required at least 2 hours of study a week. There are 2 offered study session that players can attend.  Players struggling academically will meet with me and we make a plan on how we can work together to make them more successful in their academics.
ACR: Share with us how your team is doing this season.
AT: Our season had not started yet.  I am optimistic about our upcoming season.  Our players have shown a commitment to putting in the work to improve their gameplay. I am exciting to see how the players will grow their skill sets in the upcoming season.
ACR: Tell us about your coaching staff.
AT: I am the only coach of the esports team. I am supported by the IT department and they are always willing and able to assist the esports program.  They offer support and guidance when there are hardware issues.
ACR: Tell us about your esports practice and/or competition facilities. 
AT: Stephens College is very supportive of the esports program.  They have a dedicated game room that allows students to play and study.  There are 12 computers that students are able to access. We able to practice and play all of our games in game room.  The students are able to decorate the room and it has become common hangout for students between classes.
ACR: Please share any unique qualities of your program (first one in state, emphasis on team)
AT: Our program is known for being the first all-women's varsity esports team that offered scholarships. We put an emphasis on communication and team work.
ACR: What advice do you have for prospective students wanting to pursue esports, as well as those specifically seeking esports scholarships?
AT: I think the main piece of advice for students pursuing esports is to never give up, believe in yourself, and be adaptable.  Esports is a grind and students have to be resilient and be able to overcome obstacles that arise. Do not give up when things become hard. Have belief that your talent and skills can overcome obstacles.  Students also need to realize that they have to be adaptable. Play styles may need to be modified for the team to win. Students must be willing and able to do this.
ACR: In what ways do participants in collegiate esports programs benefit? 
AT: Students that participate in our program gain a variety useful skills and life lessons. Teamwork and communication are two life skills that are cultivated and encouraged. We not only want our students to succeed in esports, but in life as well.  We come up with life and esports goals at the beginning of the year. We then work together to determine how we can accomplish the goals.
ACR: Tell us about your goals for your program. (Do you expect to add more sports, scholarships, etc)
AT: The program goal is to increase our recruiting efforts. We want to attract more players from around the country to our program.  We would like to have 18 players in the future.
ACR: From a competitive esports standpoint, what is the single most significant moment or accomplishment that stands out in your program's brief history?
AT: Our most significant accomplishment would have to be the growth and improvement that the team has shown since the formation of the program. The players have grown significantly in their skill level and teamwork.  The team has put in the time and effort to be truly competitive against much bigger schools.
Check out more interviews at The Animation Career Review Interview Series.