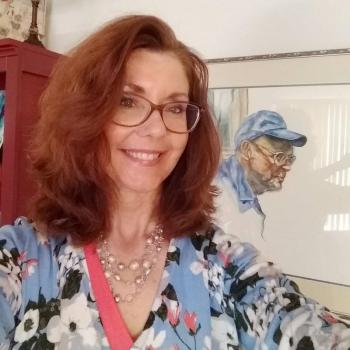 Fairleigh Dickinson University offers a globally-oriented liberal arts education to students in a range of disciplines. At a time when some students are choosing hyper-focused curriculums, FDU's mission remains true to its core: a preparation for lifelong learning and thoughtful living. As a not-for-profit private institution, it is New Jersey's largest private university with multiple campuses. Its School of the Arts is home to nearly one dozen degree programs, including a unique B.A. of Graphic Design that we take a closer look at today.
Within the last few years, the Graphic Design program has doubled in size. Among the many attributes that have led to its steady rise is a commitment to creating what FDU calls "complete designers" who have the creative, technological and philosophical skillsets necessary for today's world. To learn more about the program, we catch up with woman who oversees it all as Program Coordinator, Assoc. Professor Janet O'Neil. We hope you enjoy! This interview has been edited for length & clarity.
ACR:  Janet, you've been on the faculty at Fairleigh Dickinson since 2003 and now serve as the Program Coordinator for the Graphic Design program. Tell us a little about your background at FDU, and your goals in overseeing the B.A. in Graphic Design program.  
Janet O'Neil:  I began teaching at FDU in 2003 as an adjunct professor, becoming a full-time associate professor in 2006. I took over as Program Coordinator for the Graphic Design Program in 2014 and have seen it grow each year. The initial challenges included balancing the administrative tasks while teaching my classes, and making sure that all of my advisees were taken care of.
My biggest goal was to develop a strong foundational program and make us competitive with other universities including those that have BFA programs. We believe that our BA Liberal Arts degree is just as valuable as a BFA; our students benefit from taking other courses besides design, art, and animation which makes them well-rounded designers with a larger toolbox to draw from. In taking a wide range of liberal arts classes, students become skillful at communicating ideas, problem solving, and critical thinking. We've seen their skills grow in complexity and detail, as they bring in concepts from other courses to their design projects.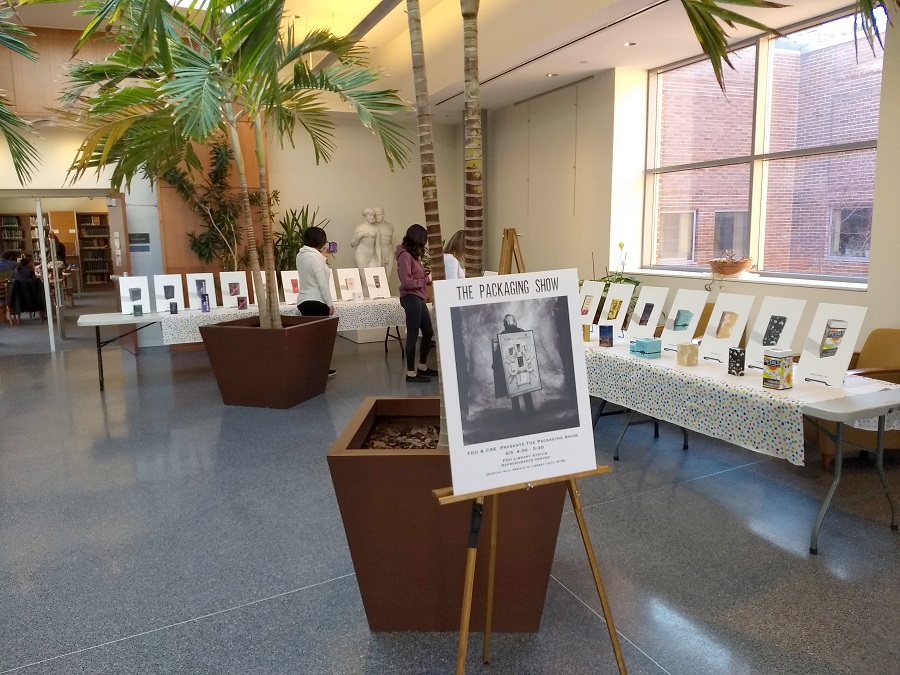 ACR:  Let's dive further into the subject of the liberal arts. What qualities and skillsets do your students gain at FDU that they might miss elsewhere?
JO:  Fairleigh Dickinson University takes pride in offering a liberal arts education because we believe it helps to provide a multi-cultural perspective of the world. Our mission is one of a global university and in being such, we encourage our students to see beyond a singular viewpoint and try to understand other ideological and cultural perspectives. By taking a wide range of liberal arts courses in their general education requirements, our students become excellent communicators and develop strong critical thinking skills which help them as designers in problem solving and in concept development. We focus on teaching students how to critique and present their work to the public and to clients. We emphasize writing and public speaking in our curriculum, which helps to further develop communication skills.
Learning how to challenge conventions, interpret data, and debate ideas helps them to see the world in a variety of ways, making them more empathetic and creative as artists and designers.  We believe all of these components help to make our students better world citizens- especially in how they connect in personal relationships.
ACR:  The B.A. in Graphic Design encompasses three unique concentrations- Print Design, Web Design, and Illustration. How much curriculum overlap is there between these tracks, and at what stage do students select their desired concentration?
JO:  Students select their concentration upon entering the School of the Arts Graphic Design Program, but there is enough flexibility and time for them to change if they aren't happy in their present concentration. There are four courses that are unique to each concentration, with the remaining courses overlapping. Beyond our program, we have three unique courses within Graphic Design that all FDU School of the Arts students take including Career Paths to the Arts, Principles of Marketing, and a Professional Practices course in Graphic Design.
Many students choose to double concentrate and focus on taking eight unique courses. We also offer at least one or two new specialty courses each year that any student can take as an elective including Sell Your Designs Online, Fashion Illustration, Dynamic Design, Mobile App Design, and the forthcoming Aesthetics.
ACR:  One of the mantras of the program is that each student is valued as 'a complete designer'. How does this approach manifest in the classroom?
JO:  Again, this draws upon our belief in giving our students a strong liberal arts and design education. They become intelligent decision makers, able to make critical choices in their designs and artwork. There is a strong emphasis on not only teaching advanced software skills in our program, but in developing an identity of creativity where our students are asked to think outside the box and develop thoughtful and meaningful projects that express not only personal style, but the demands of the task at hand.
ACR:  Social responsibility plays an integral role at Fairleigh Dickinson. How do your students learn to leverage design for social impact? 
JO:  There is a need for social responsibility in graphic design in both the public and private sectors- by large organizations and small entities alike. Designers can learn to use their work to increase public awareness of a variety of social issues across the globe as well as on an individual basis. Through a combination of craft and tools, students learn how to communicate a powerful message through design. Our students work on a variety of collaborations with other departments, campuses, and universities.
Each semester, students design projects of the month that have included Hispanic Heritage Month, Black History Month, Women's History Month, and Earth Day. Every year we work with the College Writing Program and its director Kathryn Douglas on sensitive themes and topics in the media and in our college novel (chosen every two years). We have designed and collaborated on exhibits focusing on Children with Aids, Gun Violence, Modern Human Slavery, Animal Welfare, Pollution, The Ethics of Torture, and America's Prisons to name a few. These collaborations are between writing and design students, working with each other to create artwork, poems, and prose for a final exhibit in our Wave (Words and Visual Expression) Exhibit Space in The Monninger Center.  And, of course, Our Design for Social Responsibility class teaches students how to create powerful imagery that addresses critical social issues.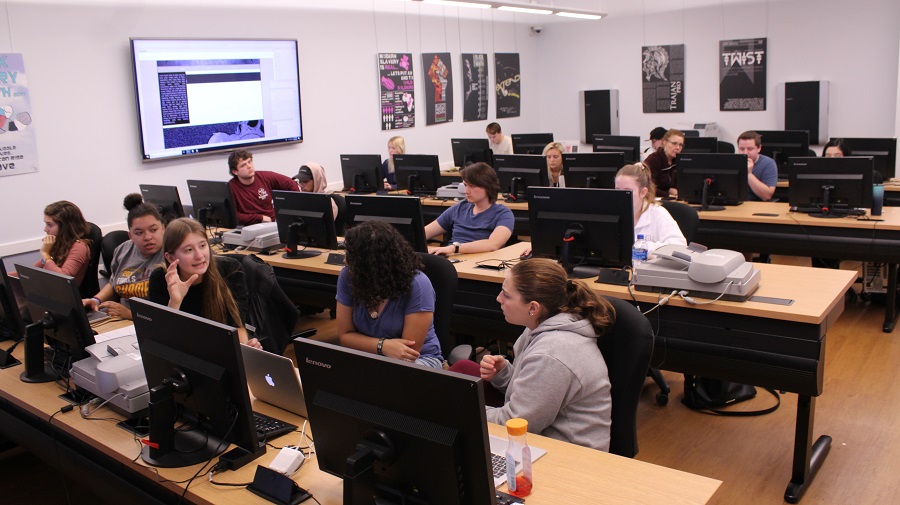 ACR:  It sounds like FDU students typically have internships, or collaborate with the private or public sectors during their education...
JO:  Our students are highly encouraged to take more than one internship during their educational careers at FDU. We have both on-campus and off-campus opportunities; many students find internships in their hometowns during summer break. Our students have interned for the Susan G. Komen Foundation, Morristown Medical Center, Fox Business News, the Shay Sports Group, CR Bard, and the FDU Rothman Institute to name a few.
In addition, our Fairleigh Dickinson Design Studio provides real-world experience for students to take on projects where they become the project manager and content creator for outside clients in the community as well as on-campus for college credit. We have had students do everything from illustrating children's books, to designing web sites, to theater poster design, to developing marketing materials, to creating graphics for apps.
ACR:  Tell us a little about the diverse faculty that you work alongside, Janet, and how their professional experiences help shape your students' education.
JO:  John Cinco and I comprise the full-time graphic design faculty, with adjunct faculty comprising the rest. John brings a wide range of expertise to our curriculum as a fine artist who graduated from SVA and as a designer who exhibits his digital artwork all over the world- including in his home country of the Philippines. John's expertise in print design helps teach our students about attention to detail and design finesse.
All of our adjuncts are working artists and designers and participate in our thesis presentations and exhibits. Ray Cruz is a nationally known typographer who teachers our Typography classes, bringing a unique perspective to typeface design and font creation. Ron Levine has had an extensive New York career in design and illustration and is an accomplished fine artist. Jon Weiman has taught at Pratt and brings a level of business expertise that our students find invaluable. Bill Yermal is a working illustrator who has mastered the art of children's book illustration, teaching a unique perspective on creating books. Tara Bauer is a strong Adobe instructor who knows her programs inside and out. Kathy McNeil is an award-winning designer of the Promethean Magazine at CCM and brings a unique perspective to History of Graphic Design classes and social media marketing design. Barbara Singer Friedman has been a working designer in her own company for many years and brings a exceptional approach to branding and creative concept development as well as our foundational Intro to Graphic Design course. I have been a web designer for over twenty years focusing on coding and front-end development and have now transitioned to illustration and designing products and creating children's books.
ACR:  Perfect timing- I wanted to inquire about your own career as both a web-designer and an ilustrator. Speaking from experience, what attributes and skillsets do you think are most imperative for today's designers to possess?
JO:  The most important principles our students learn are how to work with a deadline, how to develop creative ideas and concepts, how to persist through any obstacles they come across, and how to work as team players. Artists create for themselves, but designers create for others; learning how to handle criticism without taking it personally is crucial in our field. Knowledge of how to work with others on group projects and in the many collaborations and exhibits we engage in teaches our students how to collaborate in a congenial manner, learning how important it is to finish a project and have it properly done and ready on time.
ACR:  FDU has multiple NJ and international campuses; the Graphic Design program resides in the suburban surroundings of Madison, NJ. Tell us about the campus culture and lay of the land there. 
JO:  Our Madison campus is, in a word, beautiful. From our historic Vanderbilt Mansion to our contemporary Monninger Center, we have a variety of venues for students to learn in. The campus grounds are meticulously maintained and provide a feast for the eyes as you walk around campus. Our spacious design lab is equipped with 24 computers and 3 smartboards that allow for maximum viewing while learning software and design fundamentals. We have Wacom tablets for digital illustration, and iPad Air tablets for presentation, sketching, and publication design. Our classroom atmosphere is one of experimentation and investigation, focusing on allowing students to develop a personal style while learning to design for clients and projects.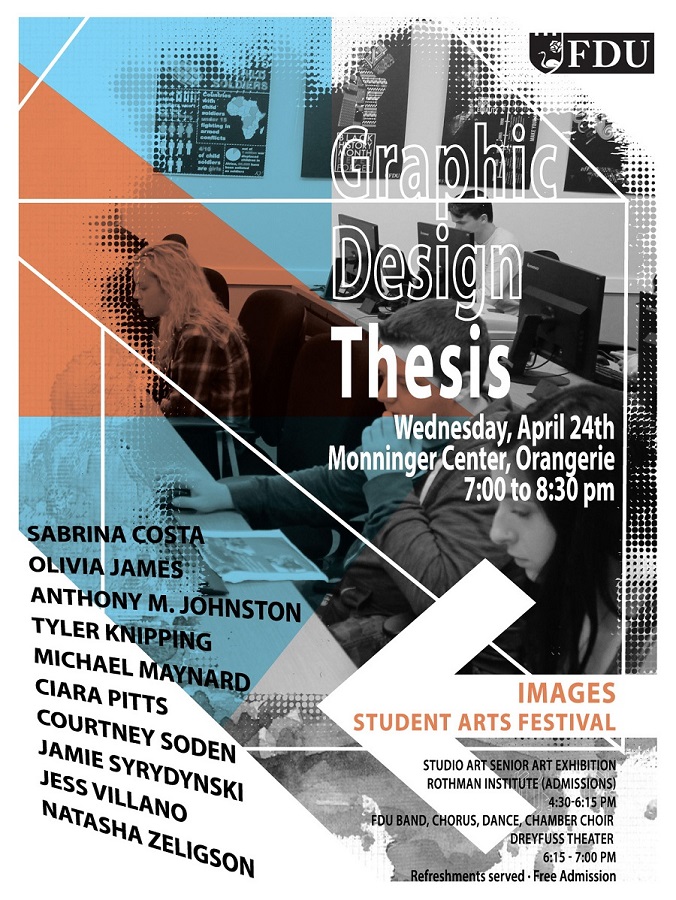 ACR:  Though it is a private school, FDU habitually ranks high for both its world class education and its value as a not-for-profit university. What's the secret recipe, Janet?
JO:  We focus on academics first, but encourage students to participate in our outstanding sports programs and campus clubs. The graphic design club is one of the most popular and hardworking organizations on campus. Another great attribute is our study abroad program which allows students to either study for a semester in a place like Italy, China, or Japan, or choose a short-term assignment at our sister campuses in Wroxton England or Vancouver, Canada. Our School of the Arts Living and Learning Community allows students from across the arts disciplines to live together in one dorm and participate in events, mixers, projects, and trips.
We have outstanding faculty who love what they do and want to encourage students to be outstanding in their field and as global citizens. One of our greatest strengths is in teaching our students how to be entrepreneurs and how to manage their careers once they graduate. These are in addition to our already strong Portfolio and Thesis courses. We are fortunate to be able to extend these opportunities to our students, and that makes FDU a special university.
Check out more interviews at Animation Career Review's Interview Series.