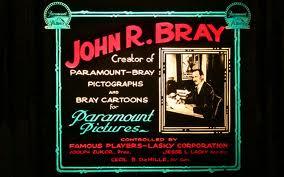 Tom Stathes isn't your typical cartoon buff. Instead of following the road more traveled like most animation fans his age, Tom prefers to honor the time-tested and true animation of years gone by. His childhood onward love of classic animation led Tom to create The Bray Animation Project, a collection of silent animations created between 1913 to 1927.
The Bray Animation Project focuses on chronicling films and other media created by the Bray Studios in New York; Tom's goal is to "pay overdue homage to an early New York City film studio whose product has been painfully understudied. Noted film and comics historians David Gerstein, Charlie Judkins, Mark Newgarden, Ray Pointer, Tom Stathes (yours truly) and Jack Theakston have provided informative texts for the site."
The historic project brings together an array of imagery, rare videos, essays and the most-complete filmography to date from animation pioneer J. R. Bray. The project is successfully completing a repository of early-animation gold for history buffs, classic-film fans, animation enthusiasts, and early-cinema aficionados.
In addition to creating The Bray Animation Project Tom is also the proprietor of Cartoons On Film. Somehow we managed to pry some time away from Tom in order to pick his brain about his business, labor-of-love project and experiences in the industry:
Why did you choose animation restoration as opposed to the more contemporary creation-oriented careers?
Early on in my animation fandom, I realized that I was not so much of a proficient artists in the classical sense. I could draw a bit and enjoyed doing it, but it really wasn't my strength. At the same time, though, I realized that I didn't have to completely stay out of the field of animation despite not having much of a talent for creating my own product. It was also in those early years that my appreciation for early animation history grew and I began to learn that many pivotal films from early studios could not be seen in any mainstream sense. My film preservation efforts were born out of this simple hurdle and led me to take on the challenge of finding these films, many of which are now over 90 years old, and trying to save them from deterioration.
Fill in the blank: The future of animation is _________.
Digital. There are purists, usually animators in the over-the-hill category who still produce animation in the traditional hand-done fashion, but the computer has proven to be the method of choice for new artists. Younger generations have been brought up with knowledge of the computer and are better adapted to it, and in turn, their heavy use of it is also a response to corporate applications of animation that want the work done faster and with less outlay of cash.

What are the best and worst aspects about restoration and chronicling?
Restoration, as it were, is a process that comes after basic preservation. The first and foremost 'worst aspect' of preservation is that many of the films in my scope of focus simply no longer exist, or are still waiting to be found. Keeping that in mind, it is especially difficult (and heartbreaking) when certain early films and cartoons surface but the owners of these elements prove to be difficult or unwilling to share their material on fair terms. So, we will likely never get to see some of the films we read about, and others may be kept hidden for personal reasons. On the bright side, many 'lost' films (although barely known in today's historian circles) turn up often and thus the preservation and possibly restoration endeavors are then plausible. The final result is making forgotten, pivotal films available once again for the public to enjoy and study. It's a very culturally rewarding experience when finances allow this to happen.
Among your firm's achievements, which one(s) are you the most proud of?
As proprietor of Cartoons On Film, I'm most proud of the Bray Animation Project which I organized earlier this year. The website is a continually-updated culmination of many years of research and film discoveries. Before and during the existence of the project, I've been working to have various Bray cartoons from the 1910s and 1920s preserved by the Library of Congress using film elements from their and my collections. As time goes by, I trust this site will be a resource to many film historians and students and will help to garner interest in the further locating and  preservation of Bray films.
Seeing as much classical animation as you do what do you feel the biggest changes have been in animation over the years?
Put simply, I have seen animation come full-circle. Pioneers in the field began with very rudimentary technologies and thus produced very rudimentary-looking product in the early days. Their films usually comprised simple line art on plain white backgrounds. While animation became extremely complex over the next forty years of its development, early TV animation harked back to the early days of simplicity...because the demand for new material was high but the funds were short. Today, we are seeing the same results with simple flash animations. Not so much because there is a lack of funds in major commercial applications of animation, but because the digital method of production still proves to be cheaper and faster. While animation is over a century old now, I feel it's once again in some kind of transitional period, and I am a bit pessimistic about how much manual human involvement there will be in the future of animation. 

Do you find more similarities or differences between restoration-focused animation and creation-centered animation?
Creation-centered animation and the restoration of animation are completely different applications of the art form. In restoration, we must be absolutely faithful to a long-ago-deceased animator's work. One exception is Bill Plympton's recent colorization and soundtracking of Winsor McCay's "The Flying House," a 1921 film, which removes various elements of the original production. This is not truly a restoration and is more in the vein of creating a remake or new product. While new animated films are sometimes made to look like the 'classics', they are oft not produced with the same methods; defeating the intended purpose. So, yes, there are stark differences between restoration-focused animation and creation-centered animation.
What particular schools, if any, would you recruit new hires from? If none, where do you recruit new hires?
Unfortunately, my endeavors have as of yet not garnered enough to be able to employ other individuals. I would say, though, that the School of Visual Arts and Parsons School of Art and Design produce very apt students of animation. I would look to those two establishments for future employees if I had the necessary funding for them.

What advice would you give to aspiring animators?
It is easy for me to recommend studying more and more of the history of animation, but I realize that its importance will not carry much weight with all aspiring animators. My advice, then, would be to experiment with the manual, non-digital forms of animation so as to get a better understanding of how the basic art form works. In my opinion, computer programs are simply aids and not the best starting point for one who is learning how to animate on a career scale.
What were your most challenging projects, and why?
In my field of work, the most challenging project is to find funding for the acquisition of materials (cartoon films) and then the technology to preserve and restore those films. Thankfully, though, after that hurdle is defeated, the basic preservation of these films is usually straightforward. It simply requires time, patience, funding, and the cooperation of outside facilities when photochemical processes are needed for reprinting films. I should note that no film is truly preserved or restored unless it is mastered back onto an actual film stock format.
What kind of education did it take to get you where you are today?
Self-education. I read books on animation history as a child and as I grew a bit older, I began to make connections with other individuals in the field. Nearly all of what I know and apply to my work was learned through first-person experience and networking. One can learn animation in a school and film preservation in select few universities, but nothing beats going headlong into the field and making connections without academia under one's belt. It is certainly possible to be fully self-taught in this realm of the arts.
What animation software packages does your firm prefer to use? Which one would you recommend to beginners?
As of now, only Final Cut Pro is being utilized since no new animation is being produced from scratch.
Could you share with us your best story about working in the animation industry.
There is no one best story, but I will offer one suggestion. I have found that when you are truly passionate about whatever it is that you do, people in your field tend to highly appreciate and value you. This has been true for me in the animation history circles. To prospective animators, I would suggest to find a niche, a specific and hopefully unique style of animation that becomes the person's trademark. Then, by applying a level of fierce dedication to that form of art, one should be able to enjoy applause from his or her peers and hopefully find work opportunities as a result. Dedication and openness to learning and perfecting one's craft can lead to many great life stories.
As restorationists, do you feel you have escaped the modern scourge of animation, overseas outsourcing? If no, how have you dealt with it or compensated for it?
In my experience, the outsourcing has not affected what I do and probably because there is less commercial demand for it compared to new product. It is a different situation because overseas locations and/or monetary exchange rates cannot replicate what I have in my film library. This is, however, a concern to burgeoning artists who are going to be providing commercial works of art. Hopefully, something will be done to combat outsourcing in the future so that artists in our own country can enjoy and live comfortably with pay rates that are conducive to their efforts. We need to move toward a situation where "free trade" is not only fair for businesses, but also for individuals who rely on paid works for hire.
Check out more interviews at Animation Career Review's Interview Series.