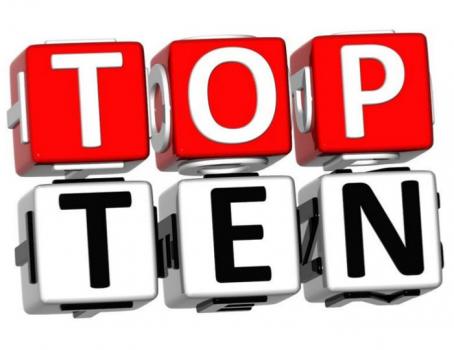 Hit F5. That's how long it takes for a new YouTube celebrity to be born, and these days most of them are coming from the game industry. People share edited or unedited gameplay videos of them playing games for minutes or hours with commentary, and millions of other gamers rush to watch them. The vicarious Let's Play obsession has taken over YouTube and led to the rise and success of the livestream gaming site, Twitch.TV, which Amazon bought one year ago for $970 million. Today, in honor of the brand new YouTube Gaming streaming app that just launched to compete directly with TwitchTV, we're doing a tour of the ten YouTube gamer accounts with the most subscribers on the Internet. Our only restriction is that we won't include big corporate company accounts!


10. TheDiamondMinecart. 7,693,221 subscribers.
Daniel Middleton also goes by the nickname DanTDM, and in 2013 he married another YouTube Let's Play gamer. Since Minecraft is mod friendly and also happens to be one of the most played video games of all time, gamers continually find themselves lost in a sea of mods and not being able to keep up. Dan has posted hundreds of "Mod Showcase" videos to direct gamers to the mods they will enjoy the most, and he even created the famous Diamond Dimensions survival modpacks as well. Add in episodes of his Minecraft storylines, memorable characters like Dr. Trayaurus, and footage of him playing fun minigames and you've got one of the most well rounded Minecraft players on the Internet. Over the years this England gamer has also uploaded videos for Terraria, Spore, Grand Theft Auto V, and Garry's Mod.

9. CaptainSparklez. 8,786,356 subscribers.
One day Jordan Maron posted a Gangnam Style parody video (complete with remixed Minecraft digging and diamonds lyrics) titled "Minecraft Style" and uploaded it to his CaptainSparklez account. A few days later it had been viewed over a million times and began getting discussed on NBC, Mashable, and the far reaches of the Internet for months as it shot up to 37 million views. Sadly, it was removed from his channel due to DMCA takedown requests, but big surprise, this is the Internet, and you can still go find dozens of copies of it elsewhere on YouTube if you're curious! Over the years he's uploaded videos for a few other games from his Los Angeles residence, such as The Ship, Depth, Garry's Mod, GTA V, and the Trials racing games, but his daily Minecraft videos are what helped him turn 15 million minutes of fame into an 8 million subscriber army of fans.

8. Markiplier. 9,111,094 subscribers.
Mark Edward Fischbach created this channel in May of 2012 and has already made over 2,500 videos! He often uploads several videos a day, and his Let's Play videos span every genre of games imaginable, although lately he most often plays scary games. In the past two weeks alone, Mark has made lengthy gameplay videos for the games (take a deep breath) Passing Pineview Forest, Rocket League, Sonic Dreams Collection, My Bones, Racket Boy, Frightened Pixels, Sushido, We Happy Few, HuniePop, Hush: Into the Darkness, Poly Bridge, Lakeview Cabin, Drawful, Blank Dream, and two Evil Within DLC titles (now exhale, phew!). In his free time, this American gamer has still managed to raise $628,670.14 in charity funds!

7. TheSyndicateProject. 9,137,529 subscribers.
This UK YouTuber is from Manchester, England, and his channel has received over 1.7 billion views since it started on September 3, 2010. His real name is Tom Cassell and he originally made all of his Let's Play videos for Halo and Modern Warfare 2, but has since branched off to focus on Minecraft and several other games, which helped him become the first Twitch.tv user to reach one million followers! Tom also worked on the Dead Realm indie game project, but Gamasutra recently questioned whether his Dead Realm channel videos violated some of the FTC strict guidelines on how YouTube accounts need to disclose their endorsements. Even though he disclosed the information in some of his videos, it might still be a legal gray area. Not the first time a Let's Play video has had legal issues, and it surely won't be the last!

6. KSIOlajidebt. 10,305,396 subscribers.
A sports Let's Play gamer! Well, sport. Olajide "JJ" Olatunji runs the channel and posts videos of him playing hours and hours of the yearly FIFA soccer games. Other than the occasional GTA V clips or videos from other soccer gaming franchises, FIFA is his favorite. He doesn't upload daily like many of the names on the list but he makes up for it with content versatility; most of his videos are vlogs about his life in the United Kingdom as he goes to the gym, visits music festivals, creates voiceovers in a studio, and his other entertaining adventures around the world.

5. VEGETTA777. 10,784,050 subscribers.
Samuel de Luque uploads a healthy dose of Minecraft videos each week, but also finds time to post twenty or thirty minute gameplay videos for other games, too. All of his content is in Spanish, and he's been integral in spreading the Let's Play movement throughout Spain and Latin America. Whereas VanossGaming and ElrubiusOMG have reached their immense fame by uploading only 313 and 520 gaming videos, Vegetta777 and PewDewPie are powerhouses who have both uploaded a whopping 2,400+ videos! Look for those three other names coming up on this list!

4. SkyDoesMinecraft. 11,288,223 subscribers.
On March 5th, 2011, Adam Dahlberg uploaded "Sky Does Minecraft Episode 1: Shelter" explaining how the game was played, and the rest was history. He currently has the 20th most followed user account on YouTube, making him the most influential Minecraft player in the world other than the game's creator, Markus "Notch" Persson. Adam lives in Washington, USA, and uses Minecraft's mod flexibility to create party minigames as well as ongoing "Minecraft Roleplay" storylines animated in-game by him and his friends. Each day a new video goes up and millions rush to watch it and enjoy his happy corner of the Internet where for fifteen minutes every night you can forget about life's hardships and just have fun with some familiar voices.

3. ElrubiusOMG. 13,245,863 subscribers.
PewDiePie is from Sweden and VanossGaming is from Canada, but both speak English in their videos. ElrubiusOMG is from Madrid, Spain, and is proving that the Let's Play obsession isn't just an American trend. Rubén Doblas Gundersen is a 25 year old YouTube Spanish speaking superstar, and his videos stray from purely gaming content often, which is working out great for him. The official VanossGaming Twitter account has 1.16 million followers, but the official ElrubiusOMG Twitter account is currently sitting at 4.17 million. PewDiePie still has them both beat though, with an astounding 6.4 million followers!

2. VanossGaming. 13,864,452 subscribers.
VanossGaming, run by Evan Fong, is currently the 12th most subscribed channel on YouTube. The official VEVO accounts for Taylor Swift, Eminem, One Direction, Katy Perry, and Rihanna each have between 15 and 17 million subscribers, showing that even the world's biggest music stars are struggling to compete with gamers in YouTube clout. Vanoss's channel is a little light on true "Let's Play" content and instead filled with endless "Funny Moments" highlight videos of every game and mod you've ever heard of, and plenty of ones you haven't. During the first half of this year he secretly worked as Creative Director for the survival horror game Dead Realm, which was released on Steam earlier this month as an Early Access Game. Is this the dawn of famous Let's Play gamers transitioning into careers as game designers?

1. PewDiePie. 38,894,862 subscribers.
Pewwww-dee-pie! Gangnam Style is the biggest YouTube video sensation of all time. Psy's music video quickly became the first YouTube URL to ever receive one billion views, and it currently has 2.4 billion views. It's supposed to be hard for me to put YouTube world records like that into perspective, but PewDiePie's entire YouTube channel has received 9.87 billion views so far. Even more impressive, his 38.8 million following grew 21,000 larger in the past day, keeping him well in the lead as the most subscribed user channel on all of YouTube, with second place (HolaSoyGerman) having 15 million less followers than him! If Psy's Gangnam Style is the "oppa" rabbit that raced to the finish line, then PewDiePie is definitely the Swedish turtle who will always win the race. His real name is Felix Arvid Ulf Kjellberg, but PewDiePie is the name that was featured on TIME's list of the 30 Most Influential People on the Internet.
In 2011, Felix dropped out of school to keep making his heavily edited and highly entertaining Let's Play videos for mainstream games and indie games alike. Not many people besides his parents called him crazy because he wasn't Internet famous yet. He quickly became broke and took a job at a hot dog stand, which he looks back on proudly and says it was "the happiest I was at that time" because it let him earn just enough money to continue doing what he loved: having fun with games and sharing them with the world. Eventually the planet took notice of his editing skill and gamer passion, and he earned approximately $4 million in 2013 and $7.5 million last year.
Despite being rich and famous, PewDiePie carries on as if not much has changed. He still pumps out videos almost daily out of a love for gaming, and every time he posts a video about a small indie game it receives a "PewDiePie Bump" in sales similar to the Colbert Bump, making him the holy grail of marketing in the game industry. Felix doesn't just help game developers though; he's also raised over one million dollars for charity after his fourth charity drive for "Save the Children" raised over $630,000. This, by the way, was back in June of 2014 in honor of him hitting 25 million subscribers. If he's already nearing 40 million, and the original YouTube celebrity Smosh is ranked 4th in the world with only 21 million, then I'll be surprised if anyone beats him to 100 million. The official YouTube channel only has 23 million followers. Need I say more?
If you want to read more about the eSports side of the gaming industry, here are the Top 10 eSports Players of All Time!