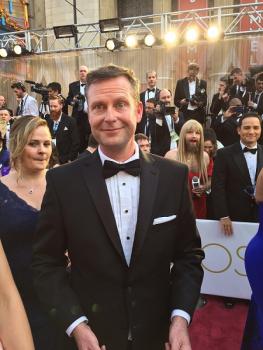 When it comes to VFX artists, Matt Sloan has a filmography that's hard to beat. Honing his skills alongside his profession's best and brightest, he has travelled around the world and back again in pursuit of work experiences that would catapult him to new levels.
Sloan served as Technical Director on Weta Digital's groundbreaking 2009 blockbuster Avatar (which picked up an Academy Award for Visual Effects). From there he continued to develop and prove his VFX cred at Weta on titles like The Avengers and Peter Jackson's The Hobbit series (both nominated for Oscars in Visual Effects). In 2013, he headed over to 20th Century Fox where he worked on XMen and Ridley Scott's The Martian as VFX Supervisor.
We've been eager to ask Sloan how he got into VFX and what he's learned about pursuing a craft that is ever-evolving. Despite his always frenetic schedule, he graciously responded to our questions and offered insight for those eager to break-in the industry. We hope you enjoy!
ACR:  Matt, let's start at the top. When did you first become interested in VFX, and how did you go about learning the ropes of the craft?
Matt Sloan:  I was always interested in special effects as a kid. Growing up on a farm, I used to blow up model airplanes and Legos. I subjected my family and friends to very amatuer zombie and monster make-ups that I produced with whatever I had available! When I got into the film industry, I began as a runner for the SFX crew on the movie "Fortress" and from that point onwards I never stopped. I've been a PA, a Runner, SFX Assistant, Art Department runner, Set Dresser, prop builder, among other roles.
As the industry shifted away from practical effects and towards more visual effects, I learned a whole new skill set. But my background in special effects and animatronics has been invaluable as a VFX Supervisor today. It gives me a very good sense of what we can achieve practically versus what should be done digitally.
Everything I know is either self-taught or learned on-the-job; I worked all day and studied at night and read anything I could get my hands on. I spent many long days learning from experienced film makers, testing my own ideas, a remembering all the details. One of the great things about the film industry is that you know the people you are working with love their jobs. There is no way in hell you would ever do this if you did not love it. A good team makes all the difference and you learn from them.
ACR:  Have you had mentors in your career?
MS:  The thing to keep in mind is you can learn from anyone. Visual Effects is not a single solution type of job. There are many different ways you can achieve an effect. I've had no real mentors as such, but I always listen to my peers and especially the vendor supervisors I'm working with. Being open to other peoples' ideas is remarkably helpful. You meet a lot of very clever people in this industry. It's a resource you do not want to waste.
ACR:  You worked your way up to your VFX Supervisor role, which puts you at the heart of the VFX team where you balance the needs of many people and departments. Describe what a typical day is like for you...
MS:  The day varies greatly depending on what stage of production we are in. During prep, the days are fairly formulaic- meeting with the key crew and creatives to discuss what effects will be needed in the film and how to achieve them. During the shoot, my goal is to plan the best and most comprehensive way to capture the highest quality images for our VFX vendors to work with. Good quality plates and good data to back them up help in the production of VFX shots. Unfortunately, during the shoot all of our planning can fly out the window. We usually shoot 12 hours a day on multiple units, so keeping up with everything and adapting to the inevitable curve balls becomes a huge challenge… the days can be crazy but a lot of fun.
Post Production comes next and that's when the work really begins once Editorial has put together a timeline and we've kicked out the image turnovers to the vendors. We usually review shots daily at this point, with director reviews every other day. It's my responsibility to give clear technical and artistic direction to our vendors. They are often based thousands of miles away from us, so we have to accommodate different times zones and communicate remotely; shots  will come in at all times- day and night. Once shots are in the cut, we review them once again and ask for changes if necessary. The closer we get to delivery, the faster and more furious the submissions become and the less sleep everyone gets!
ACR:  Do you have a software of choice, Matt?
MS:  My main review tool is Tweak RV because it offers me a lot of different ways to review material. Strangely, RV has been my tool of choice for years. I'm looking forward to them developing something a little more user-friendly as I haven't found anything that beats it. I use the constant technical changes as building blocks. VFX have always been on the deeper side of film technology, so we're seasoned adaptors.
ACR: Of all the many blockbuster and Academy-Award winning films you've worked on, do any stand out to you personally?
MS:  Top of the list has to be "The Martian". I love space technology, so I was in heaven the entire time. I got to go to Cape Canaveral and shoot a rocket launch and hang out with NASA scientists and astronauts. I've also spoken at JPL about space travel in movies. It was pretty amazing. Other highlights for me are "Avatar" and "Prometheus". "X-Men" also holds a special place because of the Quicksilver sequences… those were super challenging, but turned out pretty great.
ACR: What projects appeal most to you?
MS:  Projects where we get to do something special always appeal. Having technically challenging sequences and shots and bringing them to life is the real appeal with this job. Also, crew is important. There are people whom I love working with and will do so again and again. A great film with great people and great VFX work… that's always going to appeal.
ACR:  Speaking of, you've had the opportunity to work with incredibly talented artists in location around the globe. Any keys to your success in terms of the personal sacrifices you have to make?
MS:  The main thing to understand is that this is a lifestyle and it's a commitment that unfortunately can mean a lot of sacrifice. But the rewards can be incredible. Having a very understanding, supportive home life. Make sure you have money in the budget for local hotel rooms. Keep it fun… at least as fun as you can! I've worked in some incredible environments with amazing people; looking back, I feel very privileged.
ACR:  Lastly, what's the best thing about your job, Matt, and where do you want to go from here?
MS:  Without a doubt, it's the people I meet.... I work with some amazing human beings. Also, the amount of creativity we utilise is great. Being able to brainstorm a problem and come up with the most effective solution is extremely gratifying. It's never boring.
As far as where I want to go from here, I'm pretty happy as it stands. I take it project by project. I'm always learning and the technology is evolving at such a rapid pace. It's a very exciting time to be in the industry!
Check out more interviews at The Animation Career Review Interview Series.