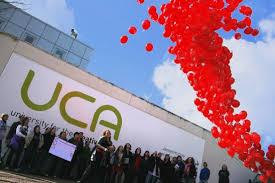 Though its history as an art school dates back to Victorian times, the UK's University for the Creative Arts Farnham was more recently purpose-built for artists in mind. Today, it serves alongside the other UCA campuses and boasts a slew of tempting programs including a distinguished animation department. Along with a vibrant creative community and quick commute to London, acclaimed faculty and alumni attract budding artists to its campus in the south of England (its most recent alumnus in the news is Chris Butler, '95, co-director and screenwriter of the Oscar-nominated animated film ParaNorman).
To learn more about UCA Farnham's celebrated animation program, we spoke with Lesley Adams, Course Leader in Animation, for our latest spotlight Q&A. Adams shares her thoughts on cultivating young talent, the diversity of lecturers at Farnham, and the UK's prominent role in the animation industry and what it needs to do to continue to foster creative talent. (This interview, done via email, has been edited for length & clarity).
ACR:  Lesley, thanks for participating in our latest spotlight Q&A. To start, the animation curriculum at UCA Farnham focuses on the individual student, encouraging them to experiment with different mediums. Why do you believe this approach works so well?
Lesley Adams:  For us, it is about the idea – not the how but the why. Yes, we have students who come here knowing they are drawn to CG or stop frame but we have an awful lot who just know they want to animate, to make films. The interesting part is how they find their way and they change throughout the course. I love working in a class where one student is making a classic cartoon, another (is making) a deeply personal film and another, a political statement!
Because they make their own films, somewhere along that process they usually find the area that they really love or excel at (hopefully it is one and the same) – and this is where they can develop and build their specialisms. We encourage them to put their skills centre stage – whether that is model making, animating, lighting, editing. With all of our work we go for the idea first and then try to find the best way to get that over visually and structurally. We have great technical tuition which really enables our students to see how technology serves the creativity and idea- not the other way round!
ACR:  On that point, some animation programs focus strictly on the fundamentals of the craft and others look to the latest tools of the trade. Where does UCA fall on the spectrum?
LA:  Strangely enough, we are placed at both ends of that spectrum! For the fundamentals, being able to draw - to capture a movement, scribble down an idea - is a student's primary tool. So at Farnham we do life drawing, sketchbooks, walk cycles, ball bounces all on paper first. At the other end of the spectrum, our students use all of the latest industry standard software. It is important that they are able to go out and fit into any studio environment, knowing all the appropriate workflows and methods.
The trick is to encourage problem solving and get students to confidently use the technology as a creative tool that offers opportunities and not limitations. We have Macs, Dragon Nikon D90's, the full Adobe CS suite including Softimage, Photoshop, Final Cut Pro, After Effects even 16mm but really it's what the students do with them that makes them interesting. For instance, if you look at the work of one of our recent students Chloe Rodham most people would say it was traditional stop frame animation – Chloe wanted it to 'feel' like this but apart from the puppet everything else on screen is created digitally. Most films now made use some combination of 'real' and digital.
ACR:  You have an enviably diverse and award-winning faculty roster, not to mention a revolving door of accomplished guest lecturers. What does the program look for when bringing in new lecturers?
LA:  Variety. One of the real joys of animation is its diversity; our Visiting Lecturer series aims to introduce our students to a broad range of approaches, attitudes and ideas. This year alone we have had Michael Dudok de Wit who enthralled the students with his thoughtful views on art, animation and filmmaking. You can contrast him with Max Hattler who, although equally thoughtful, uses his animation very differently within installations and 'happenings'. Then (there's) Merlin Crossingham from Aardman Animation – a company whose raison d'etre is to entertain.
Their differences are obvious but it's the points in common that make it interesting – passion, the ability to play, to take risks, perfectionism, the need to move forward and hilariously that animation can, at times, be very, very boring!
ACR:  Speaking of diversity, how do you help students hone into their own creative voice?
LA:  One of the mantras of creative education is to base your work on what you know. This is fine if you are someone who has had a rich, varied or dramatic life but if you are a twenty year old that not much has happened to, then this is not such a useful start point. So the thing to try and get to is some form of truth. There is little that is more powerful than something that rings true – this might mean stripping away years of Manga copying, or opinions of 'I can't draw, I'm no good at it'… whatever it is there is usually a core of who someone is, what they love, what fascinates them – when you get to this, this is the place to build from.
ACR:  Switching gears, have there been recent industry changes that have the potential to significantly alter the career course of budding animators?
LA:  One of the most significant changes to the industry in the UK is the economic downturn – there are fewer studios, smaller budgets and everyone is tightening their belts but as in all recessions, there are opportunities out there. For instance, in the last few years many of our students have formed their own companies or collectives that can expand or contract with the workflow. We have had third years directing prime time TV ads whilst still at college!
A long time ago we recognized that in this industry you are likely to pitch on five times more jobs than you get – so we put pitching and presentation at the core of all our major units. We also recognize that the industry is far more competitive so we encourage networking, promotion and work experience from as early as possible within the course. We have a really in-depth career preparation strand that covers everything from your website to show reel, and interviews to accounting for freelance. We hope our students are ready and able to either go into industry or create their own opportunities long before they graduate!
ACR:  The UK has an incredibly rich animation tradition that spans all forms of the craft. First, what do you attribute to the country's success and concentration of animators? And second, what needs to happen to sustain its bold tradition into the future?
LA:  It could be something in the water – Preston alone is responsible for four or five of the country's leading film makers including Nick Park. Actually, many of the best British animators are the ones that really play off their 'British-ness'- we live on a small island, we are made up of a wide mix of people, we have a reasonably long history – there are a lot of quirks and idiosyncrasies to being British and animators like Joanna Quinn, Nick Park, Daniel Greaves, Candy Guard and Mark Baker capture this perfectly in their work.
There is also the fact that animation allows you to fully create your own little world (very British!), no matter how odd or disturbing, so this can appeal to real individuals like Robert Morgan, Cyriak Harris and Suzie Templeton (all Farnham alumni). Then there are those who like to tinker with the 'mechanics' of movement and film like Stuart Hilton, Tim Macmillan and Paul Bush – making it a very respectable British obsession with minutiae!
In order to sustain this industry, we have to recognize and value our own skills and individuality. We have great creativity combined with genuine craft. Our universities should remember we offer education and not just training – we need to recognize that we are there to open minds, to allow students to experiment and to take creative risks as well as to teach the necessary skills to be a part of this industry. The UK government could help by offering tax breaks to our industry – it would be awful if a company like Aardman had to go overseas but as I said earlier, the most powerful thing you can be is yourself – so I hope our industry remains very 'British'.
ACR:  Lesley, it's been a pleasure learning about UCA-Farnham's distinguished animation program (or should I say programme!). Thank you for taking the time to speak with us!
LA:  Thank you, Bonnie.
Check out more interviews at Animation Career Review's Interview Series.