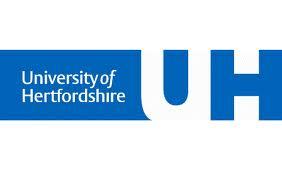 The University of Hertfordshire, located less than thirty minutes by train from London on a slick modern campus in Hatfield, boasts a rigorous animation department with a knack for turning out top talent. Since its inception two decades ago, the program has steadily accrued award-winning faculty, courses and degree programs thanks in no small part to its location near Europe's VFX and animation epicenter.
Their students create some really impressive stuff (don't take our word for it, of course. Check out their jaw-dropping work for yourself). While we could detail the many attributes and accolades of the program, we decided to give the honors to the animation department itself for our latest spotlight Q&A. Working across 'The Pond' via email, we interviewed a few of the program's finest instructors.
Digital Animation Senior Lecturer Martin Bowman took the lead in responding to many of our questions with input from his fellow staff members. Like his colleagues in the department, Bowman's background is in industry rather than academia, having formerly served as a lead artist in the games industry. 3D Games Art Senior Lecturer and experimental games guru Neil Gallagher also came from the industry and answered a few of our questions. Last but not least, Visual Effects Lecturer Mark Wallman participated. Wallman has a few titles under his belt that you might be familiar with including Harry Potter and Doctor Who, to name just two among many. Together, Bowman, Gallagher and Wallman epitomize the rock solid teaching expertise that the University of Hertfordshire's Animation program has assembled. This interview was done via email and has been edited where necessary to length & clarity.
ACR: The University of Hertfordshire's animation program is extensive and enviable. When did the department begin and how has it evolved in the years since?
Martin Bowman (with insight from colleagues): The department started life in 1989 with a 2-year HND in Digital Animation and an option for students to take an additional year of study to convert this into a degree. In 1993, the course became a full degree programme with the creation of the BA in 3D Digital Animation. Because of interest from industry and students to teach additional subject areas, we expanded in 2006 to start a BA in 3D Games Art and a BA in 2D Digital Animation. In 2008, with industry support we started our BA in Visual Effects (VFX). In 1999 we had 20 students; we now have just over 300 taught across four degrees.
ACR: Let's talk about these degrees. Tell us a bit about the 2D Animation and 3D Digital Animation programs to start.
Martin (& dept): In the 2D Digital Animation, students are taught using the traditional 12 principles of animation as well as frame by frame animation. They are also taught how to make interactive 2D animation for web/phone/tablet applications, motion graphics in After Effects for title sequences, 2D compositing and grading, background design and animation, illustrative styles and expressive artwork, character design and storyboarding. We offer 2D students the opportunity to study 2D animation on animator's light boxes so that they may choose to use traditional techniques in a time-honored fashion, or mix them with current digital technology to create alternative visions. Graduates work in the plethora of small 2D companies that are found across the UK, as well as in interactive game development, motion graphics, 2D commercials animation, as well as concept artists in the 3D games industry and storyboard artists in children's animation series.
The 3D Digital Animation degree focuses on character animation and is an excellent course for students who wish to be generalists due to the very broad skill areas it teaches that include 2D concept art, colour theory, life drawing, modeling, texturing, shading, rigging, animating, lighting, rendering, compositing and editing. Graduates from this course work in every field of animation imaginable- from children's cartoon series, medical visualization and creature animation in the film industry to augmented reality and archaeological reconstructions!
ACR: And the 3D Games Art and Visual Effects programs?
Martin: The 3D Games Art degree focuses on creating game artists with cutting edge real time skills (both technical and artistic) required in modern 3D game development. It covers real time engines and the creation of levels and characters within them, dealing with scripting to expand the possibilities of level construction, binary texture creation, texture baking, normal maps and high poly to low poly conversion, LOD modeling, modular building and real-time shaders. Every large game developer in the United Kingdom employs the graduates of this degree, and the course has very close links to industry which result in a large amount of internships in games developers for talented students.
The Visual Effects degree trains students in up-to-the-minute skills for the ever changing world of post production. It teaches students how to cope with a VFX pipeline, shooting footage, set measurements and location data, Maya and Nuke, creating photorealistic models and compositing them seamlessly into film, tracking and rotoscoping, particle and fluid effects, rigid and soft body simulation and much more. The VFX course runs live projects with London VFX houses every year which has led to great interest in our graduates from those companies. Graduates work on commercials and films in the VFX industry worldwide, with many contributing to films like Prometheus, Inception, Skyfall, John Carter of Mars and Avatar to name a few.
ACR: I understand that all students in the department participate in a common first year curriculum…
Martin: Our students are (all) taught a common first year where they experience projects and skills from all four of our degrees; at the end of the first year (they) can switch degrees if they wish. From the second year onwards, each degree teaches much more focused skill areas related to the nature of the course.


ACR: You prepare your students to be both professionally competent and creatively empowered with great success. What's the secret?
Martin: We begin the students' education by setting projects that are either aimed at being creative and imaginative or at learning industry requirement skills. Over time, we begin to blend the two areas so that by the end of the student's second year of study they are aware that both areas are equally important and complement each other, and they understand how they should implement them in their own chosen pathway. 
Students are taught how to work professionally which teaches them aspects of production such as schedule creation, time management, working in teams, getting criticism and how to respond to it, promoting themselves and their art… we even run timed work simulations to give them the experience of the speed they will (encounter) in the industry.
Professional competency isn't just about learning a mass of technical and artistic skills- it's just as important to be able to work with others, to converse in the language used in industry and understand the needs of organizations that may contain hundreds of staff and be based in every continent of the planet. It's not enough to be a talented individual; an animation graduate needs to be able to work as part of a multi talented team.
ACR: Does the curriculum continually evolve to meet new industry standards and expectations?
Martin: The curriculum changes every year. Our view is that the only constant in the field of animation is that everything constantly changes! The industry alters its requirements based on new software or techniques and we pride ourselves (on) teaching the same skills that are used in companies so that our students have huge advantages over the majority of animation students in the UK. We consult many of our ever expanding network of industry contacts every year to ask about new skills or software they would want our graduates to have in order that we maintain our position as a respected course to hire from.


ACR: Bringing Neil and Mark into the conversation, I'd like to ask each of you how your own extensive industry experience has shaped the way in which you teach as lecturers at Hertfordshire.
Neil Gallagher: Having many years of experience in games and commercials like my colleagues, I am able to explain not just how a production was realized, but also the little tricks and tips that make the impossible into possible. Just teaching how to use the software or how to design an asset will not help when the client suddenly needs the work now! Knowing how (and when) to cheat (ahem, stylistically streamline the production) can be just as relevant as knowing the right way to do things.
I also explain the importance of seeing the bigger picture - it's easy for an artist to get stuck on the detail of one object and forget that there needs to be a world to surround that object, and that needs to be made as well, and when that is done there needs to be a harmony of design and style - the end result must look like the creation of one directed mind, not many hands making things all over the place.
Mark Wallman: Years of working in VFX for films such as Harry Potter, commercials and TV series have taught me the value of organization and planning as well as research into new technology. The understanding that there is vast difference between what is acceptable in most universities for the way students work and how actual companies work has meant that I have brought in professional working practices to the ways my students work, which has hugely improved their employability.
If a student isn't taught how to behave and work professionally while they are a student, the chances are that they will have problems working professionally. The only constant is change, as Martin said earlier. Whenever some new piece of technology is created that solves a problem, it is adopted and done so very rapidly. I push my students to constantly learn new things and look out for change; consider how to adjust to work with that change. Pipelines are always reforming so we must reform our pipeline for the students.  Having spent so long in the industry means we also run a lot of real commercials and real VFX for films within the university so the students can dip their toes in real 3D and VFX companies during their degree.
Martin: I started as a junior artist and worked up to being a lead artist managing a team across two different countries. I needed to raise the standards of art amongst many members of my team which I did by running classes and writing notes to explain new technological issues. That (experience) has given me excellent insight into how artists learn, what skills they have to acquire (including people skills) and how best to present that information to them so that they can absorb it, reflect on it and implement it in their own creations.
ACR: Are there new or impending technologies on the horizon that most excite you in your respective fields?
Martin: The 3D and 2D software that is now available allows a huge amount of manipulation of the image so that style can now be considered as that which makes the best 3D or 2D art stand out from the competition. I am looking forward to a greater merging of traditional art skills and design with the technological functions that are available now so that we will be able to replicate the visions that we have in our minds on screens for the enjoyment of others.
I teach my students to mix traditional skills with digital technology to bring about the greatest possible variety of solutions to problems - if something cannot be solved with technology, can it be solved with art? Knowing how to approach a problem from both directions means they can hopefully learn to deal with the unpredictable nature of animation.
Neil: I am really looking forward to the future possibilities of realtime rendering in games, with real time tessellation allowing ever more realistic levels of detail and realtime lighting creating atmospheres and moods that are just as sophisticated and beautiful as anything that can been seen in films or animation. I am constantly fascinated by my field and am always wanting to learn more about its possibilities-whether that is realtime 3D game development or in new related fields such as real time medical visualization or augmented reality products. There is always something new to learn and I try to pass on this enthusiasm for everything to my students.
Mark: For me, the mass change in renderers that is currently happening is of great interest with a lot of companies in VFX moving away from the traditional use of Renderman for films to the new generation of ray tracing of which Arnold and V-Ray seems to be making massive changes in pipelines and the way that lighting, shading and rendering are performed. We have now bought licenses of Arnold and V-Ray together with MentalRay so that we can ensure that we are teaching the students who wish to work in VFX the renderer that most of the companies they will work at are using. I am always on the look-out for new skills to learn and teach myself - like everyone else here, I don't want to become a fossil; it's really important to me that I am teaching relevant skills - without them the students won't be successful and that matters to me (as it does to all the staff of course).
ACR: What satisfies you most about lecturing at Hertfordshire?
Martin: Becoming a lecturer has meant that I have had to learn more skills than I needed to be a lead artist in a games company, and this keeps me constantly interested in the field. I love the constant surprise of seeing new creations from the students.
Neil: I taught at a couple of other universities in the UK as well as Hertfordshire, but the difference between the standards and attitude of staff and students at those establishments and the standards of Hertfordshire were immense. I quickly realized that I got the most satisfaction seeing how much the Hertfordshire students would respond and improve to my teaching… and so I became a full time lecturer here.
Mark: I've found that nothing makes you learn a subject like having to teach it does! I really enjoy being able to make a huge difference to a student's life and skills, and know that they really appreciate the effort I put in. I also indulge in my love of competitive swimming- Hertfordshire has a world class swimming pool, and the UK Olympics squad trained there!
ACR: Lastly, how would you describe the culture of the department for prospective students?
Neil: The department (both students and staff) is a very big friendly family. It's really important for our students to feel that they belong to a group of friends that will help them through the degree, and will form a network of associates once they have graduated. It's also important to the lecturers that we are seen as a positive influence that enjoys helping, guiding and encouraging the students to always push their work to best they can achieve. We make sure we only hire staff that can fit in with our ethos - we aren't interested in working with people who don't enjoy teaching, everyone has to work well together to get the best results, staff and students alike.
Martin: We tell the students that they should not think of themselves as students but (rather) as professionals. Nobody hires a student; everyone will hire a professional. The department is very hard work, both for staff and students alike - we have a world-wide reputation that we earned through the quality of our teaching and the quality of the students' works.
ACR: Martin, Neil and Mark, it's been a pleasure learning about the University of Hertfordshire's many offerings in animation, games art and VFX. Thank you for participating in our latest Q&A!
All: Thank you!
Check out more interviews at The Animation Career Review Interview Series.