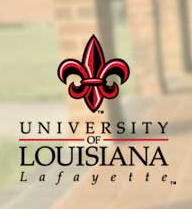 The University of Louisiana at Lafayette is the largest member of the state's public universities and ticks many of the boxes that students are often eager to find: a vibrant college town; large assortment of majors; NCAA Division 1 sports; and a sophisticated community complete with on-campus art exhibits, theater productions and more. For our purposes, UL's budding Animation & Computer Arts concentration caught our attention when it recently made our Top 20 Southern List, and we were eager to learn more about the program.
Housed in the Department of Visual Arts alongside media art, graphic design, painting and others, animation students have everything at their fingertips in the heart of Cajun country. Foundational art and animation courses are coupled with framework in narrative and editing to fulfill the program's objectives of creating well-rounded, adaptable animators. The degree culminates with an animated short made from start to finish by senior year students. We spoke with Associate Professor of Computer Art & Animation Yeon Choi for our latest spotlight Q&A to learn more. Enjoy! (This interview was conducted via email). 
ACR: Let's start with the basics of UL's Computer Animation program. What foundational courses do undergraduates take?
YC:  Students take five animation classes: Introduction to Computer Animation, Intermediate Computer Animation and Advanced Computer Animation I, II and III.  In addition, there are other support classes such as Art and the Computer, Media Art and Sound Design. Introduction to Computer Animation class starts with hand-drawn animation, so students can learn timing and spacing without struggling with technology.  After that, they are introduced to traditional animation mediums such as cut-out animation, silhouette animation, sand animation, paint-on-glass-animation, puppet animation, claymation and so on.  Then gradually students are introduced to 2D and 3D computer animation. 
Intermediate Computer Animation focuses on animation techniques in depth as well as character rigging and character animation.   In those three Advanced Computer Animation classes, students continue learning character rigging and character animation, special effects and  work on their BFA Thesis animation.
ACR:  How much time does a typical undergrad spend working in the facilities and labs?
YC:  Animation is very time consuming, and I always get the student evaluations marking "heavier than other classes" in the work load question.  They spend many, many hours working in the lab or (at) home.
ACR:  I hear the campus labs are quite enviable, too…
YC:  We have two main computer labs with the smart classroom setting: a Mac lab and a PC lab which are open 7 days a week.  The Mac lab has 24 IMac computers with Adobe Creative Suite Master Collection, Final Cut Pro and other supporting programs; the PC lab has 20 IMacs with Windows XP, Autodesk Maya, Mudbox and Adobe Creative Suite Master Collection.  The hardware and software are upgraded periodically.  
In addition, students have access to flatbed scanners in the open lab and Pro Tools in the Sound Design lab in Music Department.  Students can also check out digital cameras and camcorders with tripods and lighting kit, DVD players, TV monitors and video projectors for the experimentation or installation of their works.
ACR:  Do students work collectively and independently when learning the production end of animation?
YC: They work on both individual and group projects in the computer animation classes.  In addition, we have a collaborative "Game Design" class offered by our Computer Science Department for students who are interested in creating video games. We also have internship opportunities with local animators where students work in a group creating animated shorts.
ACR:  The demand for animators in a variety of fields continues to increase. Does that industry reality impact the curriculum or teaching approach?
YC:  We are very keen on the changes in the various animation fields and of the technology to make sure our graduates have proper skill sets for their job.   The curriculum has been persistent, however the changes in the industry have a serious impact on (our) teaching approach.
ACR: Yeon, how did you find your own creative voice as an animator and artist; and how do you help your students cultivate theirs?
YC:  I started my career as a painter first although I was also interested in film and animation.  At some point in my life I wanted to make my paintings move so I became an animator. I learned to agree with Norman McLaren who said, "animation is not the art of drawings that move but the art of movements that are drawn." I still work with both mediums; painting (drawing) and animation (movement).  I think I need both.
This personal experience definitely applies to my teaching.  I always encourage students to work with various mediums to find the best medium for their ideas.  Also, I emphasize the importance of developing and keeping their unique artistic styles.
ACR: If there is one thing you seek to impart on your students before they graduate, what is it?
YC: Building a critical and creative eye with the craftsmanship.  Without it, they can never become true artists/animators.
ACR:  Lastly, what do you believe are the benefits to being an animation student at UL Lafayette?
YC: UL's Visual Arts Department has been NASAD (The National Association of Schools of Art and Design) accredited since 1999.  We have a high faculty to student ratio that enables the faculty individual attention to the students. 
Video Game Development is one of the areas identified by Louisiana Economic Development for which Louisiana can plausibly compete for economic growth.  Film industries like Pixel Magic have opened their branch-offices in Lafayette.  There are more potential employers in Lafayette for our graduates, and there will be even more with this economic development.  These are pretty good reasons to study at UL's animation program.
ACR:  Yeon, thank you for taking the time to answer our questions and tell us a bit more about UL's Computer Animation program!
YC: Thank you!
Check out more interviews at The Animation Career Review Interview Series.